Author: Fiona Munro
Illustrator: Jo Garden
Age Group: 0-3
Synopsis: Animals peeking out on each page give hints as to which stripey animal they are. Can you guess?
The Low Down: We received Whose Stripes from my mother when Bug was about 6 months-old. At that point, he just liked the striped pages that unfolded.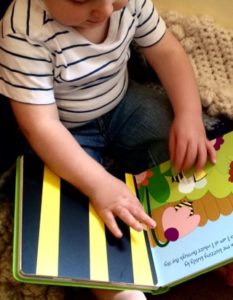 I would making a buzzing noise and tickle him on the bee page but that was about it. When he was about a year, that's when Whose Stripes exploded. It's not that he didn't like it before. He did. Its just that, now he's more interested in something other than just the bee.
Each page initially shows the stripes that that particular animal has and then different pieces of the animal poking through their habitat. An ear popping out from behind a bush there, an eye peeking through the leaves here. Once the striped page is folded back then you can see the entire animal. Bug, all of a sudden, loved trying to figure out what part of the hidden creature we were seeing. It was great for practicing body parts. "Mama! Eye!"
He's getting better at identifying the animals now.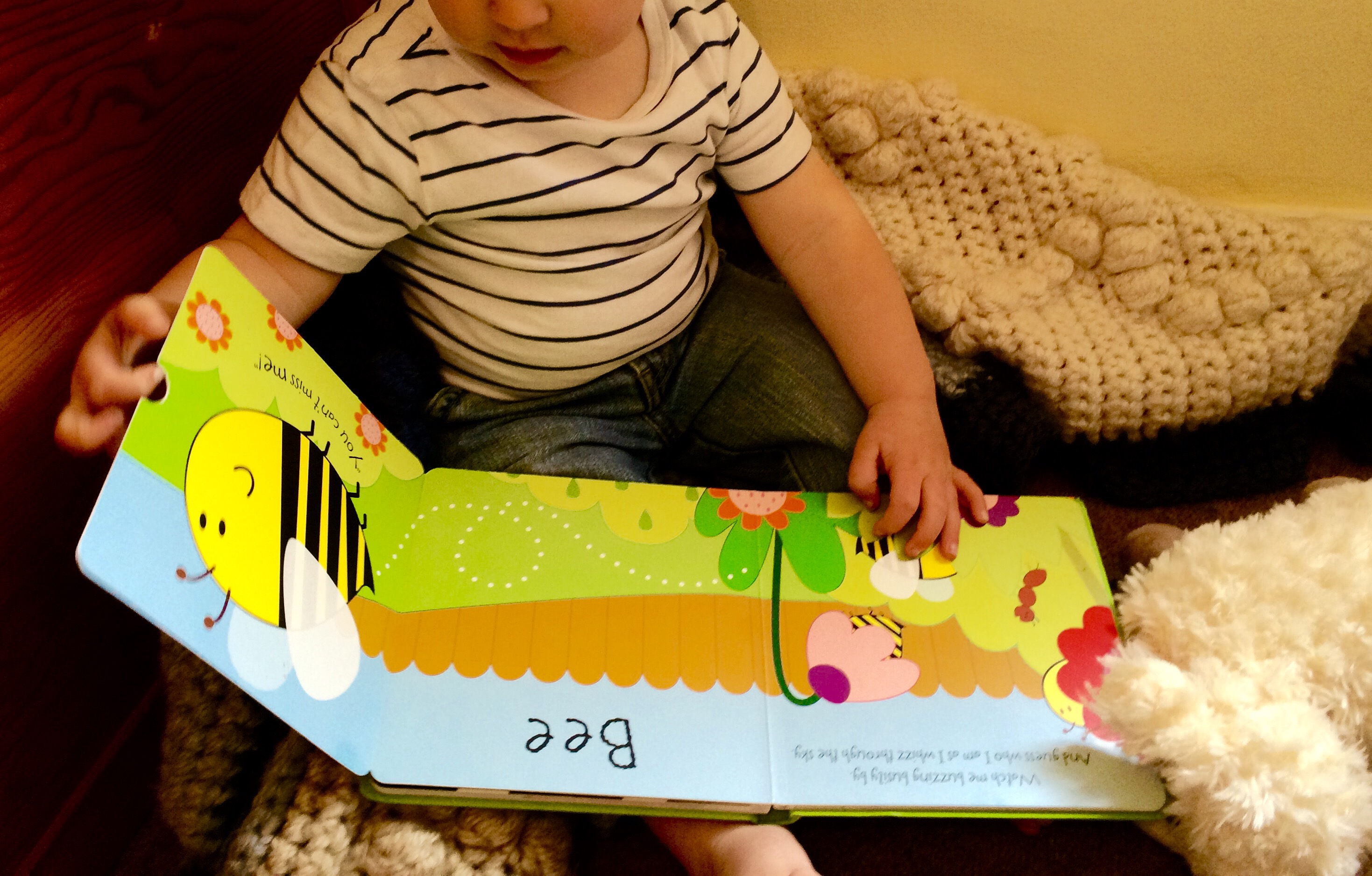 Zebra is difficult to say but he tries valiantly. We're also figuring out what stripes are and practice finding them. The best moments are when he or I am wearing a stripey shirt and it coincides with our reading. This does not happen often. I have enough things going on without coordinating our clothing with our reading selection. Maybe one day. One magical day in the far, far future.*
*At this point you may be looking at the photos and saying, "Hey! He's wearing stripes there…" This is PURE coincidence. It happens sometimes, those serendipitous moments. When they do happen I'm tempted to go buy lottery tickets.
Story Tips:
Practicing the animal sounds is always great, as is figuring out what body parts are visible. This provides a great opportunity to build deductive and observational techniques.
---
I need more!
There's also Whose Spots? Whose Nose?, and Whose Ears?.
---
Add to my library:
UK Amazon:<a rel="nofollow" href="https://www.amazon.co.uk/gp/product/0843198125/ref=as_li_tl?ie=UTF8&camp=1634&creative=6738&creativeASIN=0843198125&linkCode=as2&tag=homegreade-21″>Whose… Stripes? (A Little Book With Giant Flaps)</a><img src="http://ir-uk.amazon-adsystem.com/e/ir?t=homegreade-21&l=as2&o=2&a=0843198125″ width="1″ height="1″ border="0″ alt="" style="border:none !important; margin:0px !important;" />
US Amazon:Whose Stripes? (A Little Book With Giant Flaps)
Save
Save