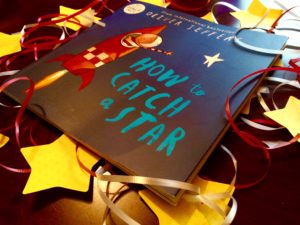 Bug seems to be obsessed with stars right now. We put glow in the dark stars on his ceiling. We draw stars during coloring time. While we're out and about he constantly points them out. Stars are a big part of our lives right now. I try and embrace whatever he's interested in because it's through that that he'll end up learning the most. So he loves stars? I will find as much as I can about stars. Oliver Jeffers book, How to Catch a Star was a fantastic find. The plot was written for us: A boy loves stars so much he wants to catch one to be his friend. Grant loves the pictures. I love the humor. It's a match made in the heavens. So today I decided to have some little friends over and do a star play-date. We had star pancakes (1), and then caught (2) and decorated our own stars(3).
---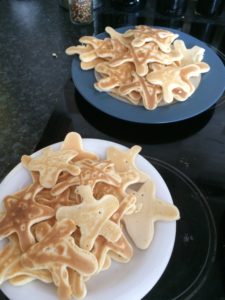 Star pancakes are super easy and making pancakes in new shapes makes them even more fun to eat. I used Bisquick for our pancakes this afternoon but any pancake recipe should work. After it's mixed just place the pancake batter in a squeeze bottle and draw the star in the hot griddle. Here's our pancake recipe:

1 cup Bisquick
1/2 cup milk
1 egg
---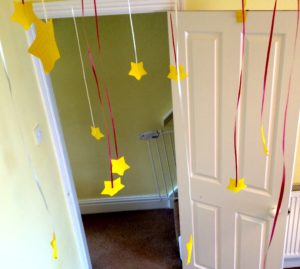 2. Catching Stars – I found some convenient Post-It notes that were shaped like stars and taped them to gift ribbon. If you are somewhat challenged in the vertical sense, like me, it helps to have a tall friend, neighbor, or in my case husband around to help you hang the stars. This also fantastic because you can direct your helper and say phrases like: "A little to the left." or "Hmm, let's try another location." I attached the stars while Bug was taking his nap. When he woke up he was stunned. A big, slow grin spread across his face and he said, "Mama! Stars!" Then comes the fun part: Taking them down! Thank goodness for Bug's friends because he did not want to take them down and after everyone left he kept handing me stars and saying: "Mama, star up please." However, Bug's little pals enjoyed grabbing the stars just like the boy does in the book.
---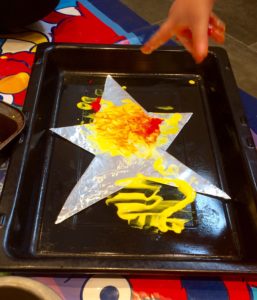 3. Decorating a Star of Our Very Own – I cut stars out of card stock and then covered them with tinfoil, taping the foil to the back of the star. There was paper still exposed on the back but that's ok! Then I striped Bug down, placed the stars in shallow pans and let him and his friends finger paint the stars. Bug refused to paint with his hands but he did like using a brush to paint his star and then later his hands. Go figure. We used yellow and red for the stars and had some lovely orange colors emerging by the end (Bug's orange was emerging on his arms and hands and he began to look like an Oompa Loompa).
Let your star dry and enjoy!