Author: Danny Parker
Illustrator: Matt Ottley
Age Group: 2-6
Synopsis: Toby always carries his parachute with him; one can never be to sure about heights. But when someone needs it more than he does he'll work to let go of his fear and be a hero.
---
The Low Down:
I've never been afraid of heights. I still get a thrill when I peer over the edge of a cliff but it's never fear that really sends my heart aflutter. However, it's not always these physical fears that manifest themselves and the fears that we do overcome aren't always so dramatic. But, nevertheless, they're still there and still things we frequently deal with. Books like Parachute make these fears accessible for kids and are told in ways that make the conquest of them more thrilling than anything we normally experience. However, it can be these settings that give readers the confidence that they need to overcome the fears that plague them.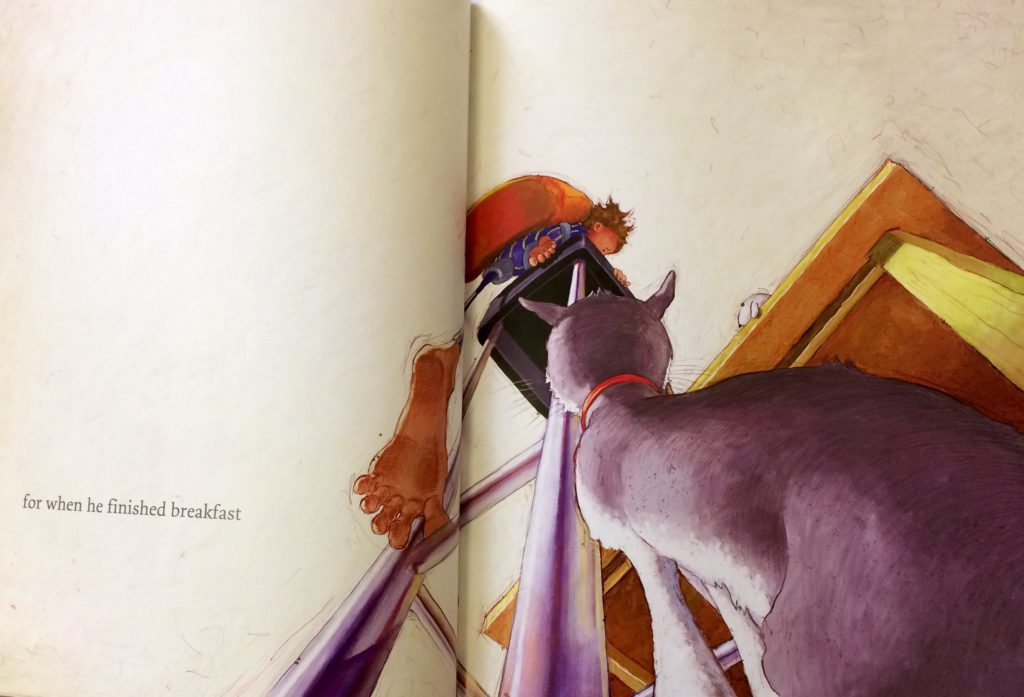 Parachute begins by focusing on just that, Toby's parachute. We follow its day-to-day routine as Toby essentially uses it as a security blanket. Toby leaps off of the towering kitchen chair and the daunting step stool at the bathroom sink and even makes the treacherous climb down on the steep ladder from his bunk bed. Toby doesn't fear any of these things when his parachute is with him. He's even brave. It's when his cat is stuck in his tree house though that his bravery is tested. Toby, selflessly, uses his parachute to lower his cat to safety. Toby's then stuck.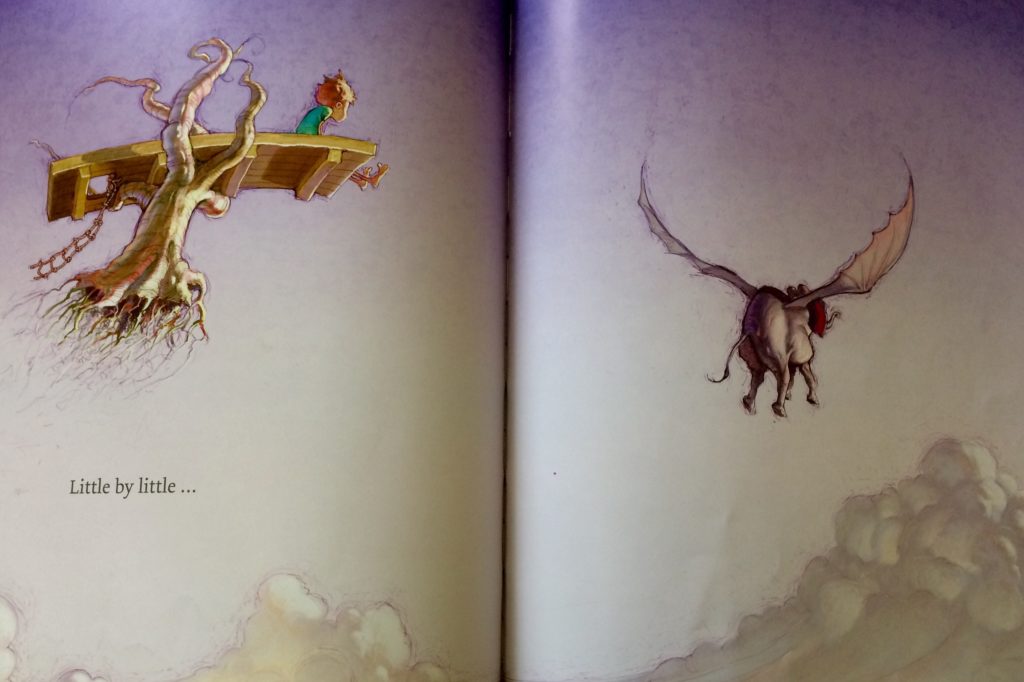 Ottley really hits a home run at this point with illustrations straight from anyone's imagination. Toby's fears began to not only all congregate around his tree house but grow in their ferociousness. The tree house is now floating high in the clouds and the frightening elephant from the zoo has spouted Nazgul-style wings. It continues to amplify as Toby is transported now into space and the elephant grows dinosaur-like spikes and a fish's tale. It's at this point that Toby begins taking one step at a time until he climbs down from the tree house and is safe. This becomes the turning point and Toby's fears become less daunting. In the end we are presented with a illustration of the parachute hung on the bedpost as Toby independently climbs down and begins his day.
The message is sweet and subtly delivered but a true depiction of the fears that we and little ones face. Ottley completes this magnificent presentation by not only illustrating the story but depicting it also from Toby's point of view. As that shifts, so too do the pictures. A very clear message that our fears can change, enlarge, but also be overcome.
---
Story Tips:
Keep an eye out for Toby's little pal, a little white dog also equipped with a parachute of his own.
---
I need more!
Danny Parker's most recent story came out in 2016 as well. Perfect is a work with completed with an illustrator I love: Freya Blackwood (See my review on My Two Blankets). His other titles look just as imaginative and lovely. More info available on his website at: http://dannyparker.com.au
Matt Ottley's most recent book is Teacup, released in 2016. He has an array of other titles that are all equally beautiful and available for viewing on his website: http://mattottley.com/books/.
---
Add to my library:
Parachute
Save