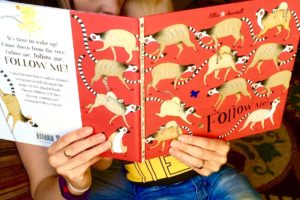 Title: Follow Me!
Author: Ellie Sandall
Illustrator: Ellie Sandall
Age Group: 0-5
Synopsis: Some curious ring-tailed lemurs play an adventurous version of follow the leader.
---
The Low Down:
I love when we read books that seem to snap perfectly into our life. It feels like the universe is in alignment and just when you need a book about balloons or the stars or colors something appears it's like you've just completed the intricate steps of a dance. Bug has recently discovered the joy and power of telling people what to do. I wouldn't say that he's pushy, so much as bossy. But he's a polite bossy and that's slightly better. His most recent phrase is: "Come with me, please." Then he leads you off towards a new adventure. Follow Me! found us at a perfect time.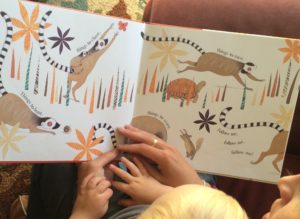 Follow Me! shadows a conspiracy (Lemur Fact: YES! That is what a group of lemurs is called. I was so pleased to discover this fun fact.) of lemurs as their lemur leader takes them through the jungle. I called the lemur commander "he." I probably did this because that makes the lemur more relatable to Bug but there's nothing that says it can't be a lemur queen (Lemur Fact: Lemurs are led by females, so it would be the lemur queen who is in charge). The storybook lemurs do all sorts of silly things. They find lunch, get prickles on their noses, frighten themselves by stumbling onto an unsuspecting chipmunk, and generally get up to all sorts of shenanigans. Luckily, the lemur chief is paying attention because they also stumble onto a very hungry crocodile. By the ringed fur of their tails the lemurs escape and make it back to their tree in order to fall asleep.
Each page contains the thrice repeated line: "Follow me." This makes it ideal for little ones just starting to find their voice and gain reading confidence. Most of the pages also include a basic and fun, three line rhyming sequence. These line are easy enough for small ones to remember or deduce but not monotonous for parents. They're also great to use everyday. This morning Bug woke reciting the line: "Wake up. Down from tree. follow me!" (he's definitely paraphrasing here). The book can be read normally. However, the few short lines on each page provides ample time to explore the illustrations in depth, allowing the story and pictures to play off of each other.
The illustrations are crisp and engaging. The lemurs are striking with their black and white against the colorful, pattern filled foliage white background. Some pages are from different perspectives as well (i.e. in a tree looking down) which is such an interesting way to allow children to discover prepositions and new viewpoints. Bug loved the lead lemur (easily identifiable by his crown) and wore his very own crown while reading the story a few times. Bug's definitely not as agile as a lemur but he does like exploring with a hint of mischief and this book was perfect for encouraging this activity but doing it safely. It's a gift when these books fall into our laps at the right time and I'd have to say that Follow Me! was a very special literary gift, for which we are thankful.
---
Story Tips:
We did our first flashlight read with this book. Bug held the flashlight and we moved it over the words together. I did this because I'd like him to start identifying what it is I'm looking at when I'm reading (he's become very interested in letters recently and pointing them out when he sees them). The second reason was a bit more practical as we were in a fort while reading this book and it was too dark for me to read the words.
Let little ones finish the lines to help boost their reading confidence and encourage interaction. Even a "Me!" after a "Follow" is helpful but no need to push too hard. Just pause before the end of a line, count to five silently, and see if they finish it themselves. If not, you can say the line while placing your hand on their head or shoulder to indicate that they can do it themselves.
I need more!
Ellie Sandall has written and illustrated a few other books including: Birdsong, Daisy Plays Hide-and-Seek, Copycat Bear, and the adorably titled: Everybunny Dance. Everybunny Dance is due to be released next year in January. Ellie Sandall does have a Facebook page but I couldn't find a website for her and had to resort to Amazon to find her available books.
Add to my library:
UK Amazon:Follow Me!
US Amazon: Follow Me!
Save