Author: Wen Dee Tan
Illustrator: Wen Dee Tan
Age Group: 1-6
Synopsis: Lili is an extraordinary but unusual girl, this makes it difficult to make friends but in the end her own bravery and self-esteem are key to helping those around her.
---
The Low Down:
If I had walked into a candy shop when I was little and had been told to choose whatever I want, the price doesn't matter, I would have freaked out. That's what going to the library is like for me. I just grab stuff. I grab old favorites, books that look good, books that seem odd but may grow on me. It doesn't matter if they turn out to be total duds because we can just return them. That doesn't stop me from trying to find a stack of the most amazing books imaginable. But I have limited time as Bug will only sit still for so long. This last trip left me certain that I'd picked eight books that were all gems. Alas, it wasn't meant to be. Only two were really amazing; Lili was one of them.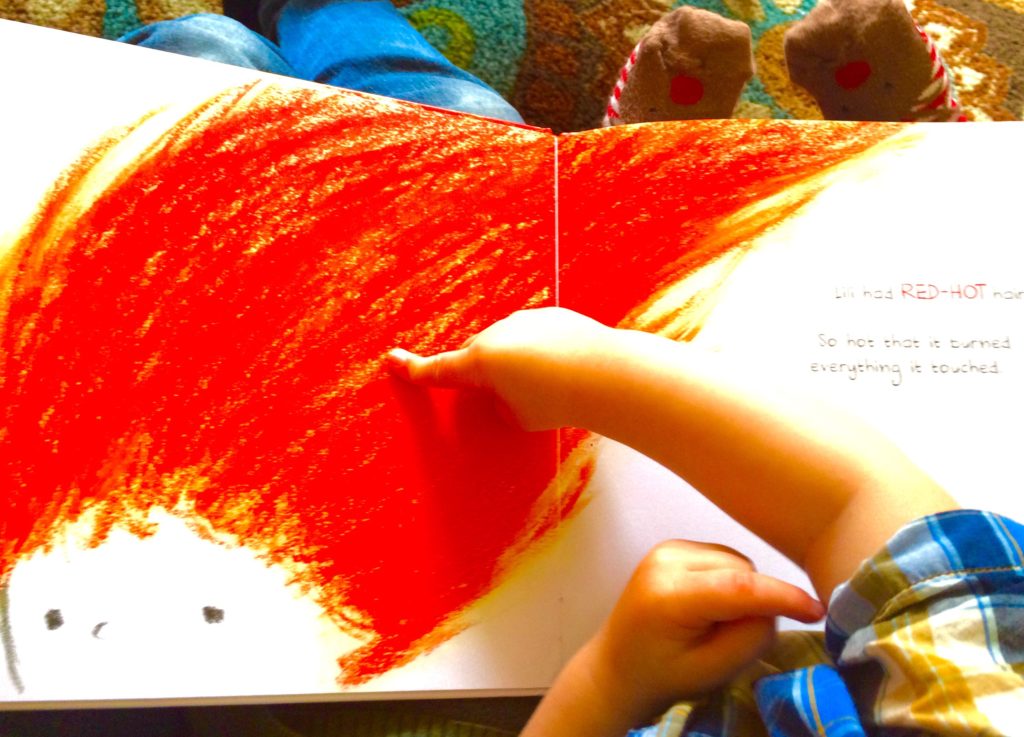 Lili follows the story of a young girl whose hair is fire. It can be big or small, helpful or an annoyance. Lili's friendly and wants to get along with the other children her own age but ends up being ostracized for her eccentricities. She doesn't let this stop her stop from helping the village children when they are in trouble though. In the end, they discover ways that they can all have fun without causing injury.
The story's message is one that is quite common but it's well presented and something that I feel is worth reiterating. I want Bug to know that when he gets older, if he doesn't fit in it doesn't mean that he needs to change who he is. And it doesn't mean that he won't ever fit in. Maybe I'm being pessimistic and he won't take after me and he will fit in with everyone else. In that case, he'll need to remember that everyone has worth and treating someone cruelly because they are different isn't an option that is acceptable in our family. Either way, Bug's not that concerned with messages at the moment. What made Lili a repeat read in our home is the phenomenal illustrations.
Lili's pages are mostly white with black drawings. The only thing that has color is her hair. The reds and oranges of her hair almost set the page on fire. They don't,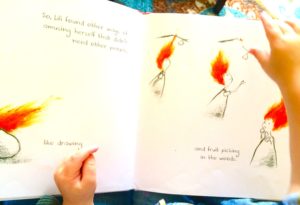 thank goodness as they are beautiful and striking in their simplicity and such destruction would be a tragedy. The small, bubbled illustrations are amusing and sweet and have kept Bug and I coming back to this book again and again. I'm torn if I want it to become a home library addition or a treat that we visit on our bi-monthly library trip. It's exciting to have a friend waiting for us on the shelves and Lili is the perfect kind of friend.
---
Story Tips:
Talking about how lonely Lili could be is difficult at Bug's age but Wen Dee Tan does a good job of illustrating this. In the pictures where Lili is alone, we talk to her and interact with her. I'm trying to lay the foundations of how to include people and practicing with fictional characters is a great opportunity.
---
I need more!
Wen Dee Tan has a few more amazing picture books including: Fairytale Alphabet, The Great Dragon Warrior, Miki has a Problem, and Circus Boy. We have yet to read any others but the illustrations look amazing and if they're half as good as Lili then they are sure to be instant successes.
---
Add to my library:
UK Amazon:Lili
US Amazon:Lili
Save
Save
Save