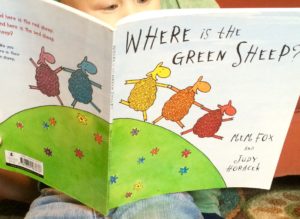 Title: Where is the Green Sheep?
Author: Mem Fox
Illustrator: Judy Horacek
Age Group: 0-5
Synopsis: With many lovely sheep running around acting very silly, we really just have one question. Where did that green sheep go?
---
The Low Down:
We live in an area very heavily populated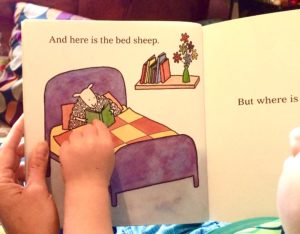 by sheep and I now know way more about sheep than I ever used to. Bug loves them. He baa's at them as we drive by their stone-wall enclosed fields. He shouts "Sheeps!"every time we see them out and about. He now has a toy sheep that he brought with us to visit the new lambs this spring. We sing "Ba Ba Black Sheep" constantly. There's a lot of sheep going on here. So when someone suggested Where is the Green Sheep? I knew that Bug would instantly relate to it, if not love it.
Where is the Green Sheep? is essentially an opposite and color book. There are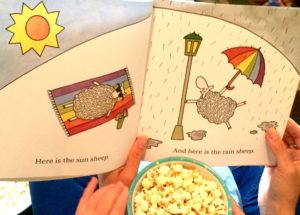 sheep that are different colors or doing entertaining things on each page. There's the typical near and far, up and down, sun and rain but then there are sheep that aren't doing anything related to the others at all. All of these woolly creatures are cause for discussion. Because each line is so short and so repetitive, we read it quickly and then talk about what we see each sheep doing. Our favorites have quickly become the bed sheep, who is reading in bed; the band sheep, who has a guitar and is, of course, cool; and the train sheep, I suspect this is because we travel by train often enough to make this sheep accessible to Bug. The search for the green sheep is long and thorough and in the end fruitful.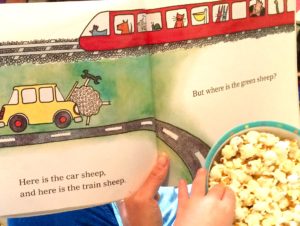 The illustrations are super cute and are an essential part of making the story engaging for little ones. The quirky sheep and their unending silliness are a source of constant amusement for us as we read this story. They're all happy and excited about what they're up to, creating a fun and uplifting atmosphere. Their curly wool looks adorably cartoonish and they almost dance off each page. A definite must for other little sheep lovers out there.
---
Story Tips:
We love to act out the activities that the sheep are doing. This would obviously be difficult with the colored sheep but very easy with the opposites.
Pay special attention to the 4th to last page. There's so much going on that it's hard to miss some of these fun critters.
---
I need more!
I knew Mem Fox from her partnership with Helen Oxenbury on Ten Little Fingers and Ten Little Toes but she has quite a list of books available. Her website is full of information, so definitely check it out for anything new: http://memfox.com/books/.
Judy Horacek has a large number of books to her name as well. I'm not familiar with anything else she's done but a complete list of her work is available at: https://horacek.com.au/books/.
---
Add to my library:
UK Amazon:Where Is the Green Sheep?
US Amazon:Where Is the Green Sheep? by Mem Fox (Mar 16 2009)
Save
Save