Author: Sophy Henn
Illustrator: Sophy Henn
Age Group: 0-6
Synopsis: Bears are good friends but they can't live in houses. When a boy and his bear come to this sad realization they try to find a new place where Bear might like to live.
The Low Down:
We were drawn to this book because the cover. It's simple and basic which is easier for younger kids to focus on. I love intricate and complicated illustrations with detailed work but Bug prefers more basic pictures that help differentiate between the background and what's going on in the actual story. It turns out this is a toddler gem. The story is very repetitive so kids can "help read" the words but the illustrations are engaging enough that it keeps the little ones interested. Essentially, Bear is too big and bearish to stay at home with the boy and they need to locate a new home for him, one that will make him happy. They try all the places that they think a bear might like to live, with no success until they finally discover Bear's native environment.
It's pretty difficult to lose Bear and the boy throughout the book. All the pictures are adorable in their simplicity and Bear is of the polar variety, so his big white coat is generally easy to spot through all the different areas that they explore. It's their exploration that provides the great opportunity to get older kids (2/3 years +) involved in the story. Guessing where else where bears can be found is a great exercise for improving predictive reading. This is a bit beyond Bug's level right now but he loved helping read.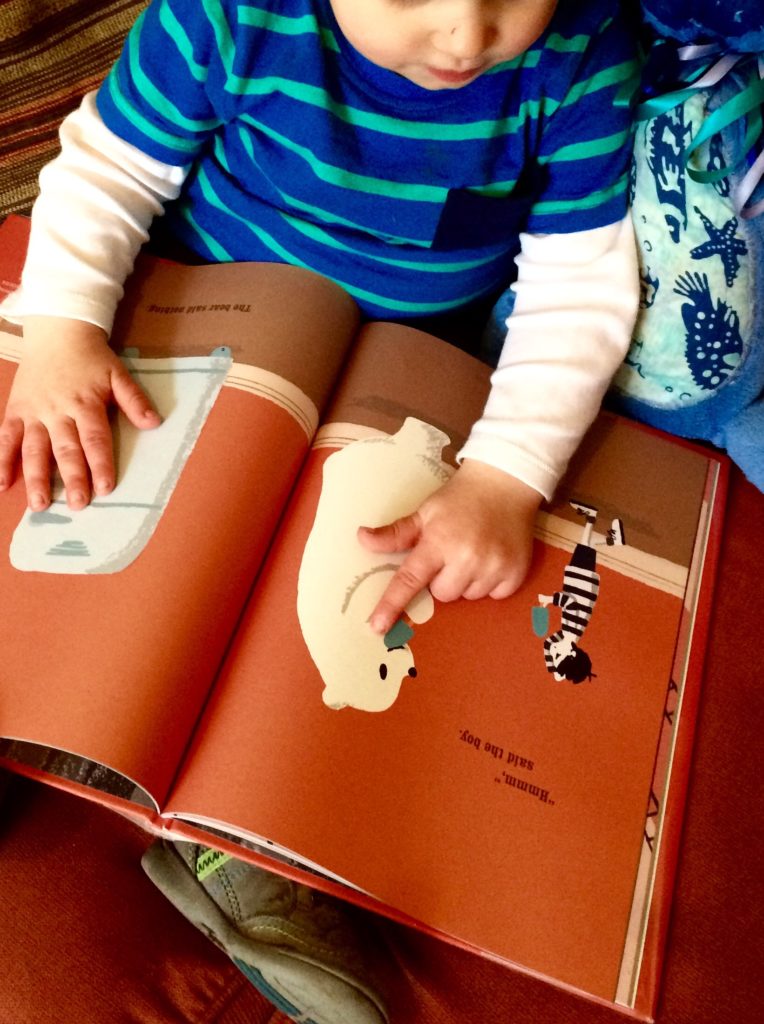 Each page essentially has the boy suggesting a place where Bear might like to live, the Bear saying: "No." and the boy asking: "Then where, Bear?" After reading it once Bug was so excited to be able to help with the "No"s and then the "Where, Bear"s later on after we'd read it a couple times. The ending is clever and heart warming, which Bear will definitely need living in the Arctic.
Story Tips:
Prompts for "Then where, bear?"s and "No"s are great for younger kids while older ones will enjoy figuring out where else a bear might like to live.
I need more!
This is Sophy Henn's first book. She has two others featuring a grumpy panda named Pom Pom. As the winner of 2015 Kate Greenaway  Medal and 2015 Waterstones Children's Book Prize for Picture Books we're sure to hear more from her in the future. Explore her other endeavors at www.sophyhenn.com.
---
Add to my library:
UK Amazon:Where Bear?
US Amazon:Where Bear?
Save
Save
Save