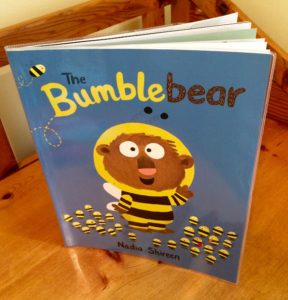 Title: The Bumblebear
Author: Nadia Shireen
Illustrator: Nadia Shireen
Age Group: 1-6
Synopsis: A little bear decides that if he wants honey he should learn how to make it himself. So he infiltrates a bee school and hopes to avoid detection but these bees aren't all willing to take him at his word.
The Low Down:
Bug loves bees and he loves bears. The only way this book could be more perfect for him is if the bees operated a digger at some point in the story. I was cautiously excited when this book came in at the library. I was worried that it'd end up being too good to be true. But we weren't disappointed. The story is just as cute and as sweet as the illustrations.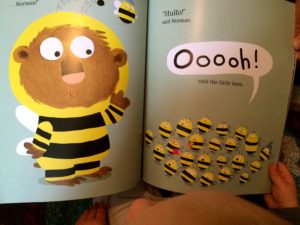 Norman, because of course the bear's name is Norman, loves honey so much that he decides to go to bee school. His reasoning being that if he can learn to be a bee he can make as much of his beloved honey as he wants. All is going well, until Norman is found out. Norman is removed from the school but then the bees are attacked by a roving bear after the treasured honey. Who do you think comes to the rescue? It's a simple story but it's sweet and I like how Norman is trying to become self-sufficient instead of trying to steal the honey.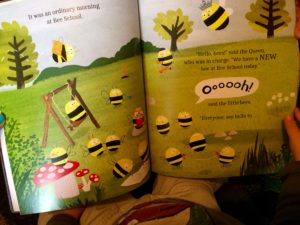 The illustrations are quite basic and the bees are absolutely adorable. The colors are bright and there's just the perfect level of detail for Bug to stay interested. The bee school is our favorite part and Bug eagerly joins in the fun: buzzing, smelling flowers, wiggly dancing, and taking naps. Bug is enjoying it as much as I thought he would, which has left me feeling quite pleased. I think we'll have to create an activity to go along with The Bumblebear very soon.
Story Tips:
Having a snack of honey for after story time is an absolute treat (if your child is over one). Little bears have very sticky fingers so avoid before story snacks.
I need more!
Nadia Shireen has a few books out: Hey Presto!, Good Little Wolf, and Yeti and the Bird. I'm not sure if she just has a very super secret website or just doesn't have one. Either way, I couldn't find it but if I run across it I'll update the post.
Save
Save
Save