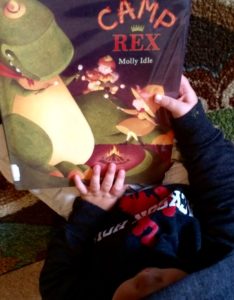 Title: Camp Rex
Author: Molly Idle
Illustrator:Molly Idle
Age Group:1-6
Synopsis: This very informative guide to camping follows a pack of dinosaurs as they comically discover the joys of the great outdoors.
The Low Down:
We are very often silly at home or even out and about. We roll down non-existent hills in the park and sing silly songs while walking around town. As a parent, my dignity takes a back seat when it comes to having safe fun with my child. My husband has just peeked over my shoulder and would like to remind me that I was this way before Bug. Oh well. In any event, I like silly books that can laugh at themselves and make us, in turn laugh. Camp Rex does this with such wonderful finesse and grace.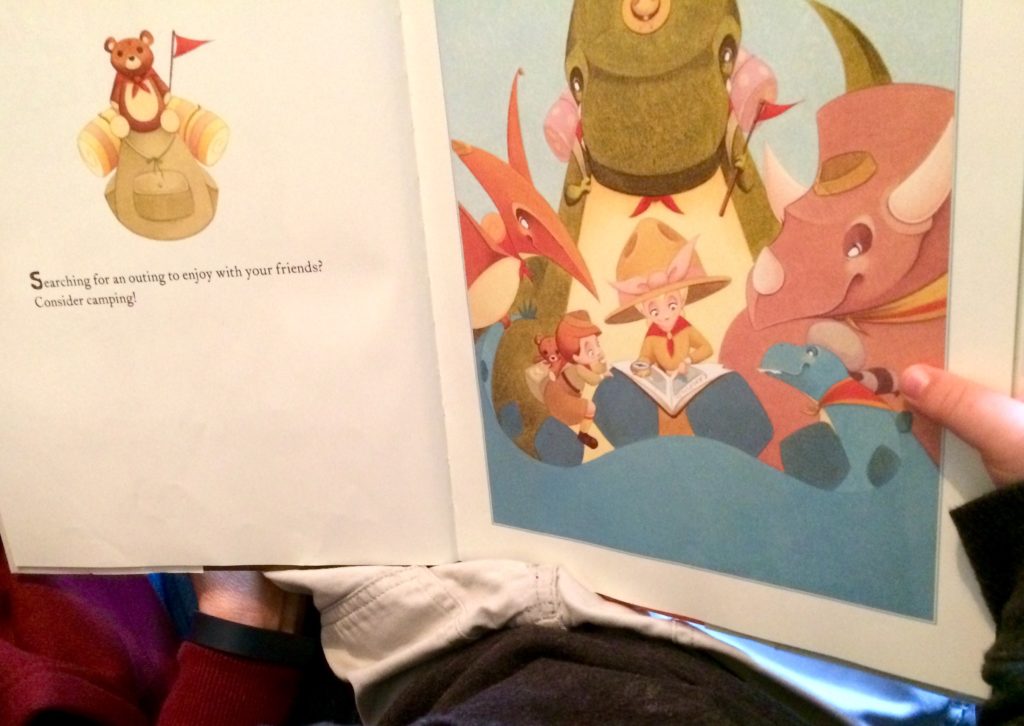 The book is laid out as a guide to camping and hiking in the great outdoors but it's soon evident that even though all the characters (dinosaurs included) are wearing scout uniforms, they don't know anything about camping. They're respectful but constantly at odds with the nature surrounding them. In the end, they return to they're backyard enjoying the most honored of camping traditions from the comfort of their own home, roasting marshmallows.
Molly Idle's delightful illustrations don't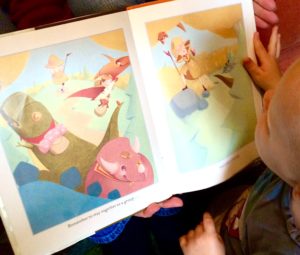 give us much of a background story. Why are this lady and her son marching around with a Tyrannosaurus Rex, Stegosaurus, Triceratops, and Pterodactyl in tow? It doesn't matter. It's a silly story, embracing its silliness. The dinosaurs cleverly go about pitching tents and roasting marshmallows in such a ridiculous way, that even Bug was laughing and he's never even been camping.
It was cute, entertaining for all the parties reading it, and endearing. We'll definitely be checking out more Molly Idle books in the future.
Story Tips:
Look at each page carefully or you might miss a funny tid bit. The owl cracks me up.
This is another book that can be read two ways. The first, an most obvious, way is just read the words. The second way is to just discuss what's happening in each picture. I use the second way with Bug right now as he still doesn't understand the subtle humor Idle is using throughout the book.
I need more!
Molly Idle two other dinosaur books called Tea Rex and Sea Rex and a series having to do with a little girl named Flora. Flora and the Flamingo and Flora and the Penguin are already out and it's counterpart, Flora and the Peacock was just released in May. She does some bible stories including: Nighty Night Baby Jesus, Nighty Night Noah, and Pennies from Heaven. She has a few other books available as well. Check them out on: http://idleillustration.com.
Save
Save