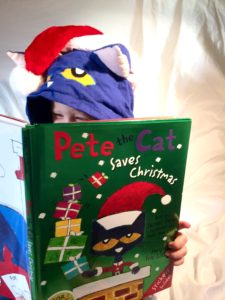 Title: Pete the Cat: Saves Christmas
Author: Eric Litwin
Illustrator: James Dean
Age Group: 1-6
Synopsis: Santa comes down with a terrible cold but don't worry Pete the Cat is ready to stand in.
---
The Low Down:
We really love Pete the Cat. The way he deals with his problems in a relaxed version is something that we try to apply to our own everyday crises. The small bits of humor that are present throughout most of the Pete books show that they are not only sources of good examples but also accessible for young ones. Pete the Cat: Saves Christmas is especially amazing, in that regard. The message and the exceptional artwork will allow all readers to sit back and enjoy this holiday tale.
The story revolves around the overwhelming pressure that Pete feels when the responsibility of delivering Santa's presents is placed on his shoulders. Set to a Night Before Christmas -like tone. Pete doesn't hesitate to help and responds by saying: "Although I am small, at Christmas we give. So I'll give it my all." Hooking up the reindeer to his mini-bus he proceeds to try his best to help out. Complete with a fun little song, that readers come to expect from Pete the Cat, this story doesn't disappoint. Pete, as always, adds his own personal flair to the tale through his surfing, cell phone (because of course Santa would have Pete on speed dial), and trusty yellow bird companion.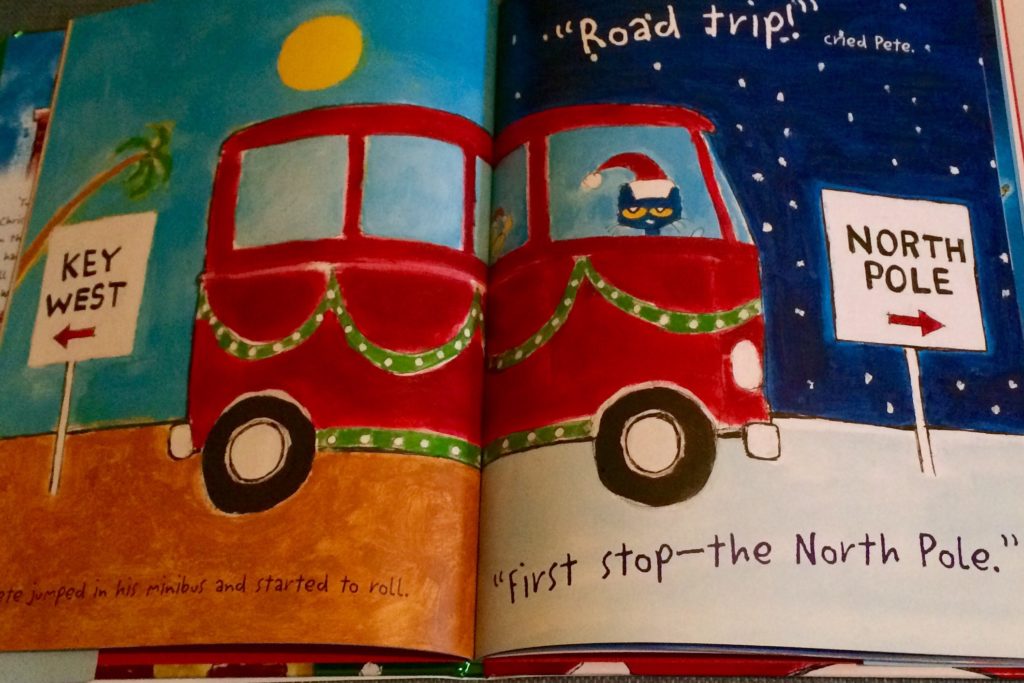 Dean completes the full package by delivering some truly beautiful pages, seasoned with a bit of humor. It seems quite easy for people to dismiss the artwork in Pete the Cat because of the simple style and blocky execution. However, there are definitely pages in Pete the Cat: Saves Christmas that almost seem to glow with their amazing color usage and perspective. It's hard not to appreciate an artist that can make a flying mini-bus full of presents and driven by a groovy cat stunning.
This story fills that niche of the fun side of Christmas that we all want to embrace, while delivering an important message to kids. Adherent to the Pete the Cat sensibilities it stays true to itself while endeavoring to deal with the twists and turns that life all seems to hit us with. It's for this reason that we'll always have a soft spot for Pete the Cat, especially at Christmas time.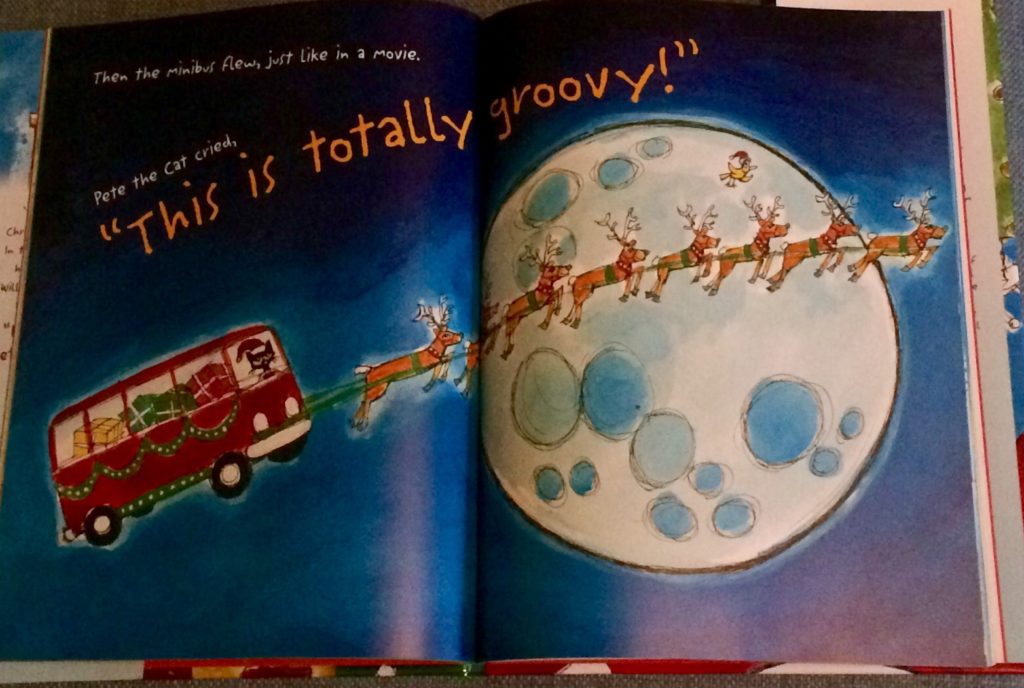 ---
Story Tips:
Sing the song that pops up throughout the book. I always end up having a different tune and it doesn't always sound great but it's the spirit.
---
I need more!
Check out our review on Pete the Cat: I Love my White Shoes for more info on the cool cats responsible for our favorite feline.
---
Add to my library:
Pete the Cat Saves Christmas

Save
Save
Save
Save