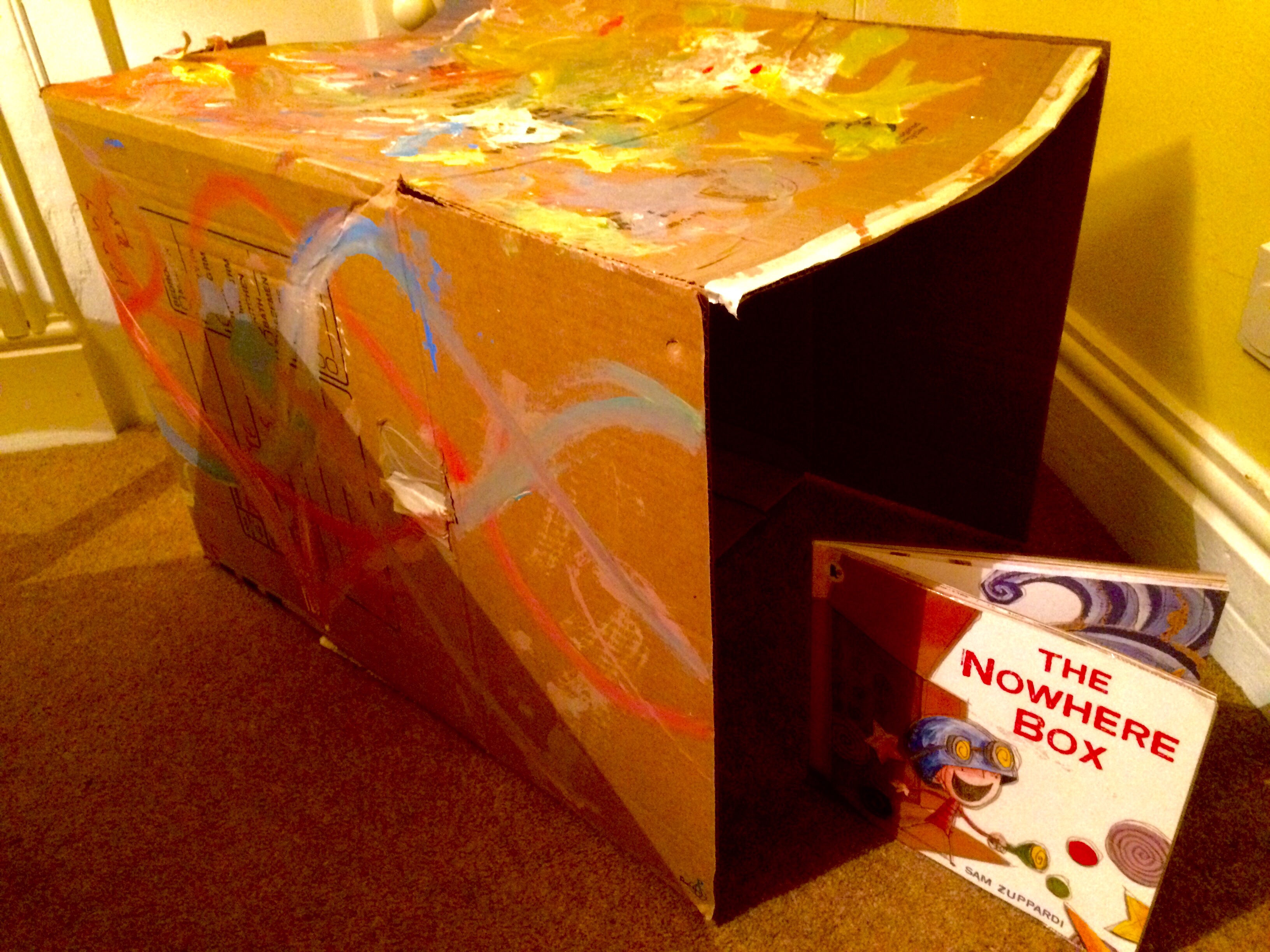 Bug loved The Nowhere Box so much. We talked about George, how he had buttons on his box, that he had a box, and what colors his box is.We had some pretty in depth conversations about this box which is quite impressive for someone who speaks in four word sentences (Bug, not me. I can do five word sentences…sometimes).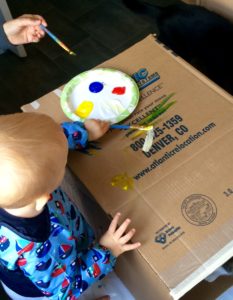 While I was moving some stuff around in the craft room, I stumbled upon an old box. I have a problem, I have to keep things. I'm getting better but I often look at boxes and have a hard time not breaking them all down and stacking them away in an unforgotten corner, just in case. Just in case… my son wants to make his own nowhere box! I love this type of validation! I carted it downstairs, set up the paint, Bug helped set up the splat-mat. We got to painting, with help from Daddy and Nonnie (Bug's visiting grandma).
We had read The Nowhere Box right before hand which was perfect. One side we painted with waves. Bug attacked it with the paintbrush making wooshing noises as he painted (Too cute!). The next side was a roller coaster, accompanied by "Wheee!" And the last side was a combination of stars and a bit of a rocket ship. Bug mostly worked on the top of the box. I put some buttons inside and a steering wheel of sorts. Daddy painted some stars on the ceiling of the box along with a truck (we're very much into trucks right now). We got to practice asking for more paint and specifying with colors. And of course, we got to paint!
Bug loved all of it. He did not love the box right away. He didn't want to go in it. Then he discovered that I had drawn some buttons inside. Now he loves the box. We talk about George (The Nowhere Box's main character) had a box and so does Bug! A definite repeat.