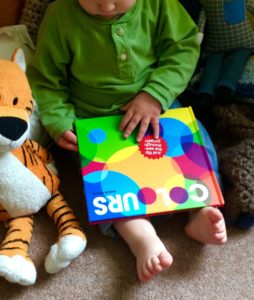 Title: Colours
Author: Patrick George
Illustrator: Patrick George
Age Group: 0-4
Synopsis: This book introduces the concept of color theory in a fun and engaging way for young ones.
The Low Down:
This was another book that we grew to love. I was not enamoured with this book, at first. The pictures are very basic and story non-existent. In the end, that's what made it great. It was simple and easy to work with in a variety of ways.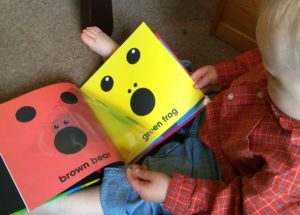 The magical thing about the book and why we keep coming back to it, is that each page has an initial illustration and then a plastic overlay that changes the picture using the mixture of colors. So, you'll have a yellow sky and then an orange sunset or an ice cream cone and then a chocolate ice cream appears on top. The chocolate ice cream is Bug's favorite. He leans over and pretends to lick it up every time.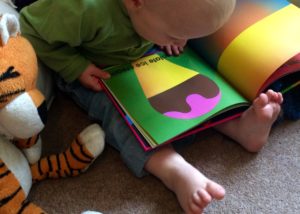 The difficulty that could arise with Colours is confusion over the pictures since the plastic overlay must be used for two different pictures it can be a bit confusing on some pages for little ones. Each time we get to the page where the bird's beak becomes the bunny's ears, Bug looks at me with a slightly incredulous stare. It's as if he's saying, "You're really pushing the limits of my imagination but I'll play along… for now."
It's the overlays that keep him coming back to the book though. They're unique and make the book more exotic than others we have and it's easier for him to use. With a flap or pop up book with tabs, he has to find the tab and figure out which way it goes. That's a lot of cognitive processing power for a little guy. With Colours he can simply turn the page to change the image. It's simple and allows him to understand that he has the power and ability to shape the world around him. It boosts his imagination, as well. When it comes down to it, that's what we really need some books to help teach children. Bug loves his Clours book and is already identifying pink, red, blue, green, yellow, brown, and white. I have no doubt that his love of the Colours helped influence this.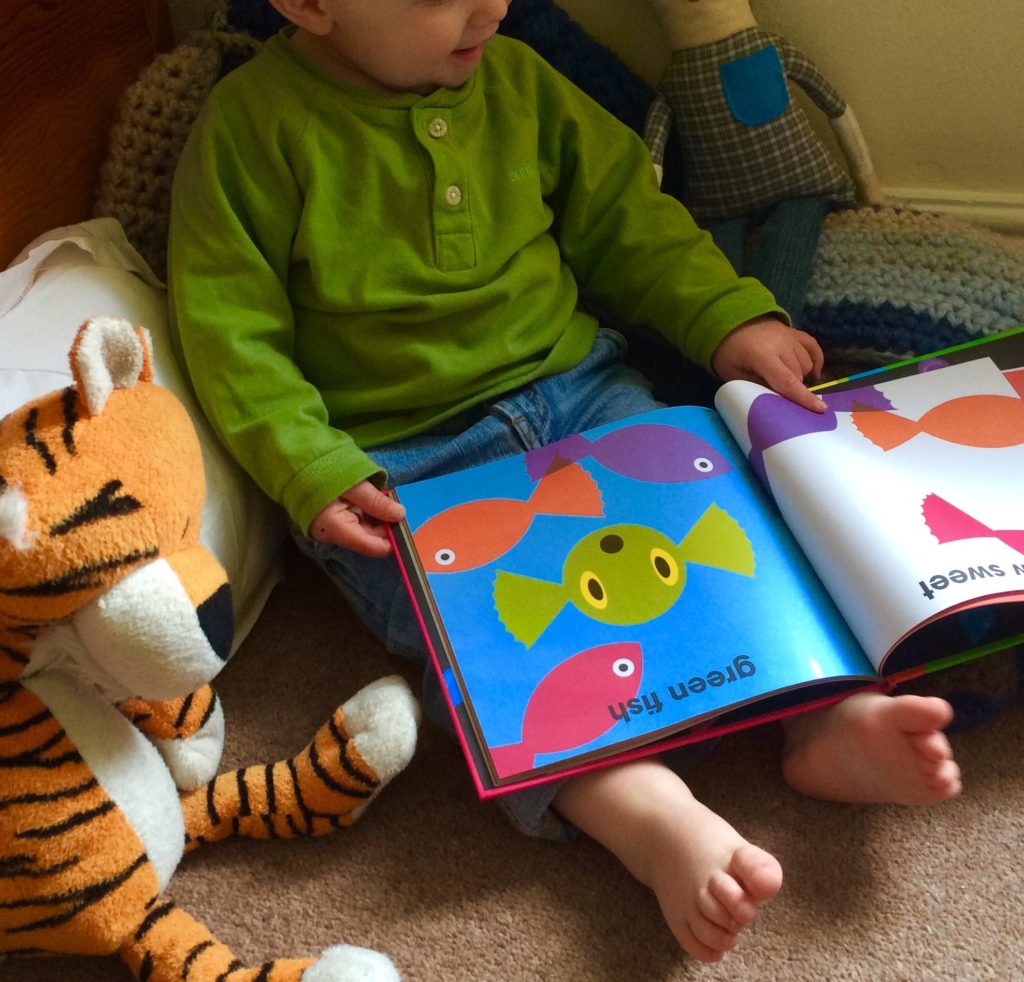 Story Tips:
This is an excellent book to not read. In that you can "picture walk." Start by describing the scene how it appears and how it changes with the overlay. "Wow, that bird is sitting on a white page all by himself. Now, he's in a white cloud in a blue sky. I think he's looking at the sheep at the page next to him." Children, especially toddlers don't really need to be asked questions about what they see. They're asked those constantly. By modeling a narration, instead of an interrogation, of what they see on the pages you're teaching and preventing crazy "Why?" phases from popping up later on. This also great in just everyday life.
I need more!
There are more overlay books from Patrick George including: Shapes, When I Grow Up, Numbers, Opposites, Animal Rescue, Oh No!, books about each of the five senses, etc. Check them out at: http://patrickgeorge.com/books.