Author/Illustrator: Philip C. Stead
Age Group: 3-6
Synopsis: Vernon is willing to do whatever it takes to help his new friend, Bird, find his way back home.
---
The Low Down:
I'm not sure why this resonated so well with Bug. Maybe it's the theme of finding your way after a move or perhaps he's just enamored by the idea of a frog wearing a bottle cap hat and collecting random treasures known by others as junk. Whatever the reason, this has been a library repeat, twice. And when we bring it home he gazes at the pages with rapt admiration.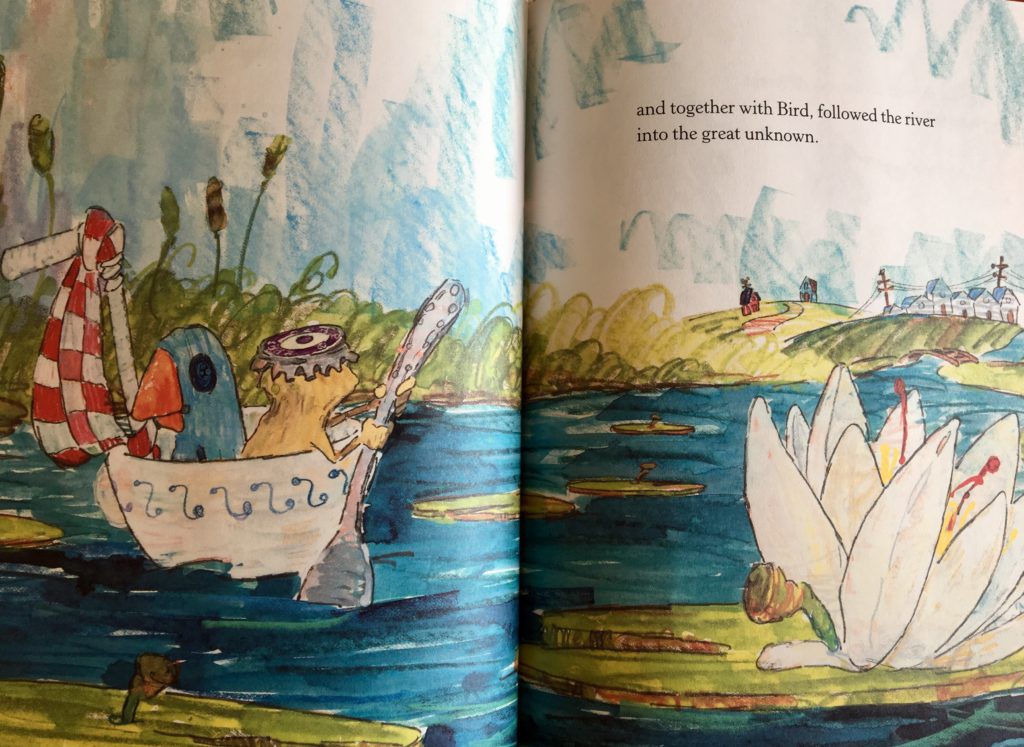 Philip C. Stead mixes his wit and sweetness in this story that focuses on a lost bird. When Vernon, a frog, finds him, he says nothing but Vernon introduces him to his friends anyway. Bird still won't say anything. It's apparent at this point, to the reader, that Bird is made of wood and that is the reason for his lack of reaction. However, the fact eludes Vernon and his friends, who are convinced that Bird is really just homesick. It takes adventure after adventure and home after home. Bird still is quiet and Vernon still mistakes his silence for bravery and disappointment. It's only when they find a small house in which to spend the night that Vernon is awakened by Bird's voice. Singing out, "Cuckoo, Cuckoo!"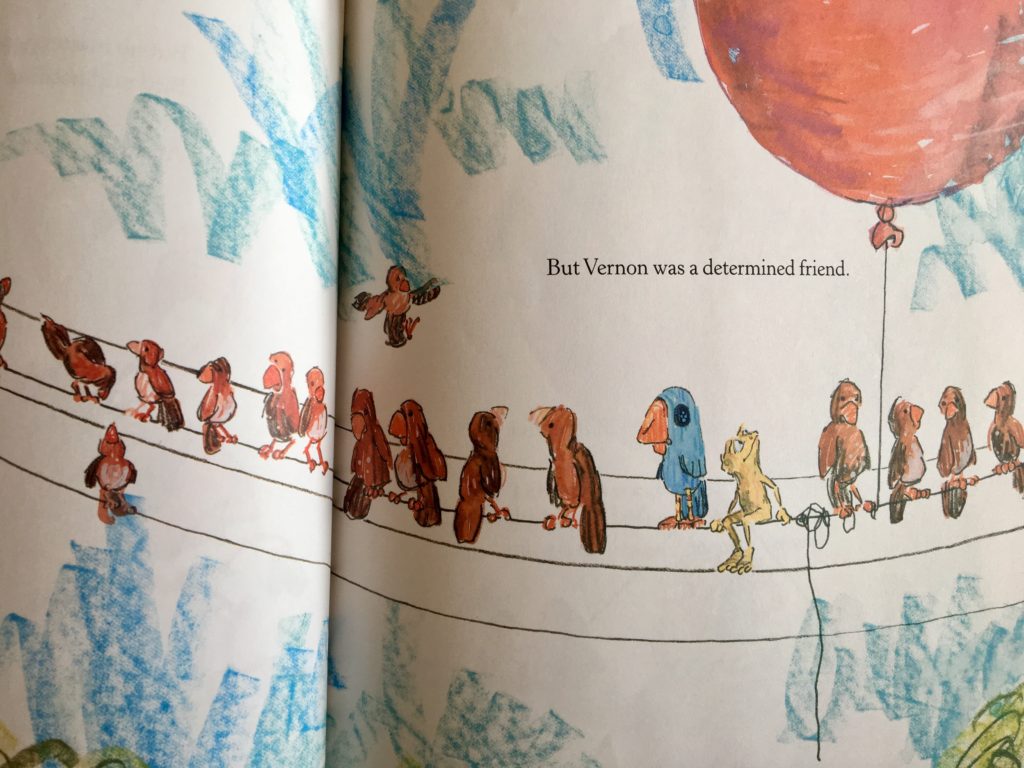 Stead illustrates this clever and heart warming story with pictures that give the impression of being haphazardly slapped together. The result is charming and really drew in Bug (who still colors in this manner). He absently rubbed his finger over the illustrations, as if he was the one adding color to the pages. Stead's characters add color themselves, each with their own unique personalities that really shine through the story. Even when there's no dialogue, the reader is not left doubting what is occurring in each scene or what each character is thinking. Even Bird who is a wooden character (in more ways than one) almost seems to smile on the last page, which has such a profound brightening effect on not only the story but also the reader.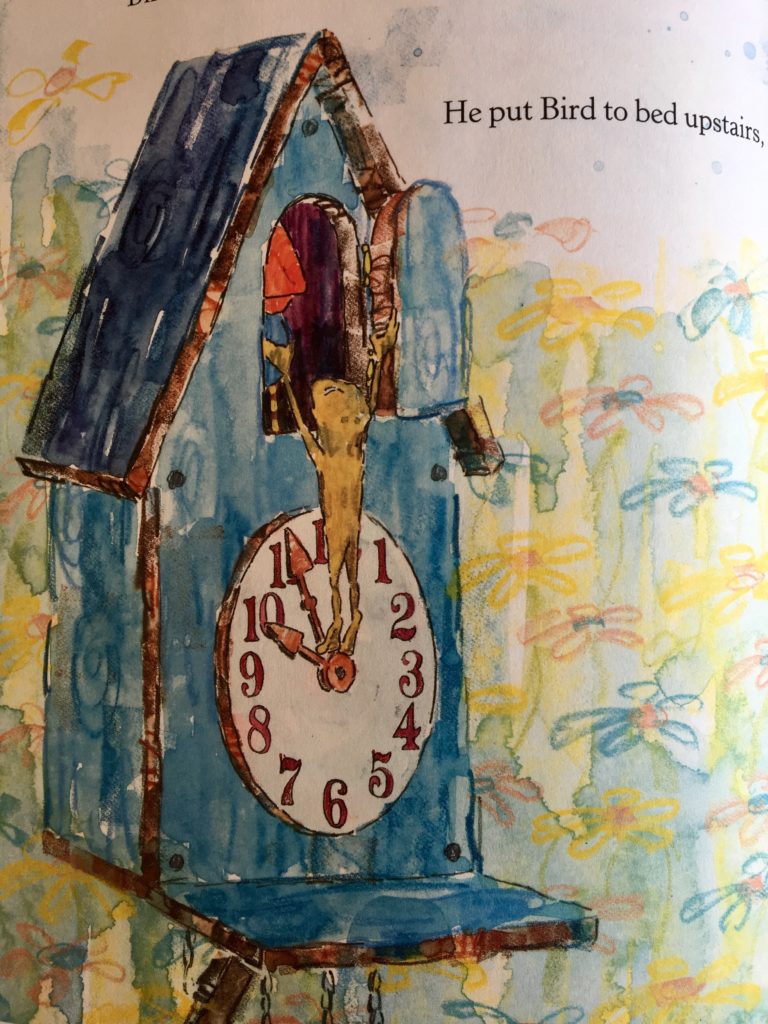 A Home for Bird is a true testament of friendship. Stead delivers this message in such a sweet and thoughtful way. It's impossible not to love not only Vernon but the way that he loyally fights to help his friend find happiness. Whether it's actually finding his home or the never ending supportive friendship that ultimately gives Bird a voice may seem like a no-brainer. However, I, for one, think that whether or not they had found that clock Bird should have been singing for joy to have such an amazing friend.
---
Story Tips:
We had a great time inspecting Vernon's other treasures.
Keep an eye on the background during the journey scenes, it shows up later on.
---
I need more!
I think more people are familiar with A Sick Day for Amos McGee than any other of Philip C. Stead's works. I actually haven't read it myself (gasp!) but am super excited to check out one of his newer stories: Ideas Are All Around. His website: https://philipstead.com/books/ should keep you up-to-date on all his newest projects.
---
Add to my library:
A Home for Bird

Save
Save
Save