Author: Timothy Knapman
Illustrator: Laura Hughes
Age Group: 1-6
Synopsis: The animals on her wallpaper can't get to sleep so it's up to Emily to find a way to calm them down and get ready for bed.
---
The Low Down: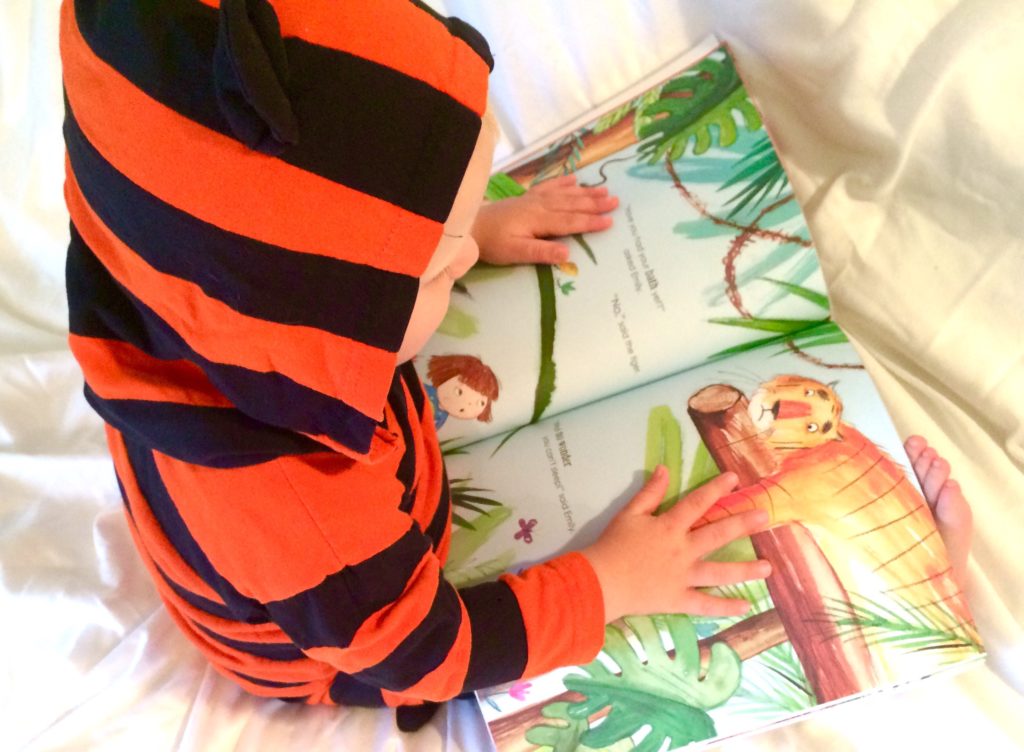 Goodnight Tiger was a library pick. I flipped through it because of the tiger on the front but ended up adding it to our haul because I loved where the author went with the imagery. I've never had wallpaper with really anything on it. I did have bears stenciled on my walls but I'm not sure that counts. The closest I ever came to having animal wallpaper was having dinosaur bed sheets. When I was afraid at night I would imagine that the dinosaurs would crawl out of the bed sheets and encircle my bed, protecting me from any unnamed doom lurking in the shadows.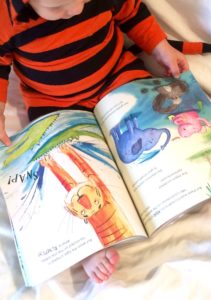 This backfired when I had to change my sheets and I was left fighting terror on my own. I won though, so it's all good.
Our main character, Emily, doesn't really need dinosaurs because she's brave and daring all on her own. She's awoken at night because the wallpaper animals are making too much noise. So, of course, she crawls into the wallpaper to help them out. She questions the animals about their bedtime routine and finds that they don't take baths or have a cup of hot chocolate or sing lullabys or snuggle with teddy bears. Emily is so frustrated when each of these suggestions is met with disaster. There's crocodiles in the bath water, they must use mud for hot chocolate and that tastes terrible, the bear doesn't want a snuggle, etc. Emily is about to throw in the towel when she remembers bedtime stories. By the time she's finished all the animals are asleep, except Tiger. He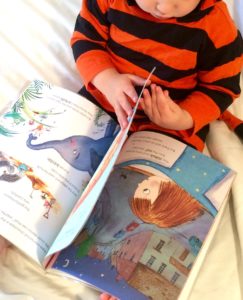 offers her a goodnight snuggle and they drift off to sleep. The only drawback is that Emily awakens with Tiger in her bed the next morning, a lovely new house pet.
The story is sweet and the illustrations do a great job of bringing everything to life. The bear that doesn't want to get snuggled is laugh-out-loud hilarious, and you can feel the frustration and disappointment that Emily feels. The jungle is bright and exciting, Bug loves the monkeys swinging through the trees and the crocodiles in the water. We've begun saying "SNAP!" whenever we see them. Goodnight Tiger isn't a book I'd normally pick up but it's one that I'm very pleased to have picked up.
---
Story Tips:
Reading with a tiger and a tea cup is always much more exciting. And although it is called Goodnight Tiger I wouldn't suggest this as a bedtime story. It's a bit too rambunctious.
---
I need more!
Timothy Knappman doesn't just do picture books, he's a master of all trades. He has a whole line of Shakespeare tales that he's rewritten into modern day English, juvenile fiction, and young adult books. These all join a list of picture books too long to…well list. I'll definitely be on the look out for some more of his works soon.
Laura Hughes has about five books to her name and they all look adorable. The only one I'm hesitant about is: Terrible Tim. Just because I don't believe any child should ever be called terrible. The front cover is fabulous enough to make me want to try it though.
---
Add to my library:
UK Amazon:
US Amazon:
Save