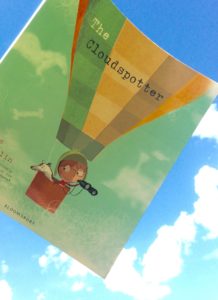 Title: The Cloudspotter
Author: Tom McLaughlin
Illustrator: Tom McLaughlin
Age Group:1-6
Synopsis: The Cloudspotter doesn't mind being alone with his beloved clouds but when someone begins joining him on his adventures he'll discover that what he's really searching for isn't a cloud at all.
---
The Low Down:
"Be careful, or you will let your work push those around you away." When I lived in Taipei, a fortune teller had me throw stones across a shallow box of sand, one night. Those words are what he read in the stones. It's stuck with me ever since, sitting in the back of my mind and niggling my conscience every once in awhile. I find I often think of it because it's true. When I find something that I enjoy, I focus all my energy on that one thing. I want to learn everything about it and breathe it. Books give that to me in short bursts. As much as I rail against waiting for sequels to come out, they're really my saving grace. If I have a whole series I can become lost for days, if not weeks on end. It's in these moments of frenzied obsession, whether it be books, writing, or some other interest,  that I close in on myself and fulfill those words spoken to me so many years ago. However, it's those words that open my eyes and remind me to rejoin my relationships. I think that's why The Cloudspotter spoke to me. We can all be so consumed by things that we lose sight of the importance, strength, and power of a friend.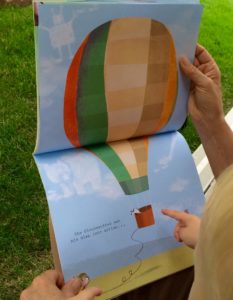 Franklin, the main character in the book, seems to share my obsessive personality. He spends his days gazing and studying the clouds around him. He doesn't need friends, he tells himself, he has his clouds and in them, and his imagination, he finds not only shapes but stories and adventures. He doesn't need people. I think that's something that we may all end up telling ourselves in times of loneliness, to escape from the hurt and pain. However, Franklin's loneliness is shattered when Scruffy Dog shows up one day. This creature won't leave him alone and won't be easily dismissed, even though Franklin wants nothing to do with her. It's only after he contrives a way to get rid of her that he realizes the value of what her company was and that underneath everything he was really just lonely. He finds her again and they renew their friendship.
The story is moving and a good reminder but as with any picture book the illustrations are important as well. Tom McLaughlin almost reminds me of a combination of Oliver Jeffers and Quentin Blake, in the way he creates the world around Franklin and Scruffy Dog. His style varies though in the details and characters. Franklin is adorably geeky with his aviator helmet and huge cloud-hunting backpack. While Scruffy Dog is, well, scruffy. The real treasure though is the clouds. Floating through each page they bring the story to life in a subtle way. The drifting pictures in the sky, a soft reminder that cloudspotting is always better with a friend.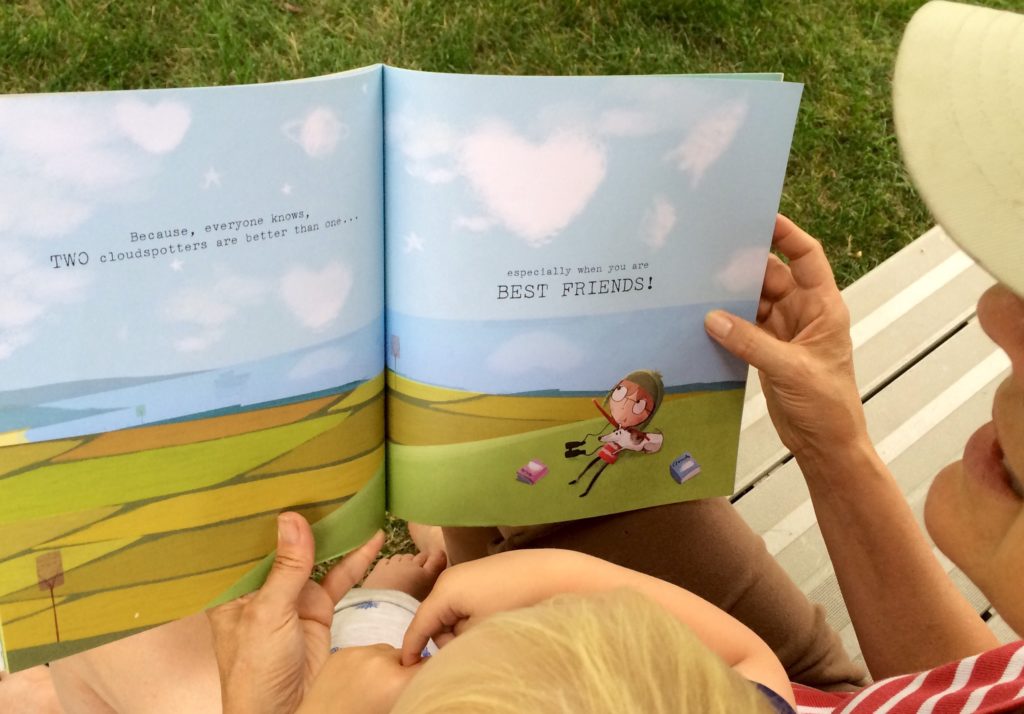 ---
Story Tips:
Read this one outside. Preferably on a partly-cloudy day.
---
I need more!
Tom McLaughlin has done quite a bit of animation and has a few other picture books available from The Story Machine to The Accidental Secret Agent they all seem to sport fun themes and interesting illustrations. Find out more at: http://tommclaughlin.co.uk/books/
---
Add to my library:
UK Amazon:The Cloudspotter
US Amazon:The Cloudspotter