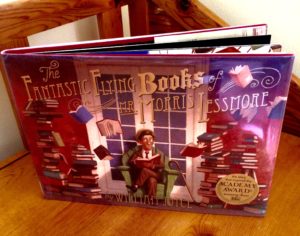 Title: The Fantastic Flying Books of Mr. Morris Lessmore
Author: William Joyce
Illustrator: Wiliam Joyce
Age Group: 2+
Synopsis: When disaster rips away all that he holds dear, Mr. Morris Lessmore will find renewed hope from some literary friends.
The Low Down:
I found The Fantastic Flying Books of Mr. Morris Lessmore years ago and fell in love with it. But in the sad way that is my mind sometimes, I forgot all about it until I saw it at the library the week before last. It was like in a film, when two people see each other from across the room and then the music begins to play and the camera zooms in on their faces and you know they've once again found each other. It was exactly like that, except there was only me and an inanimate object. Oh, well.  I knew it was too advanced for Bug but I didn't get it for him. I got it for me.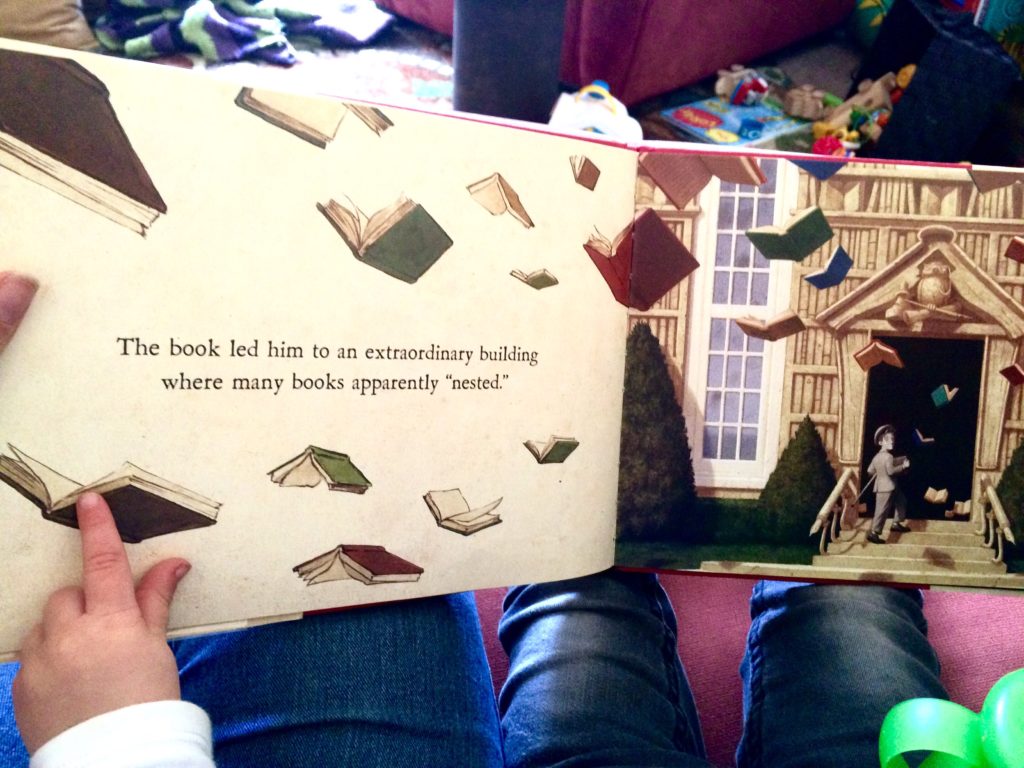 There are a few places I dream about living. The first is hands-down the library from the book Beauty (it has all the books ever written, even those that aren't yet written) and the other is in the library of Mr. Morris Lessmore. I would love to have a flock of books or maybe a group of books would be called a library instead. The illustrations almost fly off the pages. They beg to be poured over, to be studied. If you haven't seen the short film that was made of the book than I would highly suggest it. They take William Joyce's pictures and breath even more life into them. Although how that is possible is beyond me.
I cry every time at the end of the short and the book. My heartstrings are so entwined with the story by the end that I feel as if I am Mr. Morris Lessmore or at least one of his books. My husband came into the room the other day and commented that I was crying over a children's book, again. I don't know if I would say the The Fantastic Flying Books of Mr. Morris Lessmore is only a children's book. It's something I enjoy even now. Of course I can enjoy all sorts of kids' books but The Fantastic Flying Books of Mr. Morris Lessmore is really for readers and the longer you have been a reader the more dear books are to your heart and the greater this story will move you. It's a book that I hope Bug will come to love as much as I have.
Story Tips:
Read this again and again and again. It's like rediscovering a lost friend each time.
I need more!
You may have heard of a little film called: Rise of the Guardians. This was based on William Joyce's novels: The Guardians of Childhood. If you haven't read them, I'd highly suggest adding them to your list. He's also written: Rolie Polie Olie (now a kid's tv program), George Shrinks, and Santa Calls. Those are just the books he has that I've read. If you are searching for more I'd google him or check Amazon, as his website is not easy to navigate.
Save