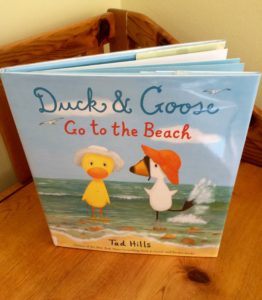 Title: Duck & Goose: Go to the Beach
Author: Tad Hills
Illustrator: Tad Hills
Age Group: 2-6
Synopsis: Duck and Goose decide to go on an adventure but when they leave their home they will have to learn to enjoy new experiences, friends, and sensations.
The Low Down:
Bug loves ducks. I don't know any toddler that doesn't. He would watch the ducks in the park for hours if I let him. If we see almost any other bird (except owls) he will more often than not identify them as ducks. We're also big fans of the Gossie books by Olivier Dunrea. So when I saw a book entitled Duck & Goose I thought for sure we were going to have a winner on our hands. The actual consensus is a bit more complicated.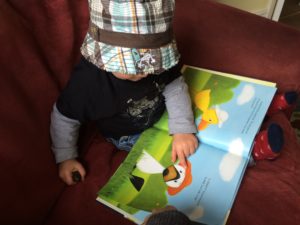 Duck & Goose has a story line that works well for kids. Essentially Duck wants to go on an adventure and Goose wants to stay at home. Then once they get to their adventure destination, the beach, Duck isn't enjoying himself anymore and Goose is having a great time. Addressing failed expectations and being hesitant in the face of new experiences are both very worthwhile things to discuss with children as their lives are constantly being injected with new things. However, the story was a bit long for Bug and I ended up cutting each page down to one or two sentences.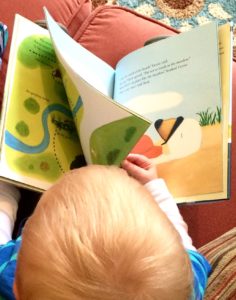 The illustrations are adorable. Duck and Goose are so sweet as they parade around in bucket hats exploring the beach. They're faces are so expressive that it makes it quite easy for Bug to follow along with the story even if I'm not reading it to him. I've found him a few times flipping through and saying our only two expressive words right now: "happy" and "Oh no!" But again he doesn't sit through the whole story very often. I think it would be perfect for children that are a bit older (at least two-years-old).
Story Tips:
If you have a little one do a bit of improvisation and cut the story down otherwise they may not sit through the entire thing.
I need more!
Duck & Goose go on lots of adventures. There's counting and seasonal holiday books as well as: Duck, Duck, Goose & the original, Duck & Goose. Tad Hills also does other series of books about a dog named Rocket. His website is the very aptly named: http://tadhills.com/