Author: Robert D. San Souci
Illustrator: Jamichael Henterly
Age Group: 5-10
Synopsis: Young Guinevere desires to be brave and strong like the women she looks up to, when her kingdom needs her most she'll need to be brave and succeed.
---
The Low Down:
I've always thought Guinevere got the raw end of the deal in the King Arthur saga. We never hear anything about her except that she's incredibly beautiful and eventually ruins the Utopia that Arthur works so hard for. And while that plays a part in this version of the tale it's not the driving focus. I love that about folklore and legends, that there can be multiple versions and nothing can really ever be perfectly nailed down. However, what really sets this tale apart, besides the amazingly vibrant and engaging illustrations, is the fabulous meld between magic, myth, and legend.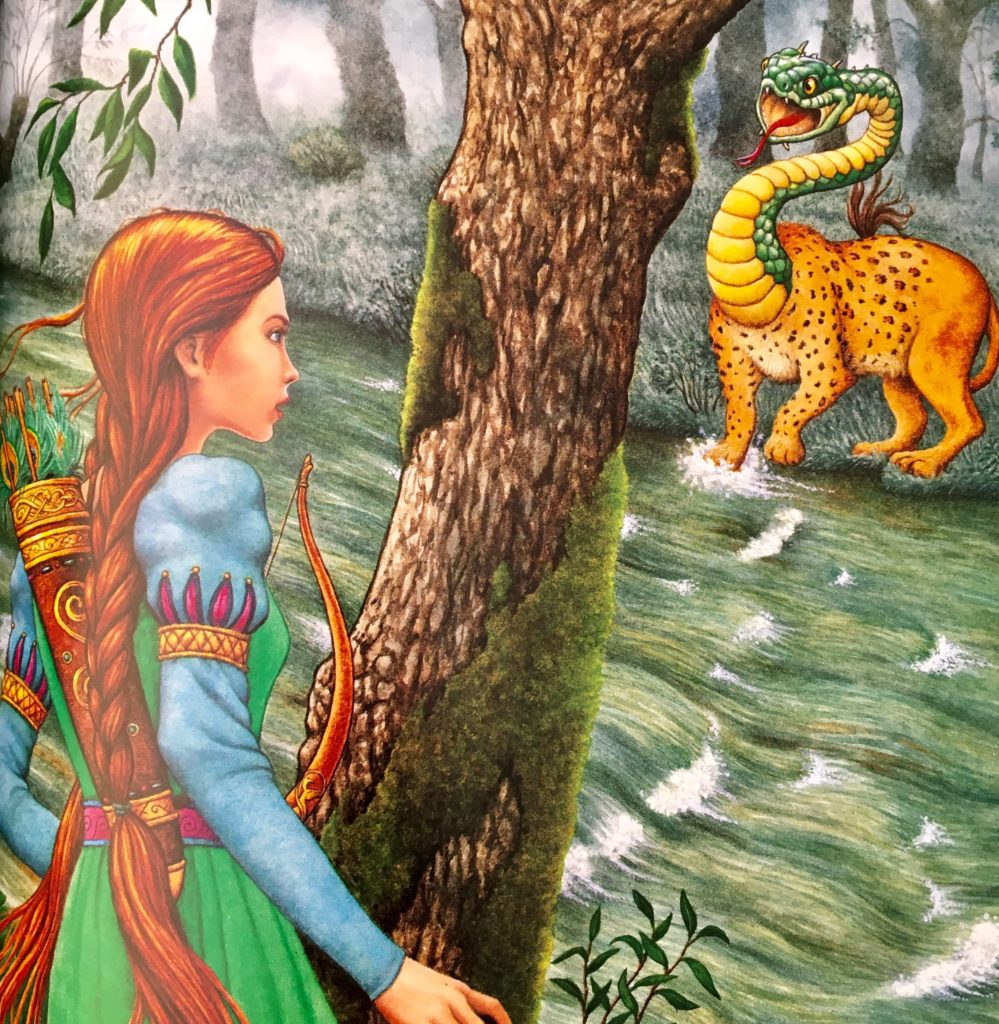 San Souci paints Guinevere as brave and courageous girl, with a strong civic duty. Truly a breath of fresh air. She hears of Arthur at a young age and a prophecy concerning their destiny together but doesn't allow him to consume her thoughts. She's more interested in sneaking out of the castle to explore the forest and pretending to be Diana, goddess of the hunt and her hero. It's only when war is threatens her kingdom that she convinces her father to let her ride to Arthur for help. No one knows the forest paths as she does. With the help of a few magical beings, that trust her, she is able to make it through a myriad of obstacles set in her path. She makes it to Arthur and they are able to turn the tide of battle, just in time. However, after the battle, Guinevere hears Arthur admit he's in love with her, while Merlin cautions that she will cause Arthur great grief in the future. Guinevere is hurt by these words but she too has found her thoughts straying to the young king. So, when he asks for her hand in marriage a few months later, against Merlin's council, she accepts. The story leaves us with hope for the future but San Souci actually ties it up one page further on with a short epilogue. He doesn't go into detail but informs the reader that Guinevere did indeed have a hand in Arthur's downfall and spent her last days as a nun.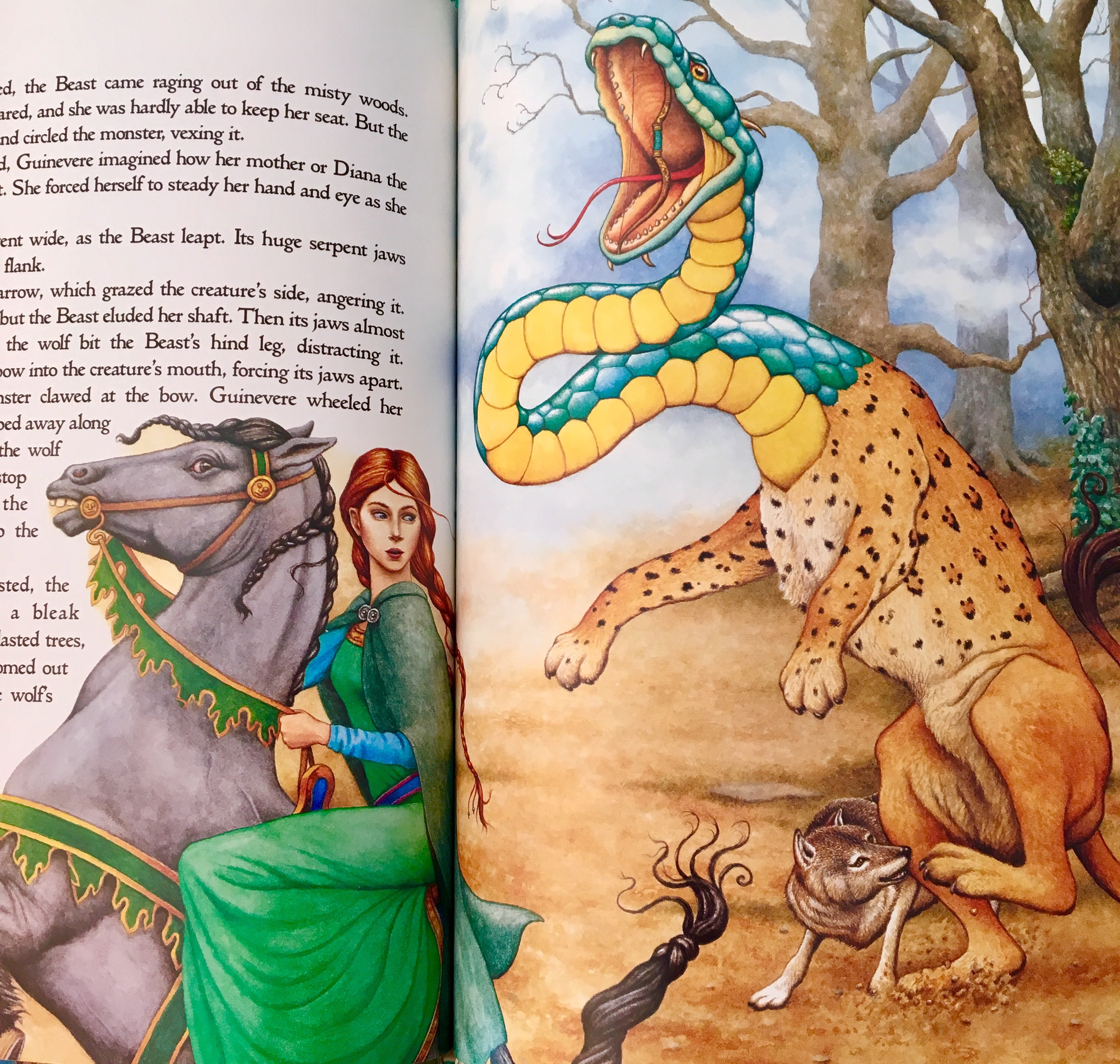 San Souci paints the story through words but Henterly goes a step farther and brings the images to life. Using vibrant colors, that I don't normally associate with Britain, his depiction of Guinevere is rich and spirited. She's often seen with leaves in her hair or winding through the trees and her face is that of the girl that she is, instead of a haughty courtier. The swirl of magical elements that are throughout the story are presented traditionally, sticking with elves and classical monsters. The Celtic designs and other small details are also great tributes to the origins of this legend. He even includes small embroidery pieces on each page, that follow along with the story and help wrap it up at the end.
I've always been a reluctant fan of the Arthurian legend. What I'm a true fan of is happy endings and the story never ends so. But the magic and the drama of it all are enticing. San Souci and Henterly make it more so by constructing Guinevere as a courageous and strong young lady. She's been such a pariah in literature and yet, I always seem to be rooting for her. Maybe it's because we had this book when I was younger. Though we know the eventual path of the story is one rife with sorrow, I can't finish this book and not hope that maybe this time things will all work out for the best.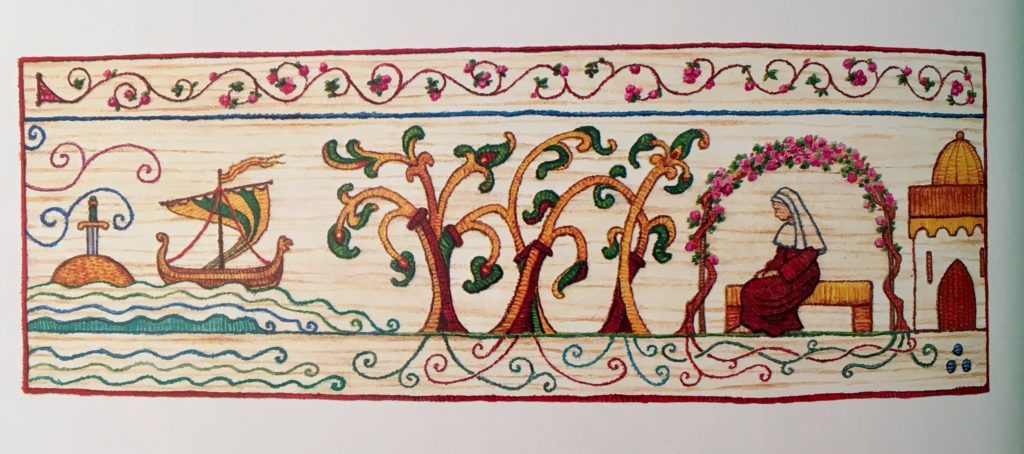 ---
Story Tips:
Pay attention to the embroidery details on each page. So beautiful!
---
I need more!
San Souci and Henterly also have a Young Arthur, Young Merlin, and Young Lancelot story. I've never seen or read any of them, but the legend exists.
For more about San Souci check out my review on The Talking Eggs.
Jamichael Henterly has some really great stories, mostly fairy tales and folktales that all look stunning. Check out his website at: http://jamichaelhenterly.com
---
Add to my library:
Young Guinevere

Save
Save
Save
Save