Author: Juliette MacIver
Illustrator: Sarah Davis
Age Group: 1-6
Synopsis: Toucan is one capable bird. Are there any limits to his abilities? He can dance, do kung fu, he can swing and sing but can he do what YOU can do too?
The Low Down:
I know they say: "Don't judge a book by it's cover." I've said this, I hear this, I still do this. Toucan Can's cover is so vibrant and fun I couldn't not choose it. That its story didn't disappoint, was even more of a confirmation that this old adage isn't always true. It has exciting upbeat rhythmic lines that rhyme most of the time and encourage the reader and listeners alike to jump up and act out the story. Bug wasn't too sure about it at first but now when we pull it out he jumps up and yells, "Toucan!"
The story is essentially about Toucan a bird with a can-do attitude. He can do almost anything, especially if it rhymes with 'can.' He introduces us to his friend kangaroo, with whom he practices kung fu, and Ewan, with whom he dances. By the end the entire jungle is dancing. These pictures which are would be beautiful if they were just showing Toucan standing still seem to jump off the page as he swings, slides, and dances the cancan through the story.
Almost each page has active verbs that encourage you to jump up, dance, do kung fu, and embrace the ability to try to do new things. This is not a before bed book. This is a rile me up and make me excited about reading book. The lines can be a bit difficult to read without the right rhythm but once you catch it, it's like riding a literary roller coaster.
---
Story Tips: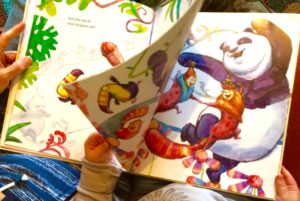 Read this book somewhere, where you can move about easily. It begs you and your readers to be active. It's an added bonus if you know kung fu.
---
I need more!
Juliette MacIver has some really cute books (cover judging again over here). Queen Alice's Palaces and The Moose and the Goose really jumped out at me. She's also teamed up again with Sarah Davis to do a series called Marmaduke Duck. For more visit her website at: http://www.juliettemaciverauthor.com/my-books.html
Sarah Davis has some really cute books that's she illustrated including: Be Brave, Pink Piglet, and the Fearless series. More literary adventures for your perusal at: http://sarah-davis.org/picturebooks/.
Save
Save
Save