Author: Paul O. Zelinksy
Illustrator: Paul O. Zelinsky
Age Group: 1-6
Synopsis: A brightly colored adaptation of the beloved children's song, complete with movable parts and pull tabs.
The Low Down: When I say that we read The Wheels on the Bus everyday, I am not exaggerating. EVERY SINGLE DAY. The binding has begun wearing out and has had to be reinforced because when we read it, it's usually more than once. I thank the stars above though, that we have the Paul O. Zelinksy version because that is how I've kept my sanity.I would challenge anyone to find a better version of The Wheels on the Bus. There aren't just flaps to lift on each page, oh no. There are wheels to turn, doors to open, riders to jostle, wipers to swish, buses to avoid as they drive off the page and into your heart. Ok, that last bit was a bit cheesy but you get the picture. Not only does this book redefine the "flap-book"genre but it introduces a separate subplot for almost each supporting character. So, if you happen to be reading the book for the 116th time (not that anyone's counting) you can narrate your own story and maintain your healthy mental state.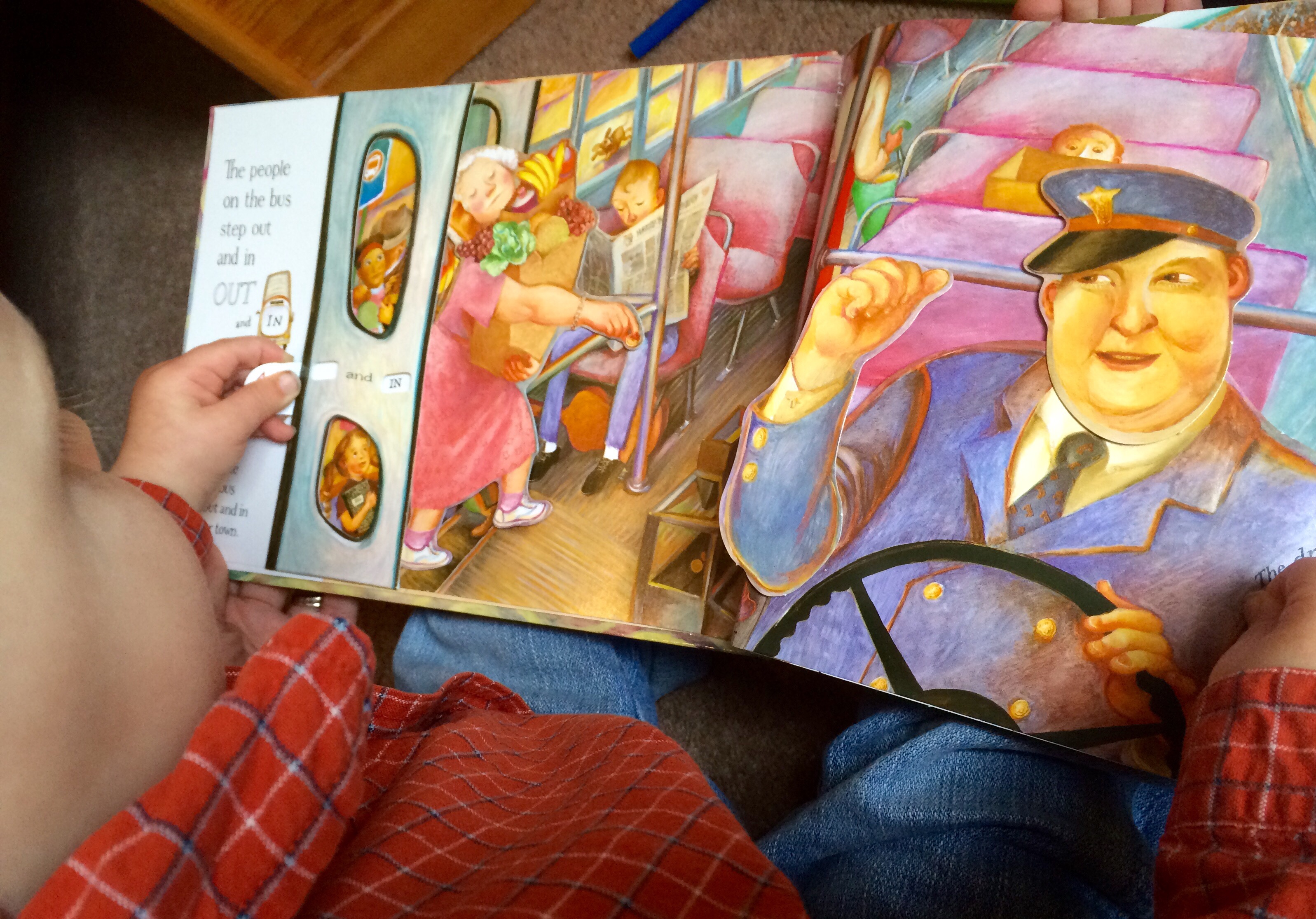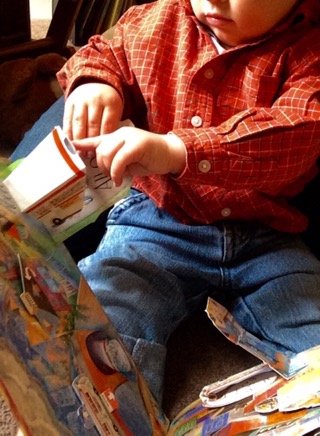 The surprising thing is, that most people I talk to, who have this book, usually haven't noticed some of these delightful little tidbits on each page. We had The Wheels on the Bus when my sisters were young but I still noticed some new things when we got it as a present for Bug. It's a bit pricey but I'd have to argue that it's well worth it.
---
Story Tips:
Here are a few characters and "Easter eggs" to check out:
Motorcycle lady and her dog
Little boy carrying the box. Watch the contents carefully!
Man with the guitar. He's usually on each page more than once. Can you figure out how?
Moms with babies.
Grocery lady
There's a bull terrier that doesn't need to take the bus; he teleports! Find him twice in his actual form on the first and second to last page and as a statue in front of the library.
There's some bears driving vehicles on the last page. I have no idea why but I like how one even has a dog in the front seat of his van.
---
I need more!
Paul O. Zelinsky does an amazingly beautiful version of Rapunzel with the most intricate illustrations. As a bit of a warning though, it is the Brothers Grimm version. So people are wandering around blind in wastelands and being banished while pregnant. He's done quite a few other books that I'm unfamiliar with but you can see a whole list at paulozelinsky.com.
---
Add to my library:
UK Amazon:The Wheels on the Bus (Pop-up Books)
US Amazon: The Wheels on the Bus
---
Save
Save