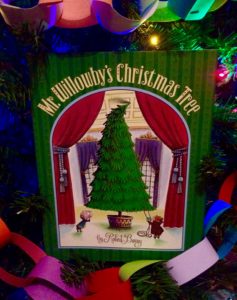 Title: Mr. Willowby's Christmas Tree
Author/Illustrator: Robert Barry
Age Group: 2-8
Synopsis: Mr. Willowby's Christmas tree is everything he could hope for, except that it's too tall.
---
The Low Down:
We still sit down for Christmas story sessions when I go home around the holidays. My sisters and I dig through our extensive holiday collection and all pull out our favorites for my mother to read. Sometimes, if we're feeling new and novel, one of us will read but the feeling that overwhelms me as I snuggle up on the couch and listen to my mother use a southern accent for Miss Adelaide (Mr. Willowby's upstairs maid) quenches my nostalgic thirst. Mr. Willowby's Christmas Tree is one of my very favorite Christmas stories. The copy we have at home is so well loved that the hard cover feels almost soft in your hands when you open it.
The rhyming story centers around not Mr. Willowby but instead his Christmas tree. Once his extravagant tree is set in place, he realizes it's too tall. However, instead of removing a section from the bottom, the butler and a humorously tall ladder are called for. The top of the tree is removed with great ceremony and presented to the maid. The tree is too tall for her apartment and so she duplicates her employer's actions and throws away the top. This theme is reproduced a multitude of times until the tree top makes a full circle and settles in quite nicely to its final destination. Barry's text is fun and draws readers, young and old, into the amusing situations that face this little tree top that gets smaller with each stop. The catchy lines are easy to remember and I often have caught myself spontaneously reciting page after page when an appropriate situation arises (mostly when we decorate the tree).
The illustrations are expressive and consistent in the quality that they continue to deliver. Each page seems to find a perfect balance between detail and providing a clear focus for the audience. This attention to detail continues not only through the story but onto the title and copyright pages as well. I must admit the copies I had seen previously had all been in black and white and when I received my copy from St. Nicholas in 2001 I was astounded to see it was in color. Even now when I see Barry's illustrations I know that whether they are color or not makes no difference. They and the text are classics and will always be absolutely spectacular.
---
Story Tips:
If you can get a tree that's slightly too tall it will provide not only a great deal of fun but also the opportunity to emulate Mr. Willowby.
There is a short film with Kermit the Frog, Robert Downy Jr., and Leslie Nielsen that follows the same plot. It is…an interesting interpretation.
---
I need more!
Robert Barry is an artist who has dabbled in the world of children's literature twice. I've heard of his story Snowman's Secret but haven't ever seen or read it. If anyone else has, I'd be interested to hear your thoughts.
---
Add to my library:
Mr. Willowby's Christmas Tree

Save
Save
Save
Save