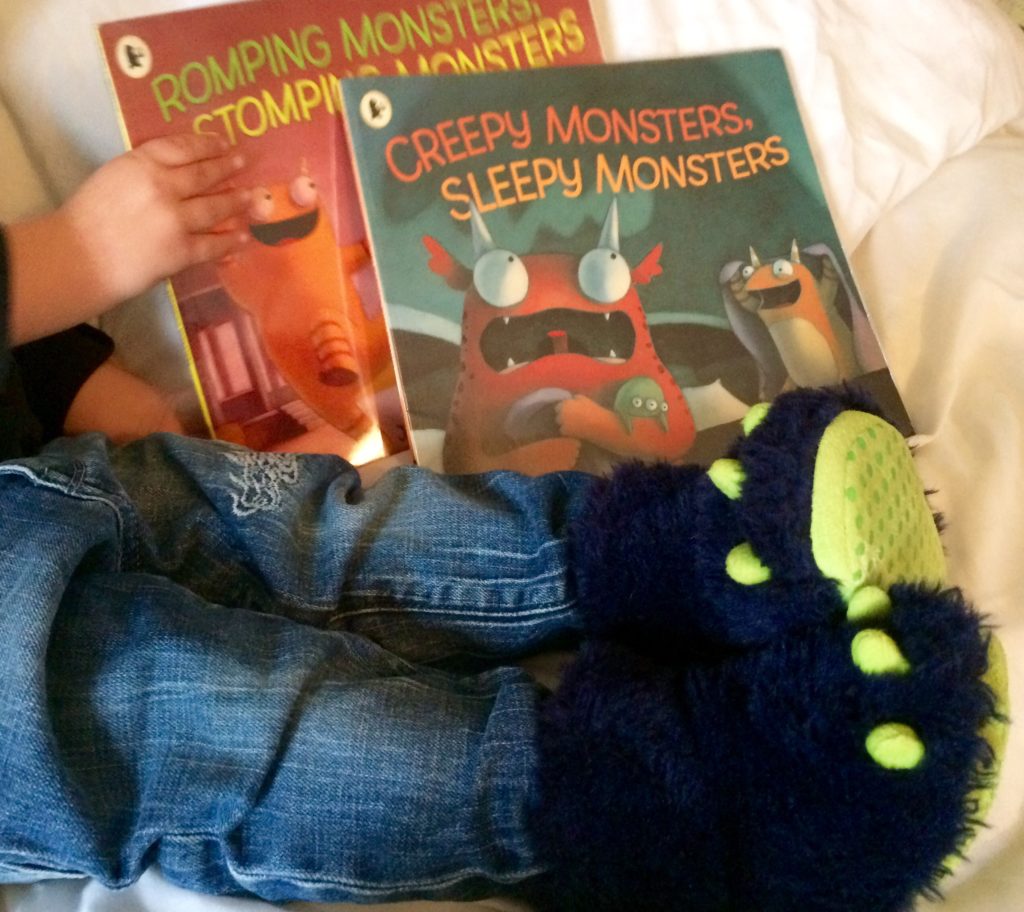 Title: Creepy Monsters, Sleepy Monsters & Romping Monsters, Stomping Monsters
Author: Jane Yolen
Illustrator: Kelly Murphy
Age Group: 1-5
Synopsis: Both books follow a pair of little monsters as they frolic about in their monster world.
---
The Low Down:
Bug's still processing what the heck this whole Halloween thing is all about. Right now he's a fan. There's candy, trips to the pumpkin patch, arts and crafts, dress up, what's not to love? The only thing I dislike about Halloween, is that switch from Aww to Ahh! I can't handle scary, I despise gore and horror. I love the magic and wonder of Halloween, the chance to wander around dressed as a fantastic being without being a total nut job. I like embracing my imagination and letting creativity take flight and I love the community bonding. Those are the things I want to pass to Bug and so when I choose Halloween stories, they are the focus not on scaring but on the fun that these Halloween characters can convey.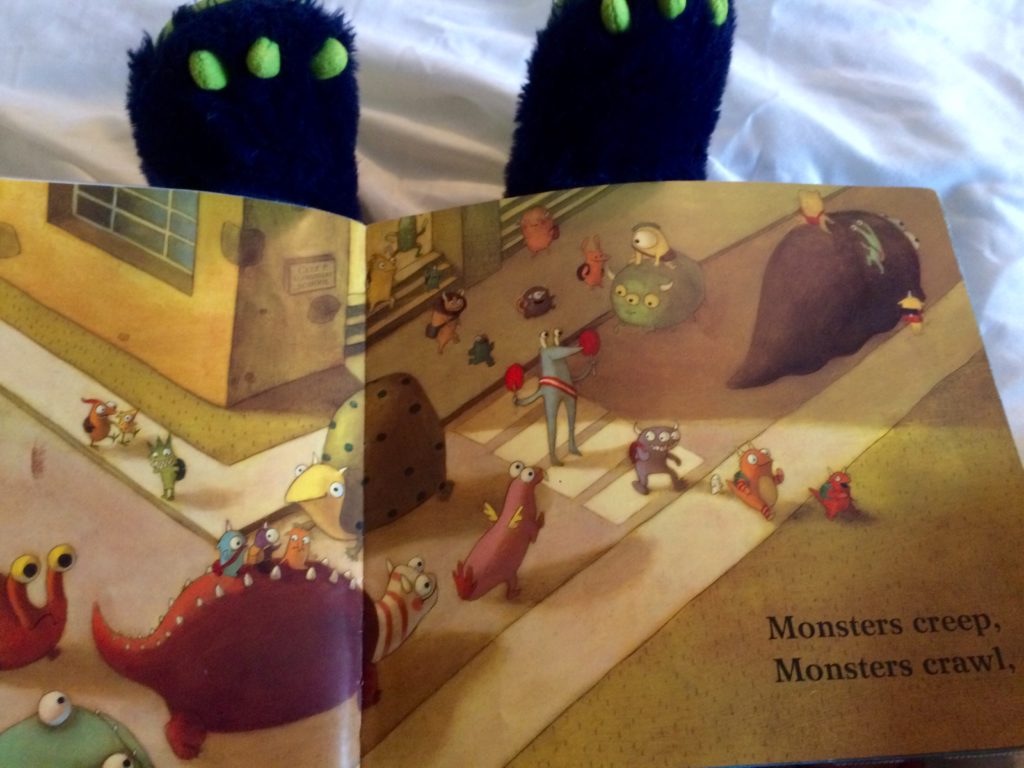 Yolen and Murphy do a great job of that in these Monster books. At no point are the books scary. They embrace the fun of another world, that can be so different and similar to our own. The little monster brothers in both books, obviously adore each other but as with all child relationships hit their rough patches. They do an admirable job of patching up their spats and moving on. The text isn't extensive usually stopping at four words per page and mostly rhymes which keeps the story light and lyrical.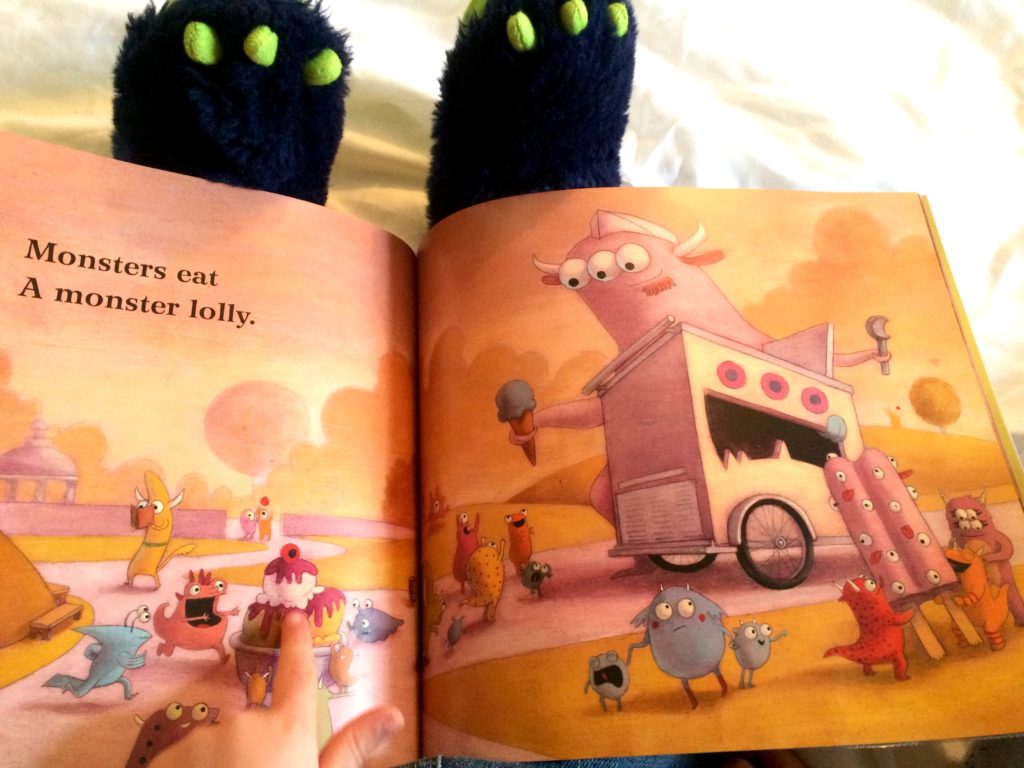 The illustrations are the real gems in this equation, full of fun and relatable details that bring the world to life. The number of different monsters that are embroidering the pages of each book is staggering but they all manage to look unique from antenna eyes to trunk noses or even additional legs. They are cute and friendly monsters that wouldn't cause me to hesitate from joining in with the bubble blowing or hectic four-square game. The birds in one book are depicted as pink balls with wings. They act just like birds, they just look way cuter. The little monsters engage in all sorts of regular activities they just happen to be more monstery. Their hamburgers have worms in them, there's a monster under their beds, the ice lolly is decorated with eyes, all of these small things could be scary but a presented in such a friendly manner that it becomes humorous instead. It would be easy to envision these two little monsters as young boys, which is why it's such a good introductory Halloween book. I don't think it's meant to be a Halloween book but we chosen to treat it as such and should Bug have a sibling one day, I'll be digging out these books to repeat a very positive introductory experience.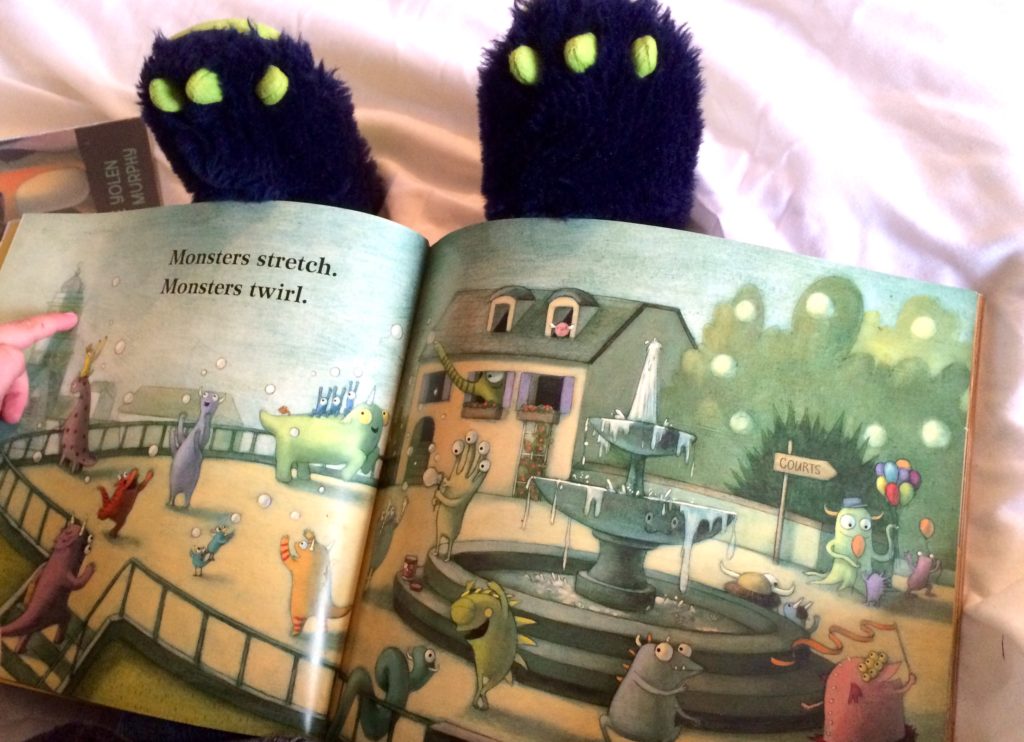 ---
Story Tips:
Keep an eye out for the little yellow and red monsters. They're in each page but not always the focus.
---
I need more!
You've probably heard of Jane Yolen, author of The Devil's Arithmetic (Puffin Modern Classics), Owl Moon, Briar Rose and many more. She does children's fiction, poetry and picture books. Check out her website for more details: http://janeyolen.com/
Kelly Murphy has a good number of illustrations under her belt with her most recent being The Slowest Book Ever. I love the look of her book Fiona's Luck too and have added a few to our list to check out. For more information: http://www.kelmurphy.com/books.html
---
Add to my library:
UK Amazon:Romping Monsters, Stomping Monsters, Creepy Monsters, Sleepy Monsters
US Amazon:Romping Monsters, Stomping Monsters, Creepy Monsters, Sleepy Monsters
Save
Save
Save
Save
Save