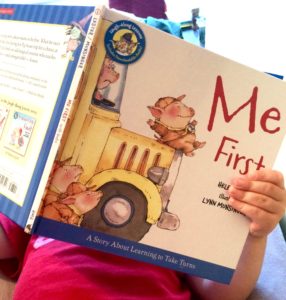 Title: Me First
Author: Helen Lester
Illustrator: Lynn Munsinger
Age Group: 1-7
Synopsis: Pinkerton ALWAYS has to be first but he might change his mind when he finds himself faced with a wise and beautiful Sandwitch.
---
The Low Down:
I can't begin to describe how excited I am when Bug loves books that I loved as a child. It doesn't always happen but when it does I want to jump for joy. We got Me First for my youngest sister, if I remember correctly. Not that I'm saying that speaks to how she acted at the time. I must have been in middle school but I loved how clever it was already and every time I babysat I was thrilled when we got to read it. My mother has kept it through the years but I know it's not really my book. So we recently acquired one of our own. Bug wasn't so sure about the "piggy story" but now he calls around the house: "Who care for sandwich??" You'll have to believe me when I say it's absolutely adorable.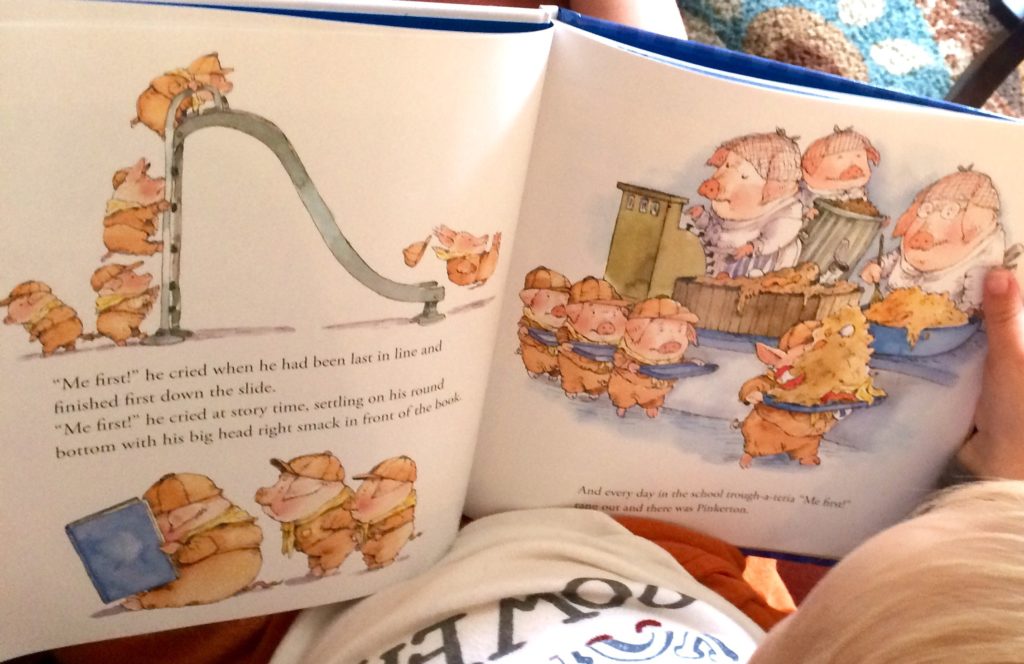 The story focuses on Pinkerton, a do-anything-to-be-first kind of pig. He has no trouble getting his hands dirty as long as it means that he is at the front of any line that comes around. It is while he is leading an adventure that he hears the beckoning call: "Who would care for a sandwich?" Of course, Pinkerton wants to be first to consume said treat. There's no other option. So he abandons his "friends" and takes off over the sandy hills. However, he is a bit shocked when he comes face to face with a small person that is identified as a Sandwitch and since he volunteered so enthusiastically he is quickly ensured the right to "care" for her. This includes doing her chores, powdering her warty nose, and all other tasks to which Pinkerton is unaccustomed. Helen Lester does a great job of delivering a very clear message to young children in an understandable and amusing way. The story is witty, well-paced, and entertaining enough to encourage both kids and adults alike to read it again and again.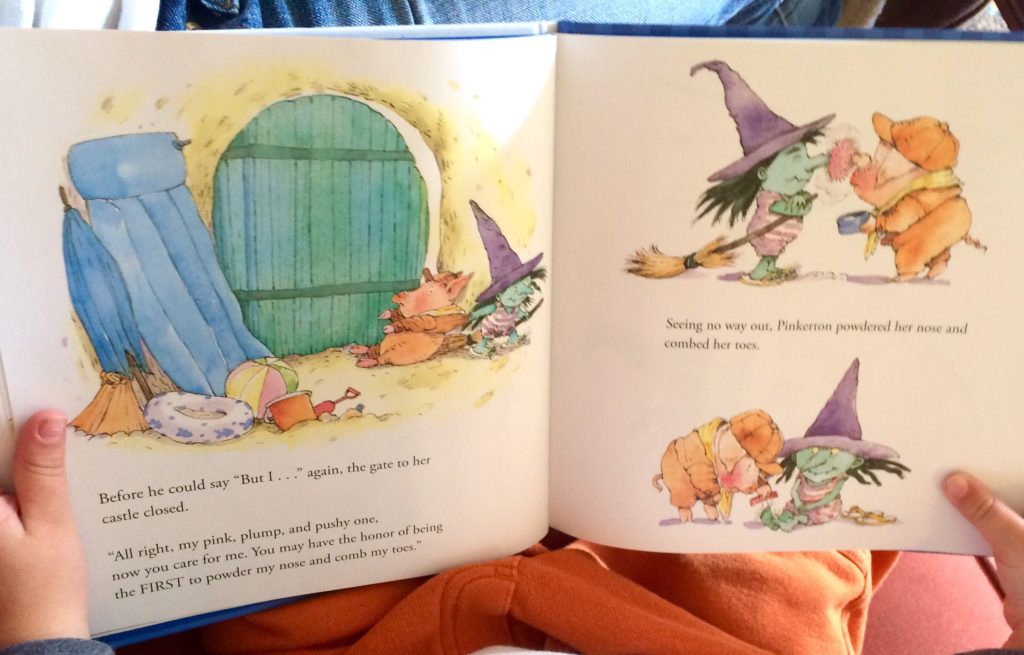 Using soft colors but with pictures that seem to explode with context and fun details Munsinger does a really spectacular job. With attention to detail like the trough-a-teria's array of garbage available for the young swine to eat and the sand-witch's sand castle, make each illustration ideal. The appearance of all the characters wear are so expressive that you honestly could probably read the story without any words. That's exactly what Bug does when he drags the story onto the couch and "reads" it to me. We end up focusing on how the sand-witch eats her spaghetti out of a sand bucket but the story does have a beginning, a middle, and an end. Being able to pick all of that up from just pictures is impressive for a two-year-old but it would be impossible without exceptional illustrations.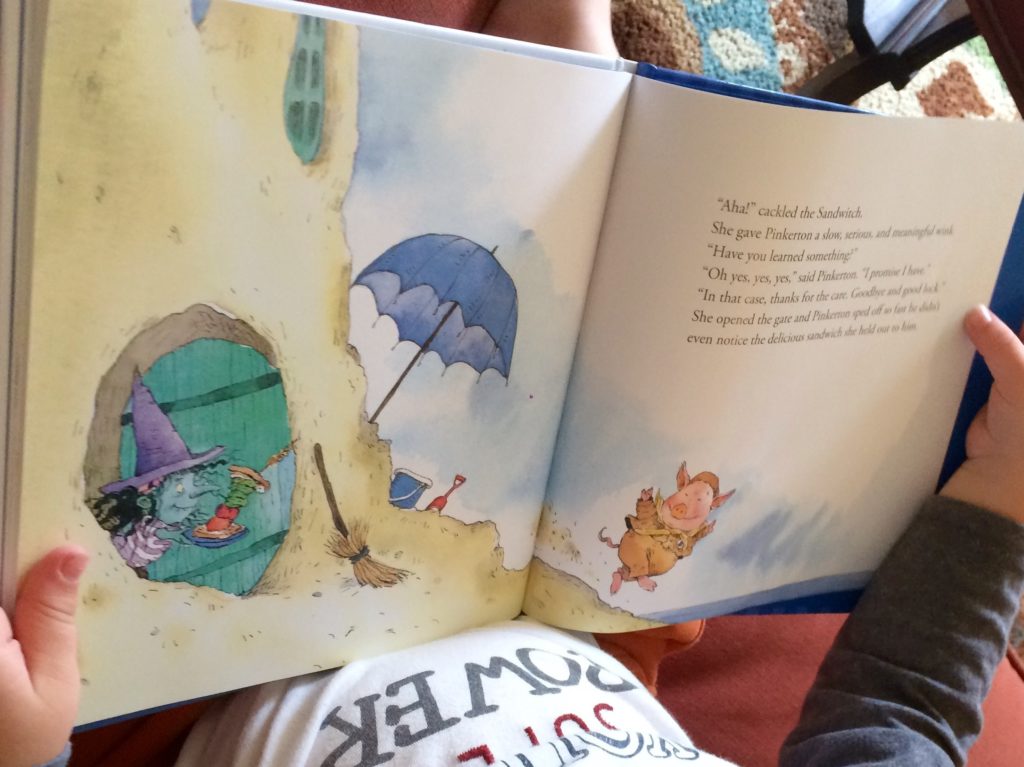 ---
Story Tips:
We practiced shouting "Me First!" before we even began to read the story. Then when it showed up in the book (it does quite often), I tapped Bug and he shouted it out. It was a great way to let him help me read the story and also keeps young ones engaged.
---
I need more!
Helen Lester has more than 40 picture books available but Me First is our favorite. A very close second is Hooway for Wodney Wat. Check here for a fairly comprehensive list: http://www.helenlester.com/booklist.html
Lynn Munsinger has illustrated many of Helen Lester's books and more than 90 titles. She works with a number of other authors including: Kay Winters, Laura Numeroff, Deborah Lee Rose, and Susan B Katz. A partial list is available here: https://www.harpercollins.com/search-results?contributor=lynn-munsinger
---
Add to my library:
UK Amazon:ME FIRST
US Amazon:Me First

Save
Save
Save
Save
Save
Save