Author/Illustrator: Stephan Lomp
Age Group: 1-4
Synopsis: Babysaurus accidentally gets separated from Mamasaurus and asks for help from the dinosaurs he meets.
---
The Low Down:
Dinosaurs are so attractive to young ones and it's easy to see why. They stomp around and are big. They aren't around anymore, so seem almost like some sort of mythical beasts. Mamasaurus plays on this while adding a soft touch to the wonder that is a dinosaur.
Readers follow Babysaurus on his adventure to find his mama by questioning dinosaurs who happen across his path. Babysaurus describes his mama as tall, with a long neck, and a talent for find the sweetest, most tender leaves. The other dinosaurs can't properly relate, as their mamas fly, have long horns, run fast, or are very tiny. In the end, Mamasaurus finds Babysaurus just as he's about to get into trouble with a toothy fellow named Rexy.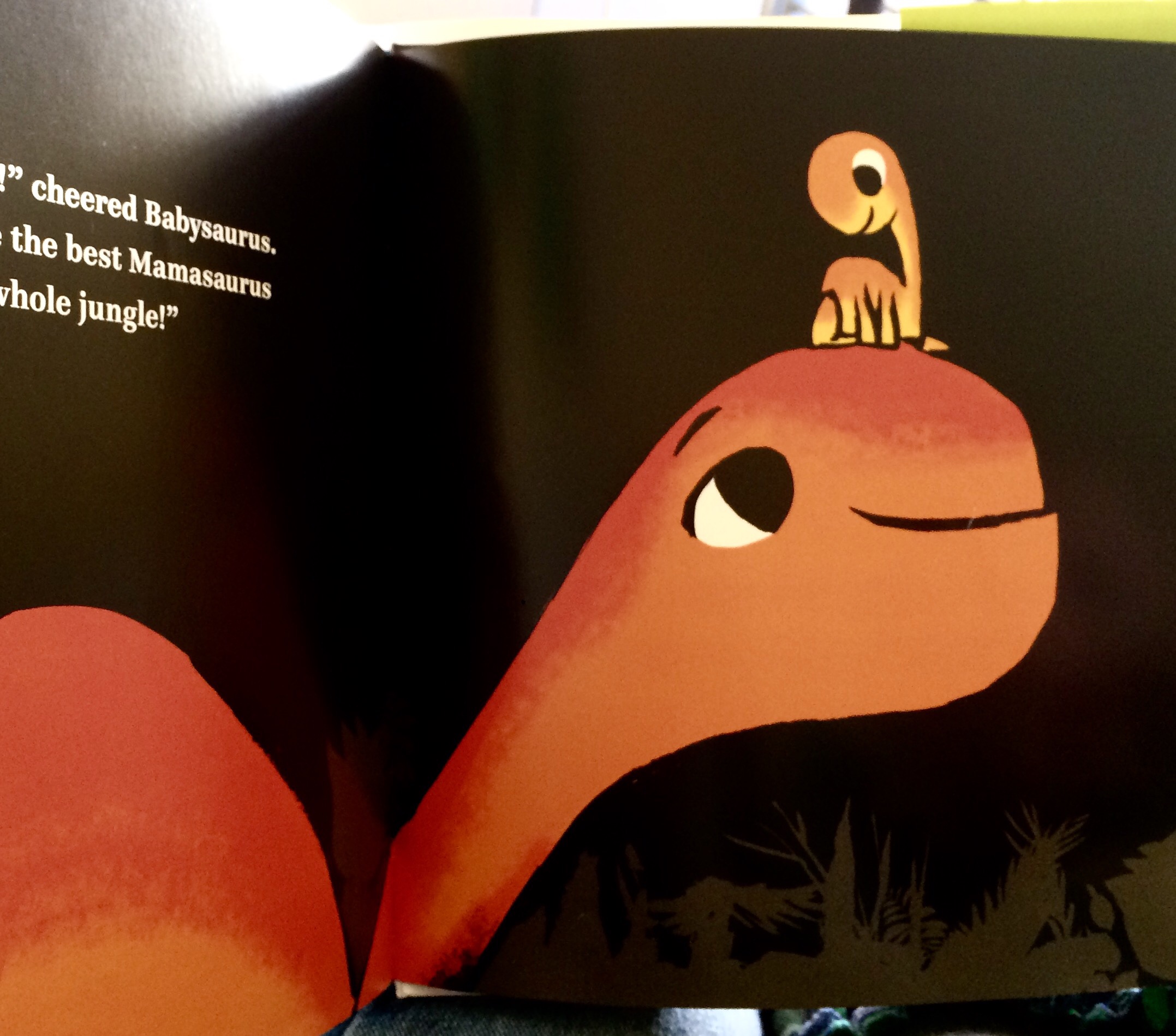 The story is a sweet retelling of a common theme in kids books but what really sets it apart is the vibrant and striking illustrations. Lomp does an amazing job of making the dinosaurs really pop out from the black and grey that comprise most of the pages. The foliage is dark grey which makes it distinguishable from the black background but doesn't subtract from the vibrant colors of the dinosaurs. Lomp also creates an illusion of movement by subtly smudging the plant life. The dinosaurs themselves are drawn in a fabulously simple style that accents their unique attributes and also renders them absolutely adorable.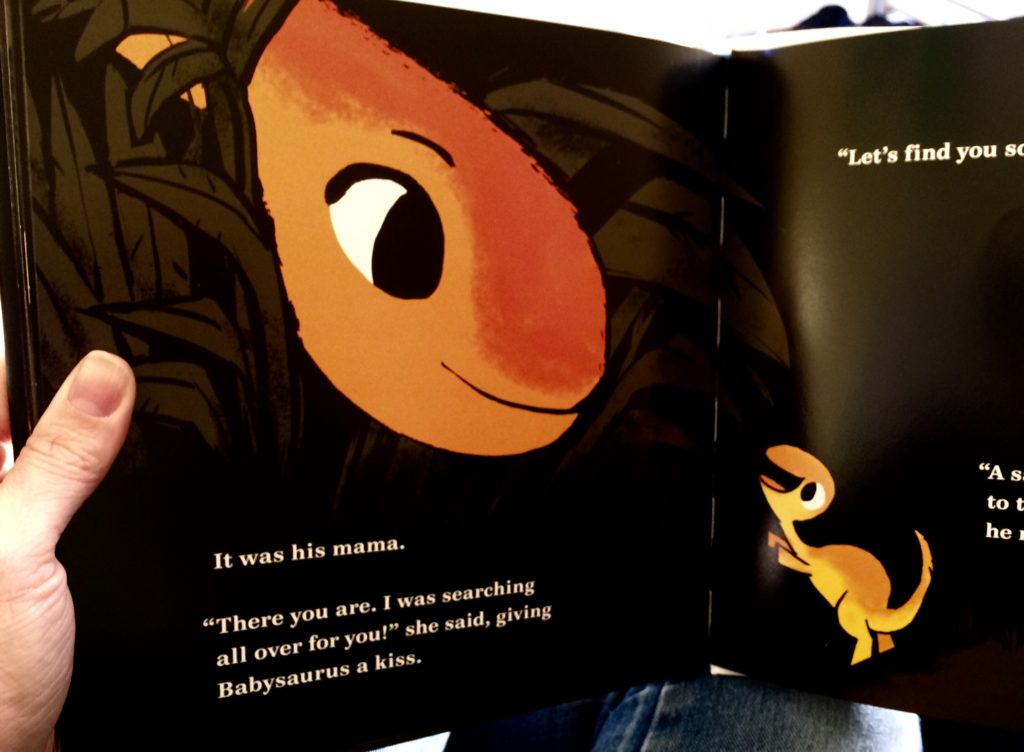 Bug loved Mamasaurus and has taken to calling me that when I get him something to eat. He giggles afterwords and stomps around the house looking for dinosaur friends with whom to share his snack.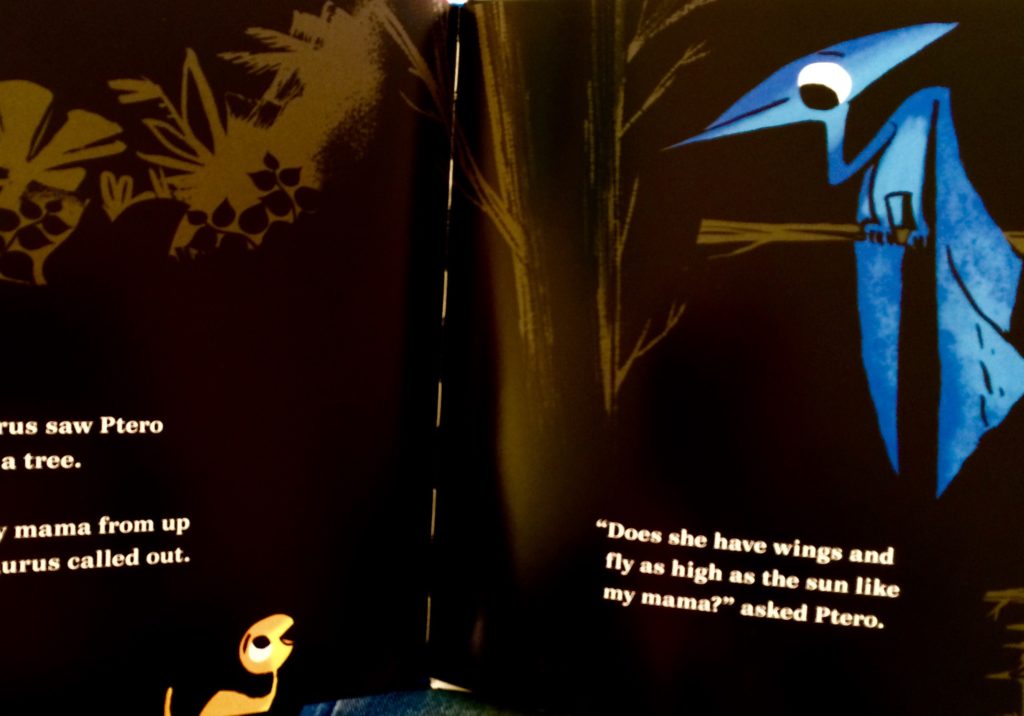 ---
Story Tips:
Substitute Baby for your little one's name in Babysaurus. It adds a wonderful personalization to the story.
---
I need more!
Stephan Lomp has a male-counterpart book called Papasaurus available in May 2017. He also illustrated a great book for older ones called Follow that Car.  I'd also check out his indestructible book too that is great for babies called Baby Animals. Check out his website for some other great reads: http://www.lomp.de/books/
---
Add to my library:
Mamasaurus
Save