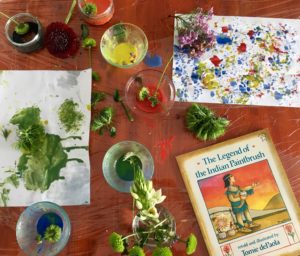 Title: The Legend of the Indian Paintbrush
Author/Illustrator: Tomie DePaola
Age Group: 3-7
Synopsis: A young boy strives to bring a dream vision to life through his paintings and his efforts end with surprise results.
---
The Low Down:
I remember reading this when I was little and thinking how magical it would be if art supplies grew out of the ground. This story still hasn't lost that magical quality for me, although it'd be hard for a Tomi dePaola story to do that. I often think that it's his magical illustrations of folktales that has imbued me with such a fondness for them. The Legend of the Indian Paintbrush was made even more exceptional by the fact that they grew around my home and made the legend that much more substantial.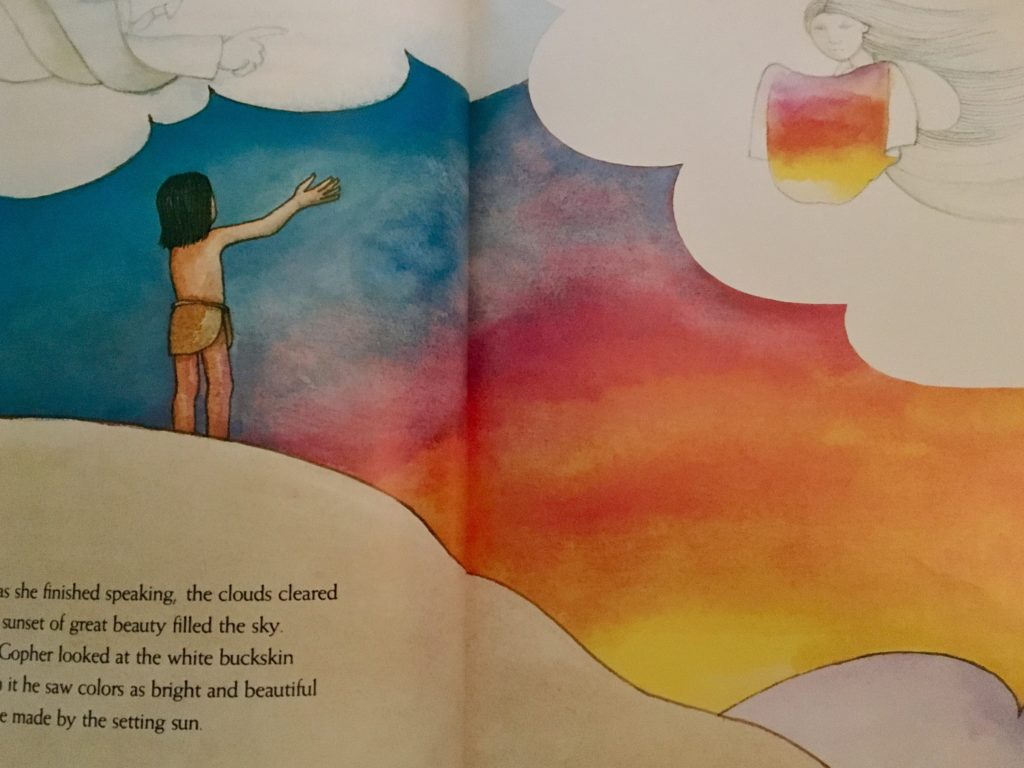 DePaola's story follows Little Gopher who finds that he's different from the other boys in his tribe. He can't hunt and run as they do but instead finds that his talents come to life with his hands. Little Gopher then receives a dream vision and strives to bring that to life for his people. He tries everything to recreate the vivid sunset seen in his vision but is unable to reproduce the colors. It's only when he receives a second dream that he discovers magical paint flowers that allow him to produce the beauty for which he has been searching. Little Gopher's discarded paint flowers bloom overnight, into the flower Indian Paintbrush. Which can now be seen brilliantly flowering all across the North American plains.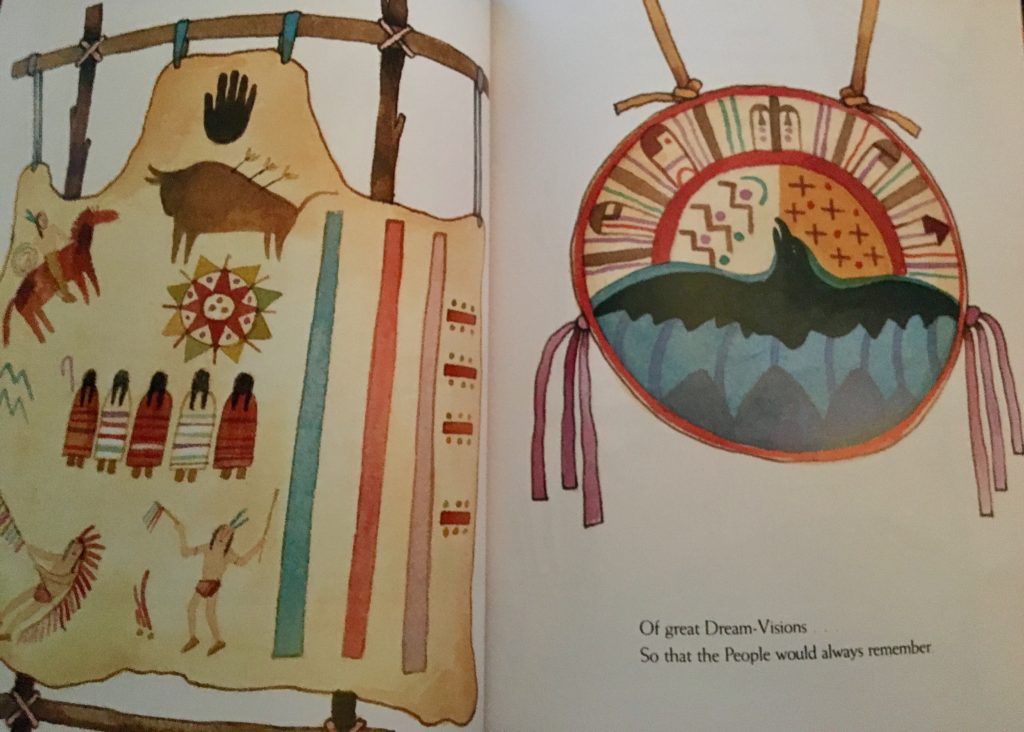 The illustrations in The Legend of the Indian Paintbrush often left me feeling wistful. DePaola stays true to his style by creating these beautiful moments that seem to be frozen from legends. They have an otherworldly feel to them, like something discovered in a hidden in a manuscript from centuries past. And yet they aren't devoid of life as they might be should they have resulted from such an ancient origin. DePaolo makes the characters accessible and beautiful, imbuing them with a subtle color and beauty that are at home on the North American plains and so often in nature.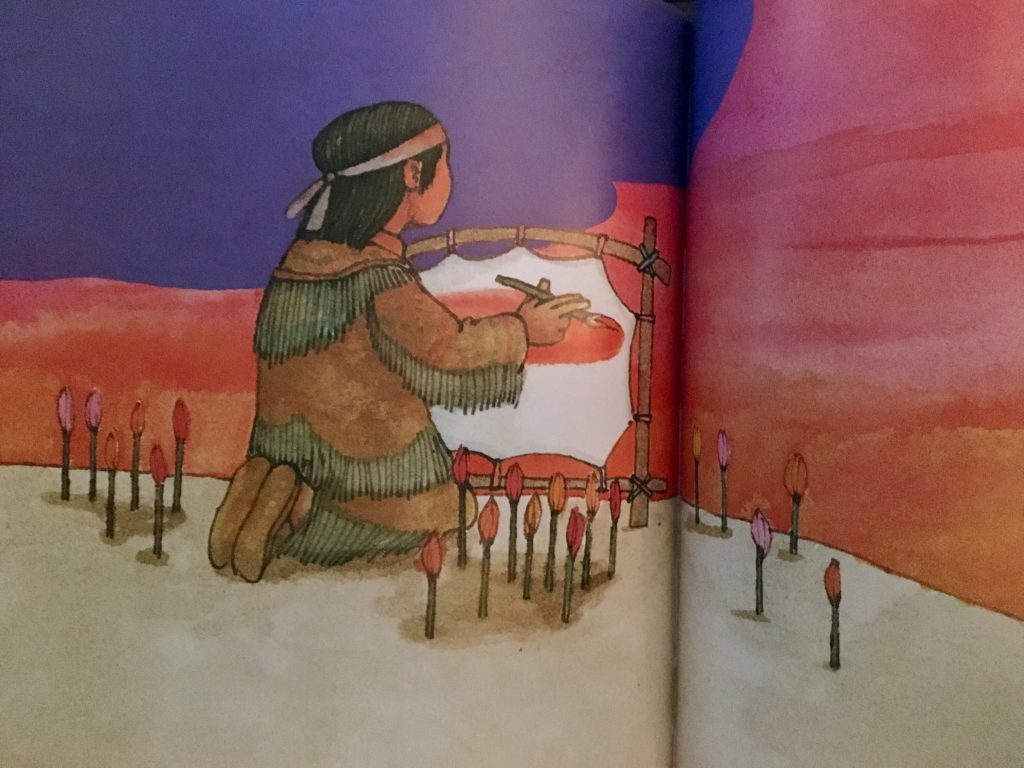 We have many Tomie dePaola books but this will always be one of my favorites and whether it's because it was one of my first introductions to dePaola's work or because the story originates so close to home is impossible to tell. What is without question though is the beauty that truly shines through each page, unrestricted to text or illustrations.
---
Story Tips:
If you aren't feeling the creative juices flowing by the end of the book than you must be stronger than I. Have some art supplies ready for the end of the story.
We had a fabulous time painting with flowers after reading this story. Check out the Crafty Corner for the paired post.
---
I need more!
Tomie dePaola has some truly magnificent stories. Our favorites include: Helga's Dowry, Strega Nona, Popcorn, The Legend of the Bluebonnet, and The Friendly Beasts. For a list of books check out: http://www.tomie.com/books/index.html
---
Add to my library:
The Legend of the Indian Paintbrush
Save
Save
Save