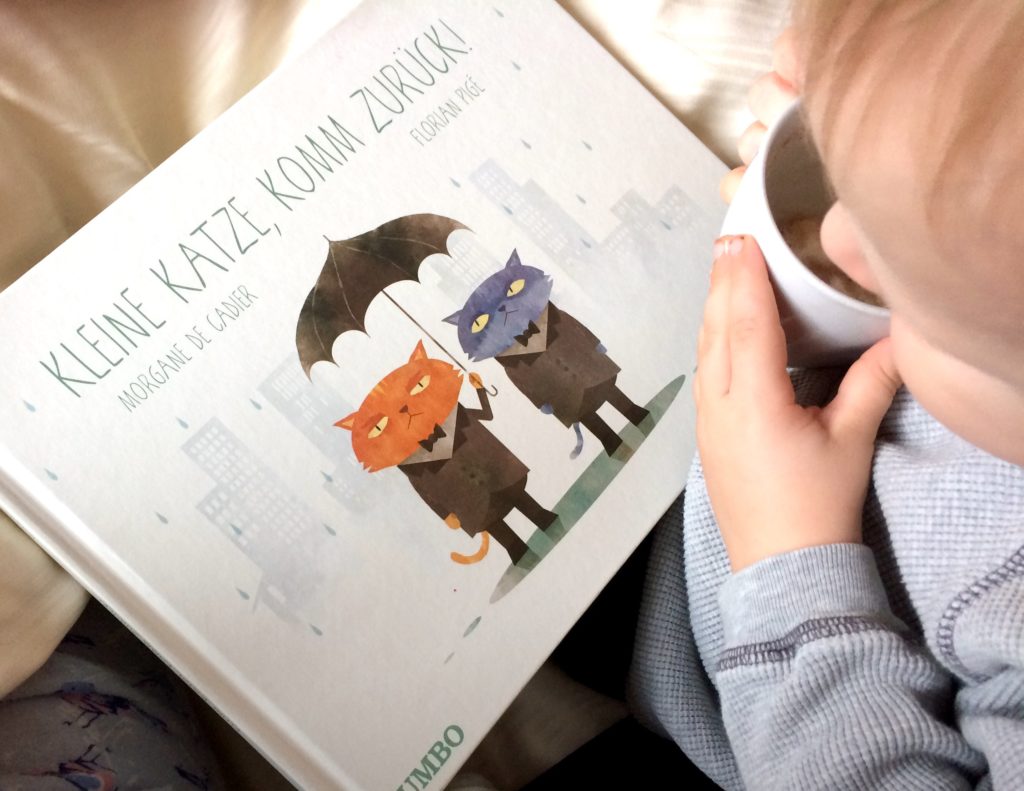 Title: Kleine Katze, komm Zurück (Small Cat, Come Back!)

Author: Morgane de Cadier
Illustrator: Florian Pigé
Age Group: 2-6
Synopsis: When a small cat swims ashore Rainy Island the other cats are shocked by his lack of manners and dress but when the water threatens to overwhelm the island these fine cats will need help getting their paws wet.
---
The Low Down:
Bug insisted we read this on a recent visit to the local book store and he didn't have to twist my arm too hard. The dour looking cats on the cover in their suits and with large black umbrellas were so spectacularly illustrated that I had to check it out. My only disappointment is that this book isn't published in English yet and so more people aren't yet aware of the gem that Morgane de Cadier and Florain Pigé have created.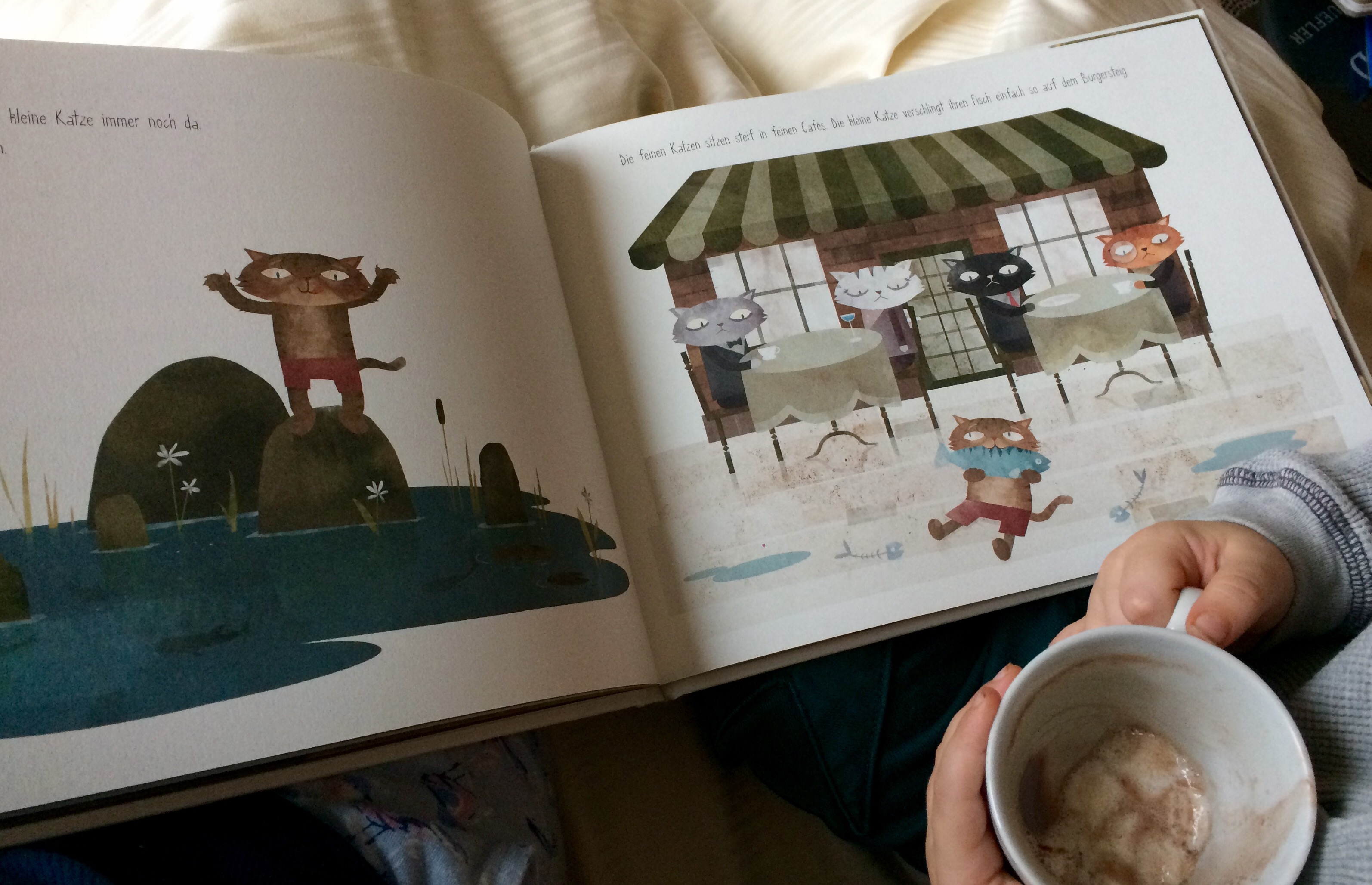 The story begins with two islands. A rainy island and a sunny island. On the rainy island live fine cats in fine houses that never go outside without their fine clothes and umbrellas. One day a cat from the sunny island swims to the rainy one. He scandalizes the fine cats by running about in his swim shorts and splashing in puddles. He eats with his paws and enjoys being outside in the rain. The fine cats try to change him and when they can't, they send him back to where he came from. It's then that the rain begins to increase and soon the rainy island is flooded. None of the fine cats know how to swim but the wild cat from the sunny island does and he comes back to save them. The fine cats trade their rain umbrellas for sun umbrellas and learn to appreciate the beauty of life, even if it rains sometimes.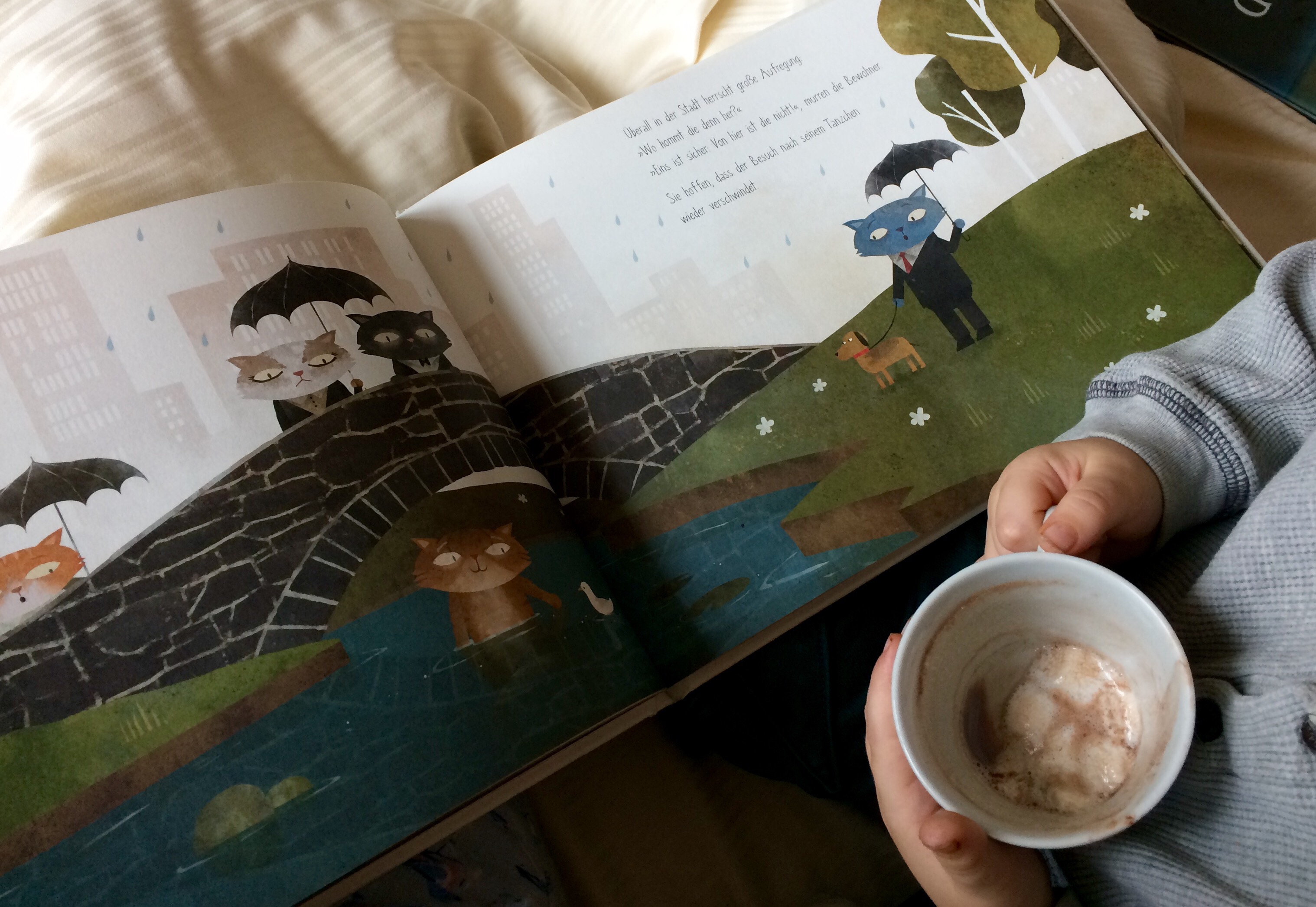 Pigé shines throughout this book. The illustrations seem to shimmer though they are done with an intentionally grey and deary color scheme. The little wild cat defies this and only blends in for a single page. His antics are amusing and definitely chuckle worthy and the fine cats are made to look so preposterously stuffy that it's hard not to laugh at them in their three-piece suits. My favorite page includes a cat walking his pet dog in the park. Bug didn't quite understand why that was amusing but we he gets it it will be a light bulb moment. Overall, this is an incredible pairing between two strong talents that was beautifully executed. I'm almost tempted to learn French in order to read the additional titles that these two have available.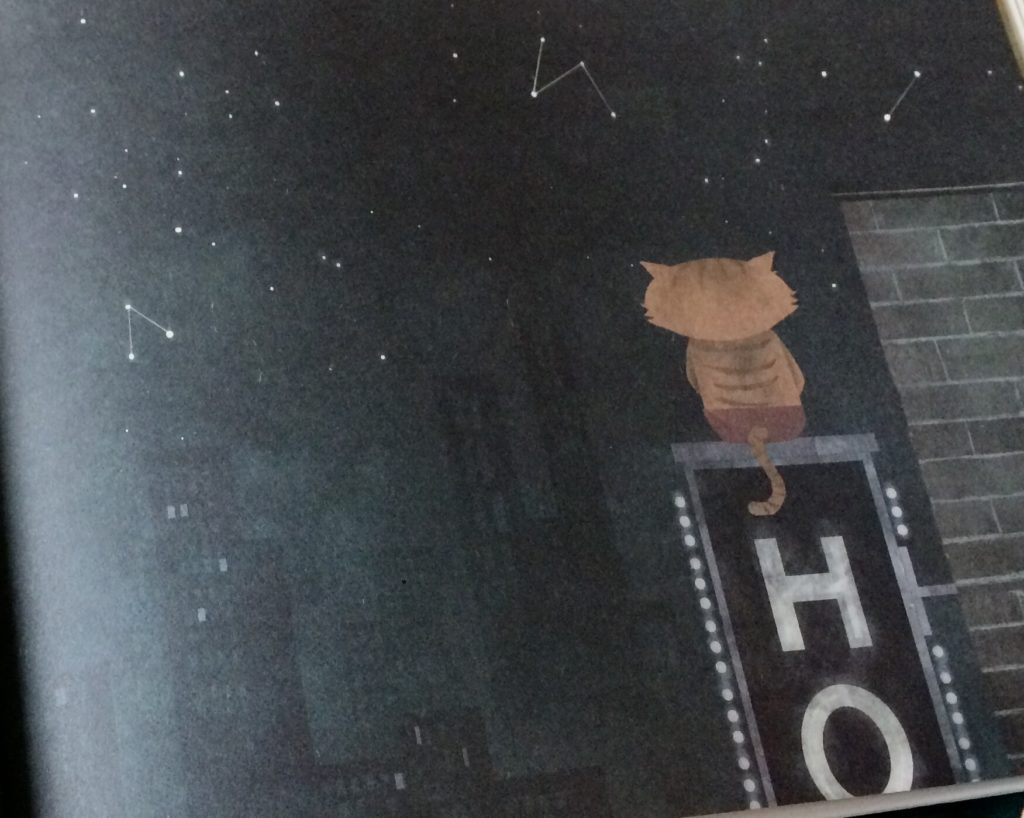 ---
Story Tips:
Pig

é

did a great job of adding some fabulous little details throughout the story. Look for them!
---
I need more!
Both Morgane de Cadier and Florian Pige have multiple books in French available that look amazing and as soon as they are translated into a language I read I will grab them up. Until then I will admire them from afar. This great duo's newest endeavor: Chut! will be published this year. For more info check out : https://www.morganedecadier.com/parutions or http://www.florianpige.com/livres
---
Add to my library:
I'm devastated that this book doesn't have plans to be published in English. But for my multi-lingual compatriots in the UK it is available on Amazon in both French and German.
Save
Save
Save