I recently was offered the opportunity join 19 other ladies in reviewing themed books monthly. Our theme this month was repeat reads. It was difficult for me to narrow those down. There are so many I love. In the end, it didn't matter because the other books chosen were all fabulous choices. Below is the compilation post done by Clarissa from booknerdmommy.com. She has an amazing blog, so if you have a moment I would highly recommend checking it out.
---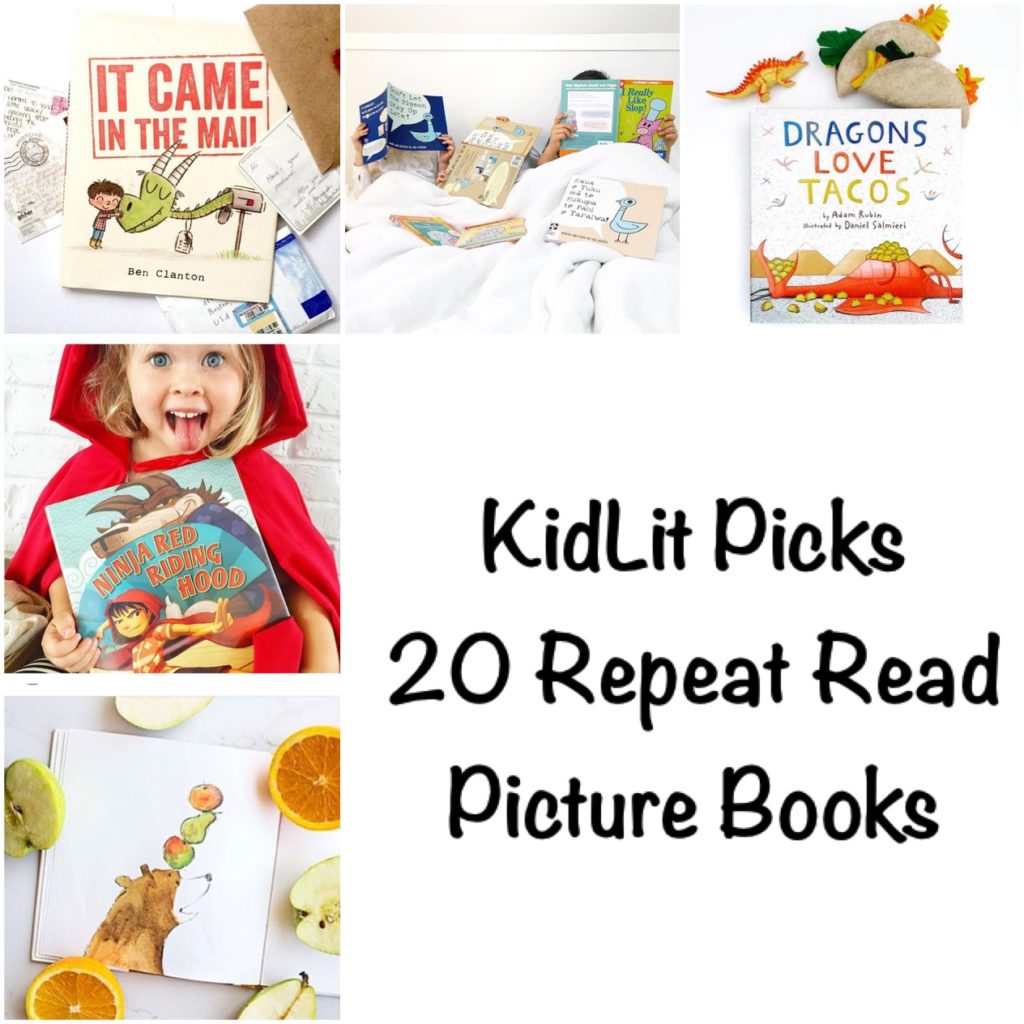 I love sharing books  here and on my social media accounts.  Like, a ton.  There is such a fun book-loving community out there and I am always thrilled to engage with other book nerds.  Recently, 20 of us bookstagrammers over on Instagram connected to create a book club called Kidlit Picks.  Each month we share books with a different theme under the hashtag #kidlitpicks.  It is a really fun time and a great way to get book inspiration for library visits and different topics you want to address with your littles.  Anyone can share books under the hashtag that go with the theme and the @kidlitpicks account features different books shared throughout the month.  Join us if you're on Instaram! We'd love to share books with you!
This months theme was "Repeat reads" these are 20 of the books shared by the 20 lovely ladies (me included of course!) that are behind Kidlit Picks.  Check them out!
Little Mouse by Riikka Jantti (shared by @ohcreativeday)
"I love the vintage feel of the illustrations and the way it reminds us as parents that the everyday is a thing of wonder for our littles."
Happy Like Soccer by Maribeth Boelts and Lauren Castillo (shared by @smallysbookshelf)
"This picture book is so well written and is a subtle reminder of how community and family can come to together to make a child feel loved."
Ninja Red Riding Hood by Corey Rosen Schwartz and Dan Santat (shared by @afriendlyaffair)
"It's so cute with its daring female lead, incredible illustrations , and a super fun rhyme scheme."
Orange Pear Apple Bear by Emily Gravett (shared by me! @book.nerd.mommy)
"Apparently it's addicting because it's one my little can definitely put on repeat."
Prayer For a Child by Rachel Field and Elizabeth Orton Jones (shared by @hereweeread)
"When I think about books that my kids and I have read over, and over, and over again, this one tops the list."
Pinkalicious by Victoria Kann and Elizabeth Kann (shared by @astoryaday)
"It is my most favorite read loud story and I wish every household had a copy on their book shelves."
Cordelia by Michelle Nelson-Scmidt (shared by @usbornestagram)
"Here's Cordelia, my absolute favorite picture book to read to myself – it's brand spankin new and it's amazing."
Mo Willems Books (shared by @appyreading)
"We want to read them over and over again, and the stories, the characters, they stay with us, make us wonder, inspire us to create."
The Pout Pout Fish by  Deborah Diesen   (shared by @howifeelaboutbooks)
"When the whole family random says "Blub, bluuub, bluuuuuuub" (Pout-Pout's catchphrase), you know a book is beloved!"
Dragons Love Tacos by Adam Rubin and Daniel Salmieri (shared by @chickadee.lit)
"After all, the only thing kids love more than tacos and dragons, is books about tacos and dragons. Just remember: hold the spicy salsa."
The Day it Came in the Mail by Ben Clanton (shared by @spiky_penelope)
"There are so many fun details in the illustrations, and Clanton uses the "mail" theme perfectly, making the book a unique read every time."
Oi Frog by Kes Gray and Jim Field (shared by @alittlebookhabit)
"Perfect for anyone who loves silly rhymes- we will never look at satsumas the same way again!"
Frieght Train by Donald Crews (shared by @the.book.report)
"This is our second copy of it, as the first was so well read and loved it needed a replacement. That's how much we love it!"
Board Books (including Dear Zoo and Snuggle Puppy) (shared by @bookbloom)
"When it comes to beloved books, these tattered and torn board books rank high on our repeat reads list."
Monkey and Me by Emily Gravett (shared by @happily.ever.elephants)
"…But then you come across a gem like Emily Gravett's Monkey and Me, and your heart overflows as you watch your little one open a new world with the simple turn of a page."
Bin Ich Klein? by Philipp Winterberg illustrated by Nadia Wichmann  (shared by @homegrownreader)
"An engaging book, available in 100+ languages and so well loved in our house that I've had to reconstruct the binding."
Marvelous Cornelius: Hurricane Katrina and the Spirit of New Orleans by Phil Bildner and John Parra (shared by @afrobookworm)
This "is a story that teaches children that it sometimes only takes one great individual to spark a positive reaction in others; as well as the importance of community and the great things that can be achieved in the midst of supporting each other."
The Snatchabook by Helen Docherty and Thomas Docherty (shared by @childrensbooksgalore)
"Can Eliza Brown solve the mystery of the disappearing stories? Snatchabook is one of my all time favorite books!"
Did You Take the "B" From my _ook? by Beck and Matt Stanton (shared by @fee_loves_)
"Firstly, narrators must approach this book with a healthy dose of silly because you will be rewarded with plenty of belly laughs for your efforts. "
Mufaro's Beautiful Daughters by John Steptoe (shared by @ilovebooksandicannotlie)
"Every time I read it, I think back to that first year of teaching. I love the story but I also love the memories I associate with it."
Save