Author: Caroline McAlister
Illustrator: Eliza Wheeler
Age Group: 4-8
Synopsis: A magical, non-fiction account leading through Tolkien's life and to the discovery of his own story-time dragon.
---
The Low Down:
We love Tolkien. I say that verses just Lord of the Rings or The Hobbit because it's even beyond that. The Silmarillion, The Book of Lost Tales, Tree and Leaf, etc the list is endless. Bug's room includes not only a mobile of dragons but a map of Middle Earth, blankets of the same, and a large painting that shows our favorite places in Middle Earth (It was originally a mural on his bedroom wall but walls can't really move with you so well). So when I saw John Ronald's Dragons I jumped for it. Bug knows a few stories about Middle Earth. If you ask him about Rohan he says: "That's where the horsies live." or that Gandalf is a wizard. But a lot of Middle Earth can be a bit scary for little ones, so we're sticking to hobbits and eagles for awhile. This story, though, makes Tolkien's life completely accessible for young readers, allowing them to walk with Tolkien from a young age, right up to his dragon.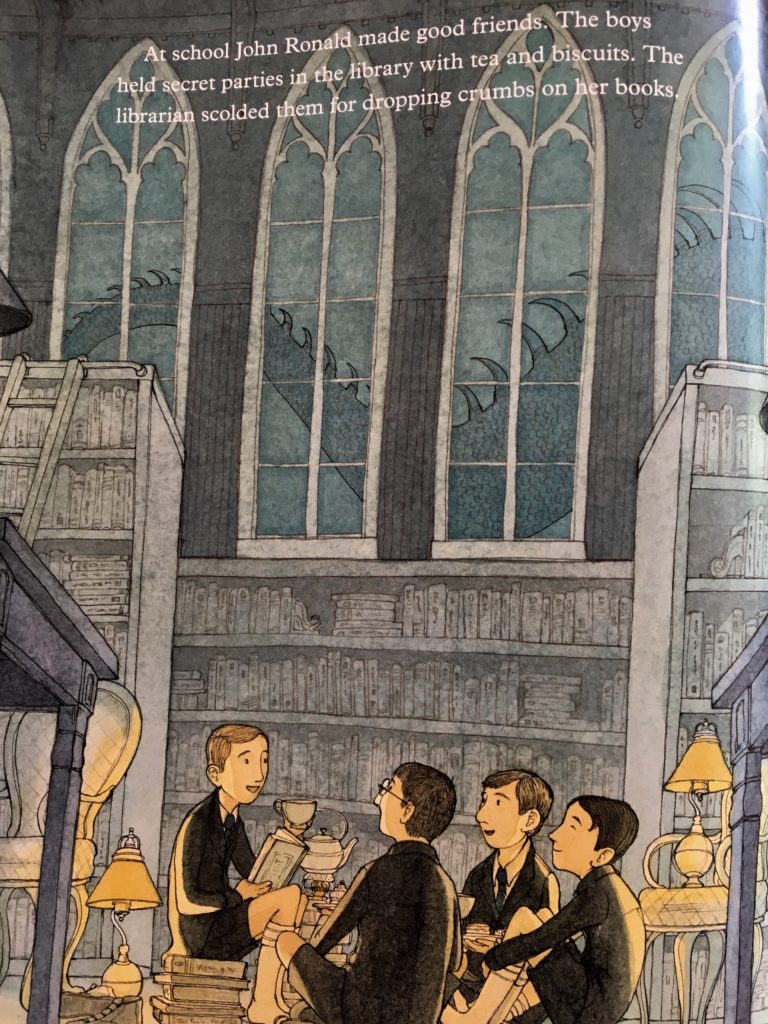 As much as I love Tolkien, I'd never read a biography on him. So there were some things I knew but I lot that I didn't. McAlister does a delightful job of informing without just listing facts. She weaves the information into a story with charming repetition that brings the reader back, time and again to the dragons. We travel with him as he's orphaned through his university days to his time in World War I through his teaching time at Oxford. Combined with the beautiful and incredibly thoughtful illustrations by Eliza Wheeler, the story can truly capture reader's interest.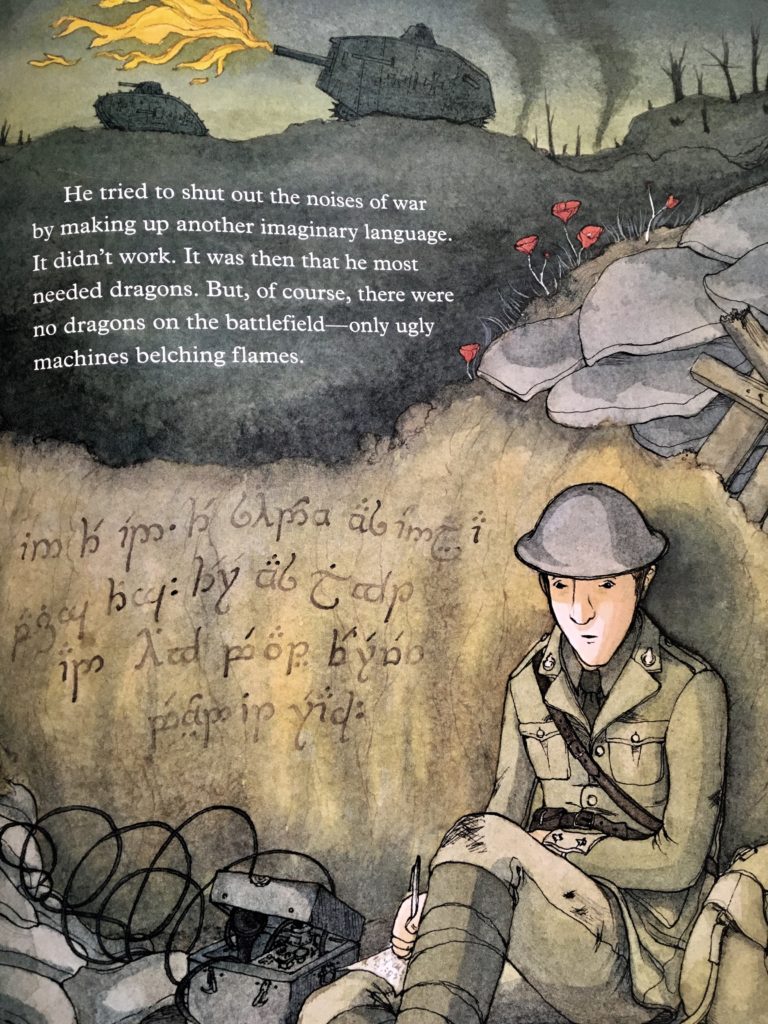 Wheeler's soft illustrations combine reality and imagination in a truly magical way. She gives twists and turns to birds, kites, and trees so they slightly resemble the dragons Tolkien dreams of. Her pages brim with hope and offer the slim glimpses of despair that occurred in his life without allowing them to overcome the story. The war becomes a bit more fanciful with flame breathing tanks and Tolkien's downright horrible aunt becomes a dragon herself. Throughout the story, Wheeler's attention to detail can be noted in the buildings but a true tribute to her dedication is in the back appendices (how appropriate for a book about Tolkien) with a page by page list of small details from Tolkien's life that are hidden in each page.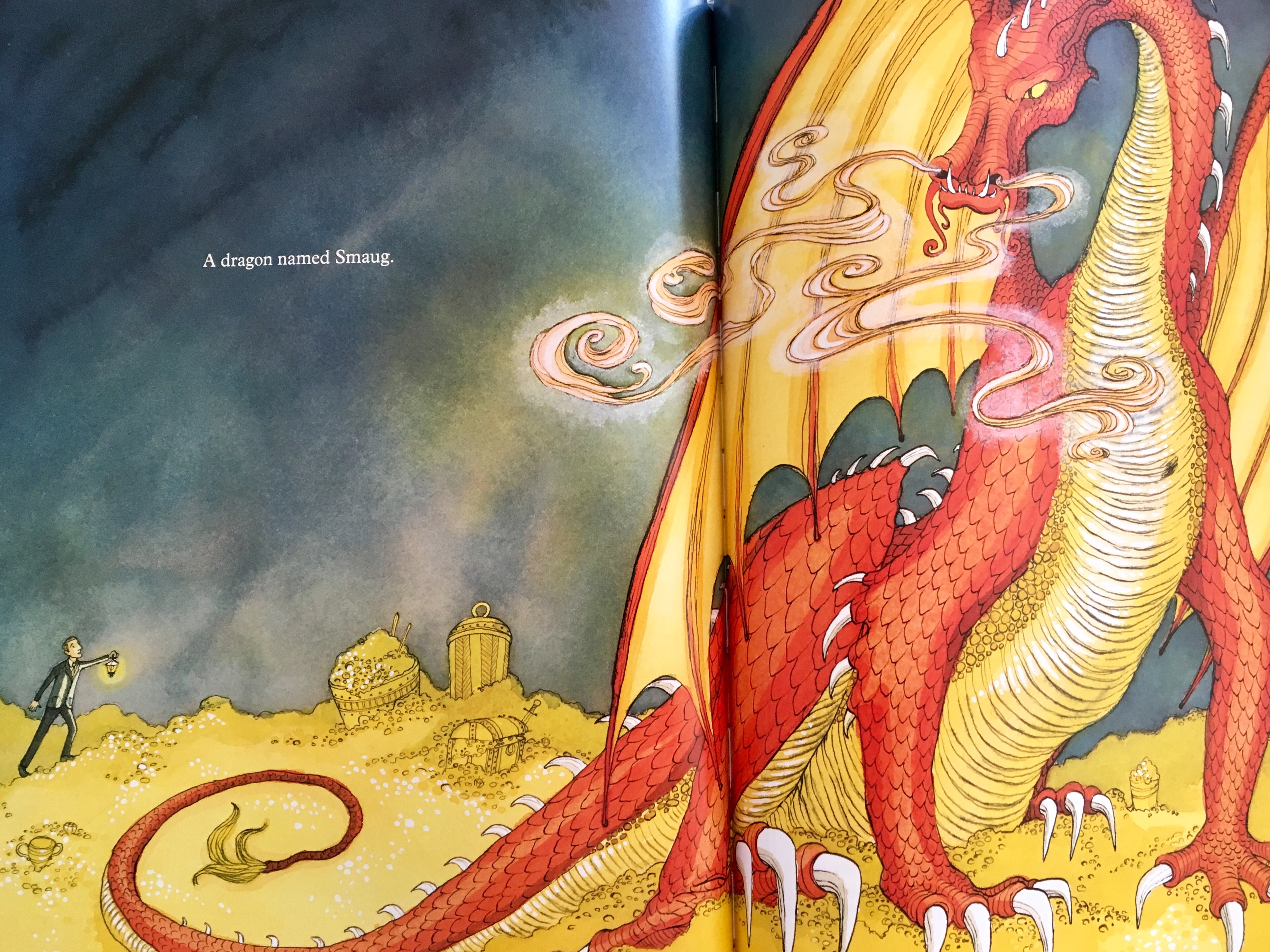 Bug still bight be a bit young for the story but I intend to storywalk with him through it until he grows into it. Until he's old enough to really enjoy everything it has to offer we can enjoy the illustrations and the imagery that McAllister brings to mind. And eventually it'll pave the way for something a bit more substantial…something involving hobbits.
---
Story Tips:
Check out the transformation of the endpapers.
Spend some time flipping through the appendices for more information on Tolkien and his dragons.
---
I need more!
Caroline McAlister has two other books available: Holy Mole! and Brave Donatella and the Jasmine Thief. More information can be found on her website at: http://www.carolinemcalisterauthor.com
Eliza Wheeler has some great books she's illustrated including: Tell Me a Tattoo Story, Wherever you Go, Miss Maple's Seeds, and The Grudge Keeper. For more about her check out her website: http://wheelerstudio.com/books/
---
Add to my library:
John Ronald's Dragons: The Story of J. R. R. Tolkien
Save
Save