Author/Illustrator: Fran Preston-Gannon
Age Group: 1-5
Synopsis: Everyone knows that once a lemur takes a fancy to you there's not much that can be done about it but that doesn't mean you can't try and lose it.
---
The Low Down:
Sometimes our world just seems very full of somethings. For awhile it was owls. Right now it's lemurs. It's a bit strange to hear a toddler running around talking about lemurs but I'm just resigned to letting our home become a monument of knowledge to our current obsession. I know way more about owls than I ever thought I would and I have a feeling in a few months I'll know way more about lemurs than I ever thought I would. Frann Preston-Gannon's, How to Lose a Lemur isn't informative but it is ridiculously cute and has definitely fed our lemur obsession.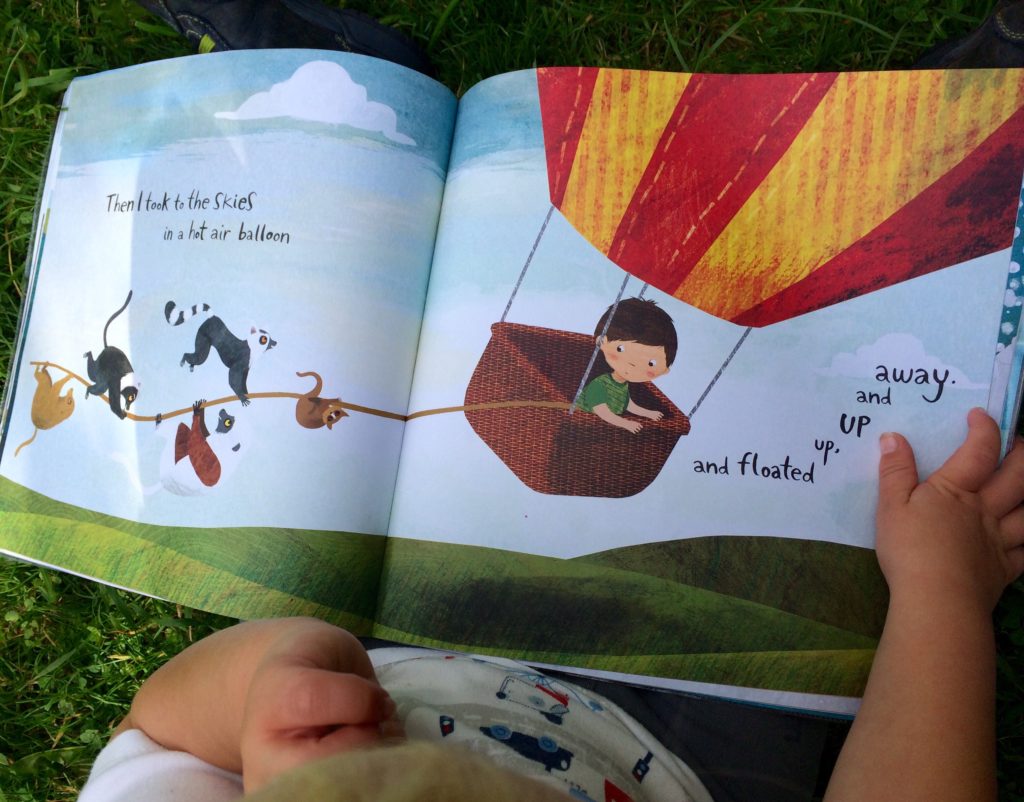 The story follows a young boy who has attracted the attention of a lemur. He tries everything to be rid of it. He runs away, jumps on a train, rows away, takes a hot air balloon, etc. But everywhere he goes those wily lemurs (he's attracted more than one by this point) are right behind him. It's only when he realizes that he's fled so far to avoid these lemurs that he's become lost himself that he begins to wish that he had them back. Luckily, they're always there and help lead him home. Preston-Gannon ends it with the same line she began it with but it clearly has a different meaning by this point. I may be delving a bit deep into this book's message and really it's all about adorable primate stalkers, but I think that there's also message about our everyday lives. We all have small annoyances, things that drive us a little batty, pet peeves, if you will. These can take the form of people too, but often I look back at those who slightly annoyed me with a smile. Sure they were time-consuming and made my other customers wait for extra time (I'm thinking back to my waitress and bank days) but they were also kind, thoughtful, and sweet. I always smiled when I saw the man who bought two boxes of pennies every week or the lady who couldn't remember her grandson's name but loved to tell stories about him, while I was standing there waiting for her drink order. Our lives can become so busy that we fail to recognize the value that we give by acknowledging these "lemurs" and making them small parts of our lives. Sure they're a bit extreme in the book but if the boy had stopped and said good morning instead of ignoring it maybe the cat and mouse chase could have ended there. If that's the case, then I'm glad Preston-Gannon didn't turn the plot that way because we'd lose the amazing illustrations she provides throughout the stunning chase scenes.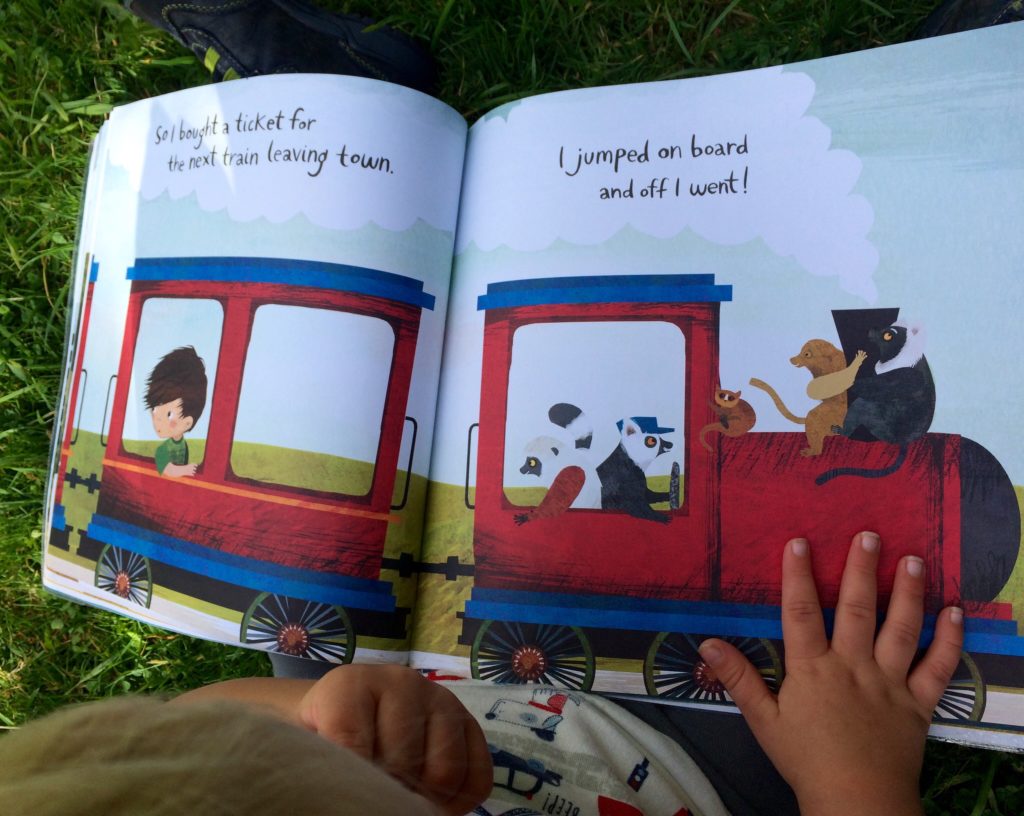 The bright colors used through the pages really capture the reader's attention and illustration style does an amazing job of bringing just the right amount of attention to the components on the page. Each element seems carefully chosen and comes together for an amazing affect. The bright train, being driven by lemurs and racing across two pages is my favorite, while Bug favors the row boat page with the lemurs snorkeling just out of reach. I could go on about my second and third and forth favorite but really it's the collection of illustrations, so well done that makes this book the treasure it is. This is one we hope to never lose.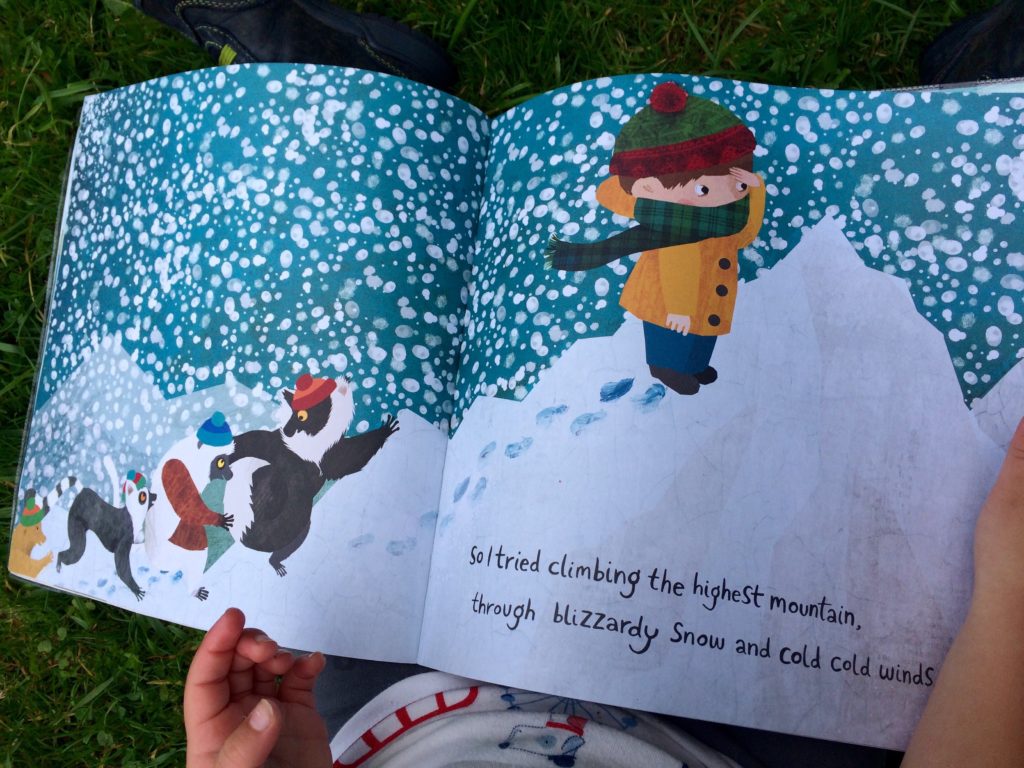 ---
Story Tips:
Finding those sneaky lemurs on every page is so much fun but pay attention to the title page too.
---
I need more!
Frann Preston-Gannon has a great collection of fun and adorable books available. Check out her website for a full list but I can foresee us investigating Pepper & Poe or Dinosaur Beach in the future.
---
Add to my library:
UK Amazon: How to Lose a Lemur
US Amazon: How to Lose a Lemur
Save
Save
Save
Save