Wow! It's been a year already?! I find myself a bit shaken by the whole idea. It's been such an amazing year with so many lovely changes and fantastic discoveries. The piles of books in our house have multiplied as have the number of trips to the library. Bug is changing too, already choosing his very favorites to read again and again and again and…  again. It's been absolutely incredible to meet and interact with all the fabulous other reviewers and readers out there. And of course, I find I have an outlet for my writing and therefore a non-mommy identity (although Bug always plays a role).
It's been so great and I just want to share my excitement and joy. So, we'll be giving away a fabulous new book during this coming week and I'll let the winner choose which they'd like.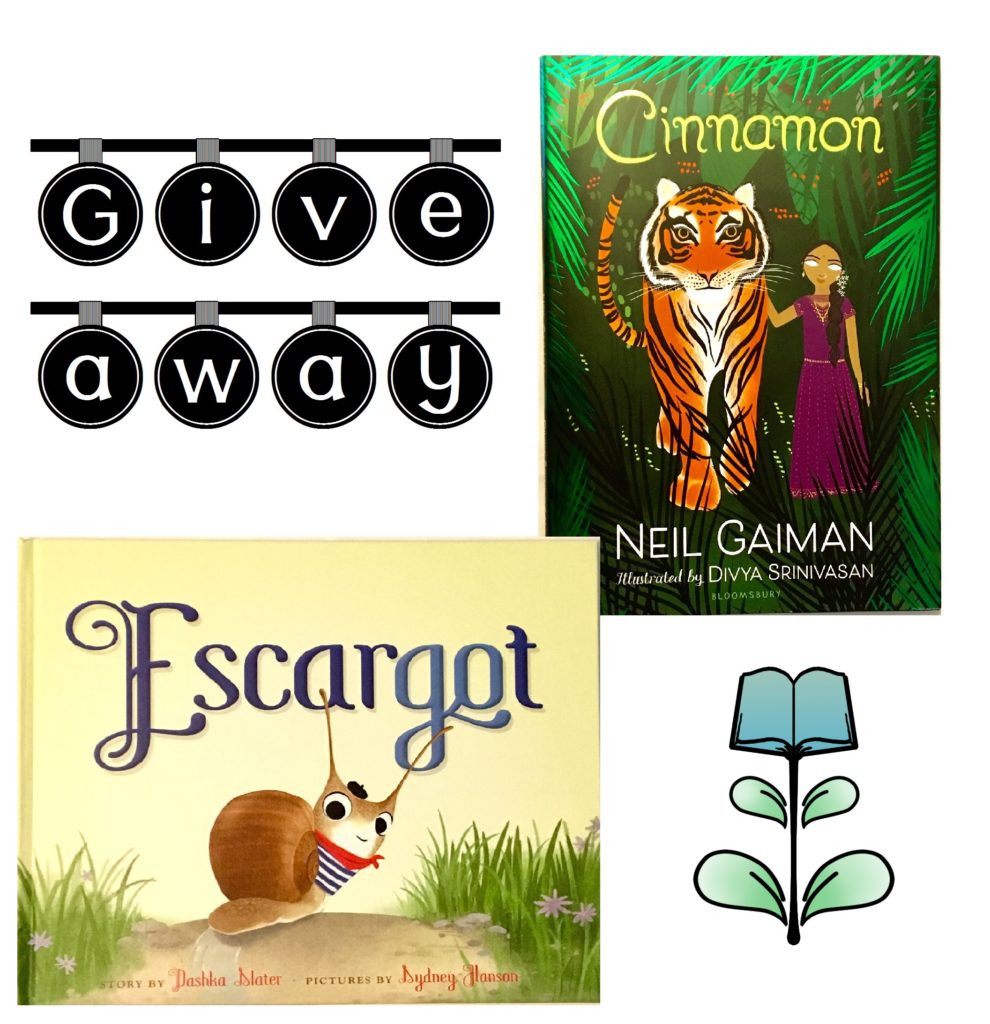 Book Choices
Escargot by Dashka Slater & Sydney Hanson
This absolutely charming story features a French snail intent on reaching a salad at the end of the book. Along the way, he interacts with the reader, discusses how rarely a snail is someone's favorite animal, shows off his speed, and battles a fierce carrot. It's ridiculously adorable and will have readers sighing, giggling, and even considering that snails might be their favorite animal.
Cinnamon by Neil Gaiman & Divya Srinivasan
With stunning illustrations that made us ooh and ahh, this book hearkens back to traditional fairy tales with a strange, sometimes brutal, but ultimately fantastic story.  Neil Gaiman stays true to form by including highly imaginative and quirky features in the book. When I first read it, I thought that's a bit odd. But it's odd in such a way that also makes it fabulous. Bug loves this one so much that he's been requesting it four or five times a day.
How to Enter:
There are three way you can go about entering to win one of the lovely books above:
Like our post on Instagram, follow @homegrownreader, and in separate comments tag at least three other people that you think would also love to get one of these amazing reads. Each tag will count as an entry, so go crazy if you like.
Like our post and our page on Facebook and tag at least three people you think can't do without a new great book. Each tag will count as a separate entry, so don't feel the need to hold back.
Comment on this page and sign up with your email to receive notifications for new weekly posts, at the bottom of the page.
*Optional: If you share this post via Facebook or Instagram you'll get an additional entry.*
Now on to a few housekeeping bits:
You'll need to be 18 to enter. This is an international giveaway so feel free to enter from wherever you are (within Book Depository shipping range)! This giveaway is in no way associated with Facebook, Instagram, or Word Press. No giveaway accounts allowed.
Whew! I think that's all, the giveaway will close 24/5 at 20:00 CEST (UTC +2)
Save
Save
Save
Save