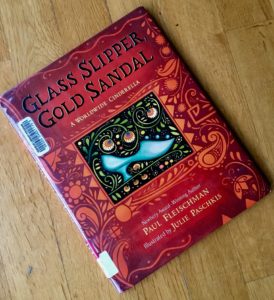 Title: Glass Slipper, Gold Sandal
Author: Paul Fleischman
Illustrator: Julie Paschkis
Age Group: 4-8Synopsis: A beautiful blend of international versions of Cinderella.
---
The Lowdown:
Cinderella is without a doubt one of the most famous fairytales in the western world. And I thought that it originated in France but had heard of other versions of the story. I was surprised to learn that a very similar tale from China was written in 860 nearly four hundred years before the French version (which, I'd argue, is a little farther from the present day version than the Chinese story). During the last 1200 years or so, the story has meandered across the world and conformed to the cultural beliefs of each new society and nation. It's beautiful, enlightening, and absolutely amazingly presented in this fabulous collection.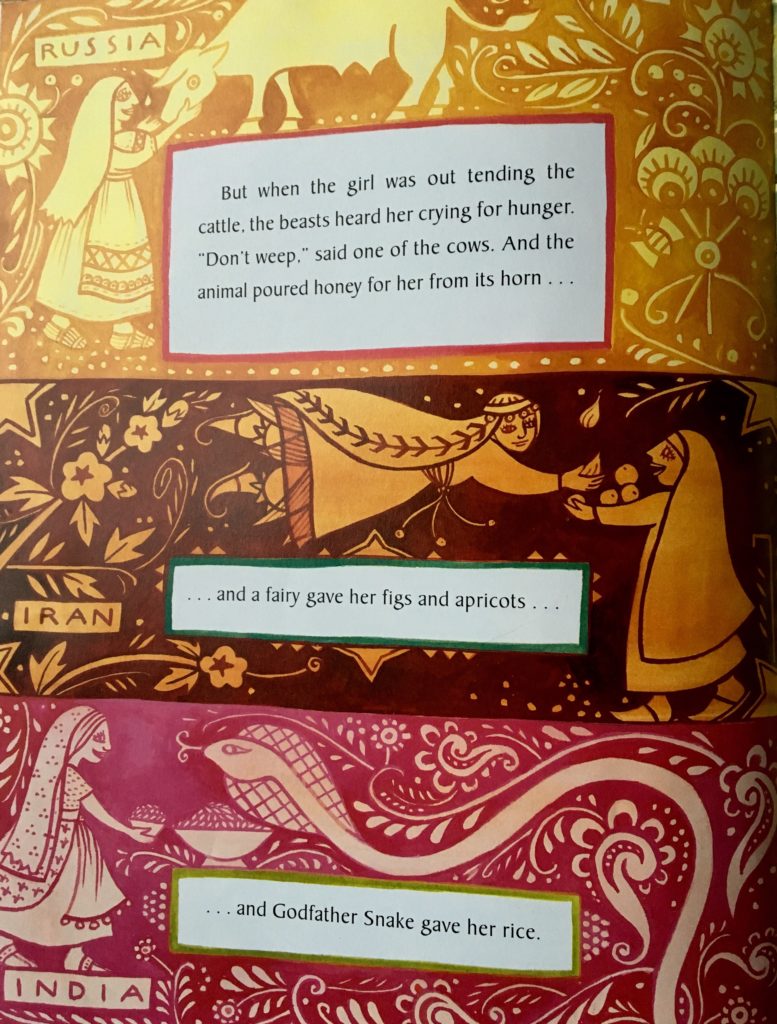 I probably don't need to tell you the plot of the story. Unless, you're like my son, who's so obsessed with The Bear and the Piano that you're not really interested in any other plot line. However, what Paul Fleischman does here is really clever. He tells each version of the tale together, blending them seamlessly into a culturally diverse tale. While the one page begins in Mexico, the next part of the story is from Korea, the next from Iraq, Russia, Iran, India, Ireland, Zimbabwe, Germany, Appalachia, Laos, Japan, Indonesia, China, France, the West Indies, and Poland. Each piece introduces a difference in the clothing, sayings, food, government, etc. but at the same time by being part of the same story it blends them all together, focusing on similarities while embracing differences.
Julie Paschkis makes the same effort. By using a very traditional folklore style in her art, she allows for a seemingly effortless blend of cultures. Each page has a focal box that focuses on that specfic part of the story but the background is put to use as well. With a bi-tonal color usage to help differentiate the stories, Paschkis makes use of culturally significant images that still pertain to the plot while hearkening to the origin of their birth. This also allows for differences to be visible while also being connected by the similarities each story shares.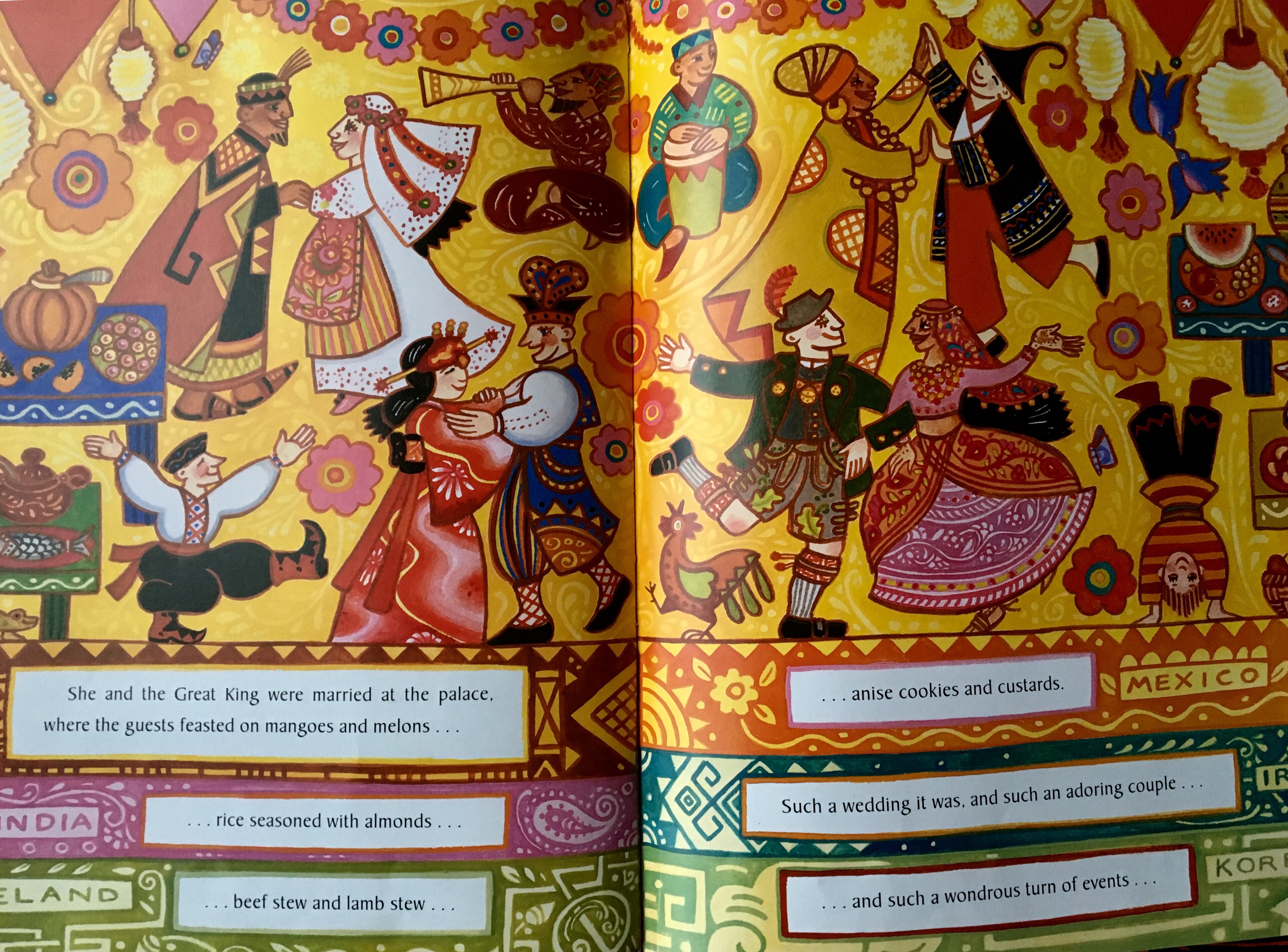 It's so easy to focus the divisive issues that so easily separate us from them. Glass Slipper, Gold Sandal acknowledges those differences that make our heritage unique but still finds a communal thread that is able to bind us together. It's such an important lesson that we're already working on with Bug. The easiness of an us vs them mentality can be somewhat tempting. And while finding the similarities between us all is a far more challenging, it's also far more rewarding. We like to travel with Bug, to explore new places, to see new people, to try new things. It's a first-hand lesson about the world, the people who live in it, and ourselves. Because although we may go to a new country and use different languages and currencies, at the end of the day, it's a rare person that won't smile and wave when a child says, goodbye and thank you.
---
Story Tips:
Make sure your child is familiar with your version of Cinderella before you begin reading this.
If you can't tell where each story is from, check in the background. There's usually a label in the bottom corner of the illustration.
---
I need more!
Paul Fleischman is the son of Sid Fleischman (author of one of my favorite chapter books: Mr. Mysterious and Company, and the ever popular Whipping Boy) but also an amazing author in his own right. Winner of the Newbery Award for Joyful Noise. Seedfolks is also a popular children's book of his, though I haven't read it myself. His website is: http://www.paulfleischman.net/
Julie Paschkis has done quite a bit of illustration work. Some amazing looking stories include: Pablo Neruda, Building on Nature, and Through Georgia's Eyes. Check out more on her website: https://juliepaschkis.com/books/
---
Add to my library:
Glass Slipper, Gold Sandal: A Worldwide Cinderella
---