Author: Kelly Dipucchio
Illustrator: Christian Robinson
Age Group: 2-6
Synopsis: Gaston may not look like his sisters but in this heart-warming tale he'll find that being family means loving people for who they truly are.
---
The Low Down:
I first saw Gaston when we were making the annual trip back to the States and visiting the Children's Museum in Denver. Anyone who has taken a toddler to a busy place will understand that I had just brief moments to glance at the book before running after Bug as he trundled into the Bubble room. But that brief glance stayed with me. I kept thinking about it and finally gave up looking for it at the library and ordered it from the USA. I could not have been happier with my decision. Not only do I love the message Gaston delivers just as much, if not more, today as I did last summer but Bug absolutely adores this tale and its characters.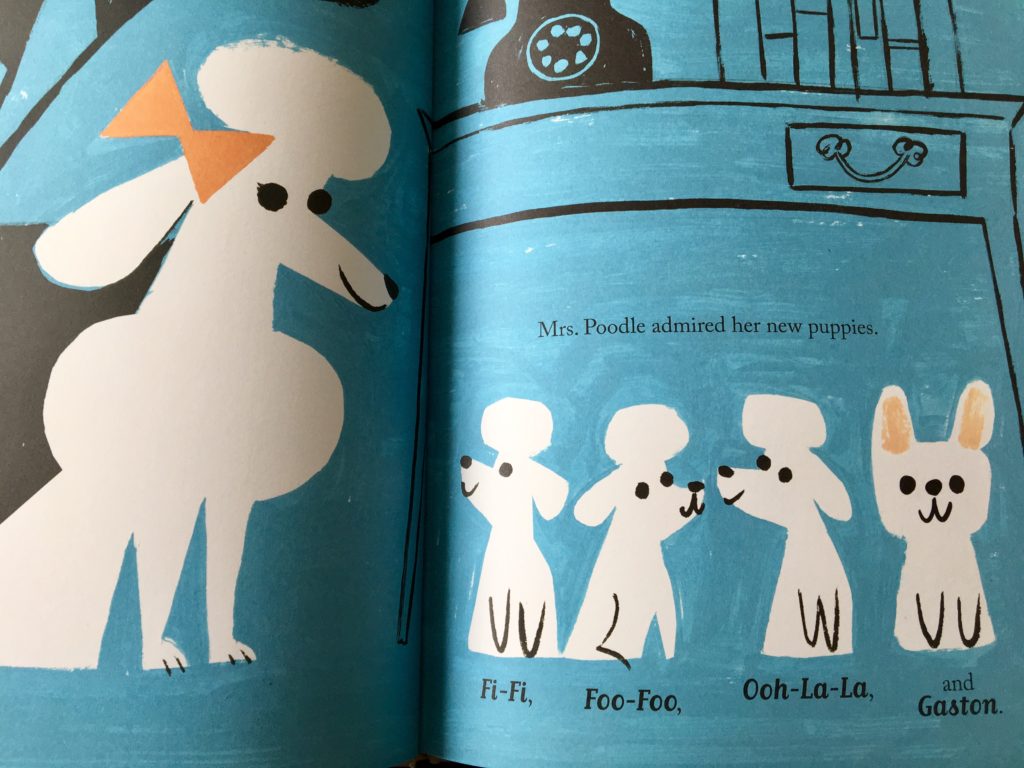 Gaston begins by documenting the childhood of the title character. It is clear from the beginning that Gaston is not biologically related to his sisters. He also has difficulty keeping up in their lessons on being proper pooches. However, he always smiles and works hard. It's only when the poodle family is at the park and run into the bulldog family that it becomes clear what has occurred. The Bulldogs have a "Gaston" of their own, only she's named Antoinette and looks just like Gaston's sisters. Gaston and Antoinette switch places and go home with their biological families. It takes only 24 hours for the families to realize the terrible mistake they've made and that just because something "looks right" doesn't mean it feels right. The two families learn from each other and become good friends.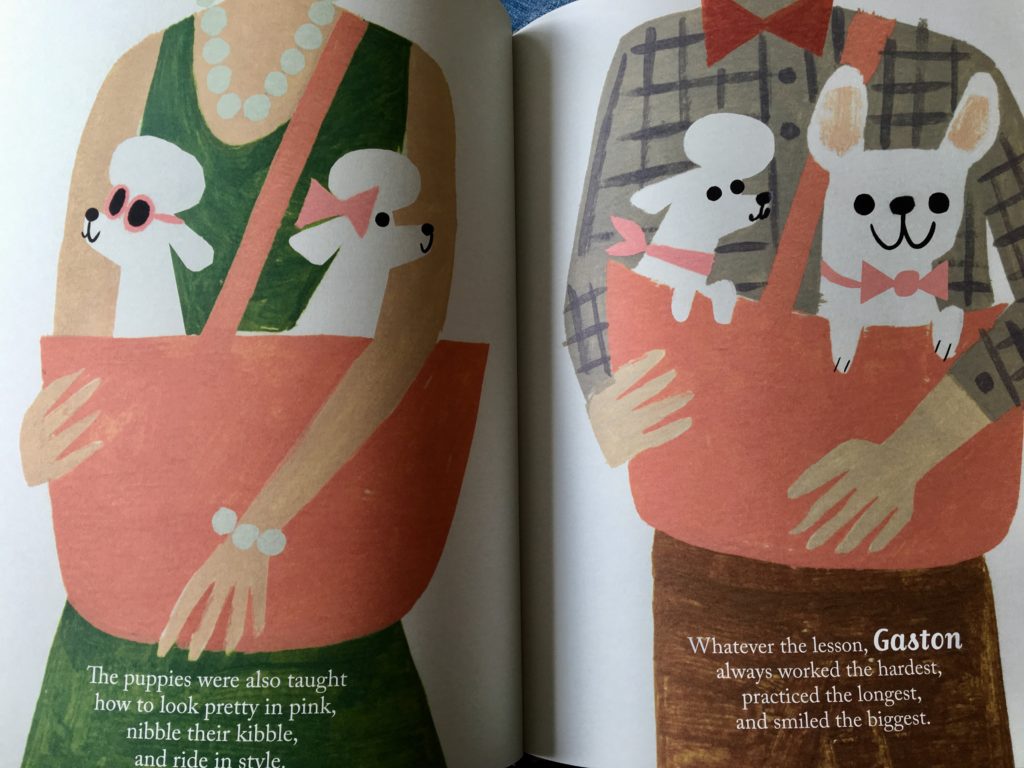 Christian Robinson matches this stellar story with simplified but charming illustrations. The color scheme is not only adorable but makes me want to re-decorate the entire flat to mirror the book. Gaston and the other characters are sweet and so heart-warming that it's difficult not to smile as we read each page. By the end, I am not only pleased with the story's moral but also find myself considering adopting a little bulldog of my own. I'm not sure how our cats would feel about that but I'm certain my husband wouldn't welcome the surprise. For now we'll have to settle for Kelly Dipucchio and Christian Robinson's amazing story, which isn't really settling at all.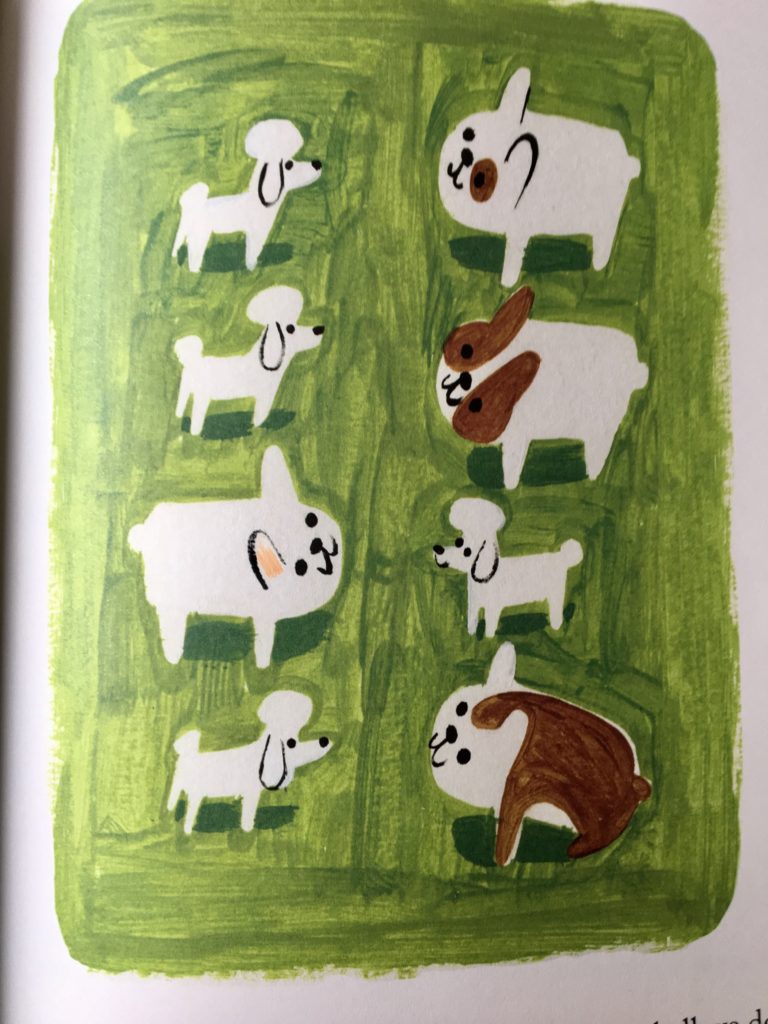 ---
Story Tips:
Get a bit more enthusiastic when reading through the lesson pages. We daintily pretend to nibble kibble and then slobber all over. I've even found myself reminding Bug to nibble his "kibble"at mealtimes with surprisingly positive results.
---
I need more!
This duo released the "sequel," Antoinette, in February 2017. Kelly Dipucchio has a comprehensive website full of her other titles which include: Dragon was Terrible, Dog Days of School, and Everyone Loves Bacon. For information regarding her other stories and upcoming releases go to: http://kellydipucchio.com
Christian Robinson has some phenomenal titles associated with his name including: Last Stop on Market Street, Leo: a Ghost Story, The Smallest Girl in the Smallest Grade, and The Dead Bird. It would be hard to choose a favorite from these amazing books. So, I'm going to suggest you check them all out. For more about his work check out: http://theartoffun.com/books/
---
Add to my library:
Gaston (Gaston and Friends)
Save
Save
Save
Save