Author/Illustrator: Louise Yates
Age Group: 2-6
Synopsis: Dog receives a sketchbook as a present and finds himself drawn into an incredible adventure.
---
The Low Down:
It's amazing the amount of time that little ones can spend drawing. Well, at least compared to the amount of time they spend doing anything else. Bug can sit for twenty minutes doing nothing but doodling. I find I no longer have that kind of patience. I need to be drawing something, have some sort of goal in mind. But Bug can just while away the time with swirls, scribbles, and zig zags. Dog seems to posses this trait as well. He becomes lost in not just appreciating someone's creation (he loves books as well) but to appreciate creating himself.
Louise Yates does a fabulous job of embracing an entire realm of imaginative creation that seems reminiscent of Harold and the Purple Crayon and much more laid back than Journey. It somehow finds it's own niche in the "draw yourself into imaginative play" genre. Dog is a marvelous main character. He keeps the story going and doesn't mind sharing the spotlight with the other characters that he draws into creation. These characters are fun and easily accessible for young ones. From the spotty Owl to the mischievous Duck to practical Crab and of course the Stickman, who seems to hold everything together, each provides its own qualities that keep the story fun and moving at a steady pace.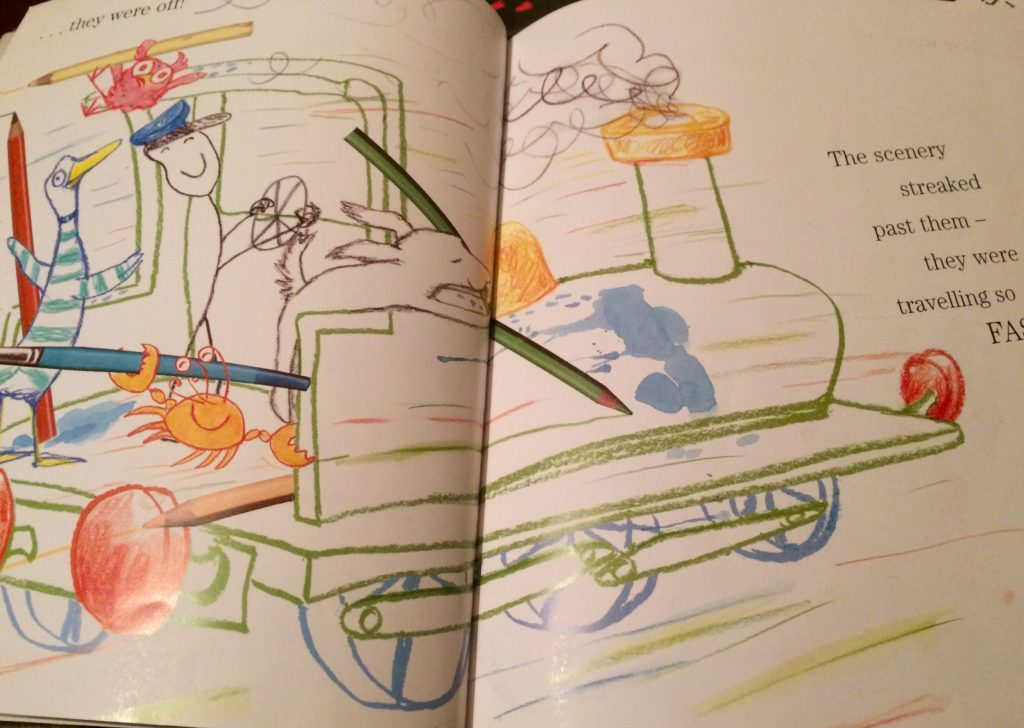 Yates also provides such a fun interaction between the illustrations and realistic art materials, that gently reminds the reader that they are witnessing a fun foray into the world of make believe. By far the best page has to be when a train is moving so quickly that the pencils each character is holding are drawing on the illustration, streaks of fast paced artistry. Bug and I are in complete agreement on this book. It's fun, encouraging of artistic and literary interests, and an overall great read.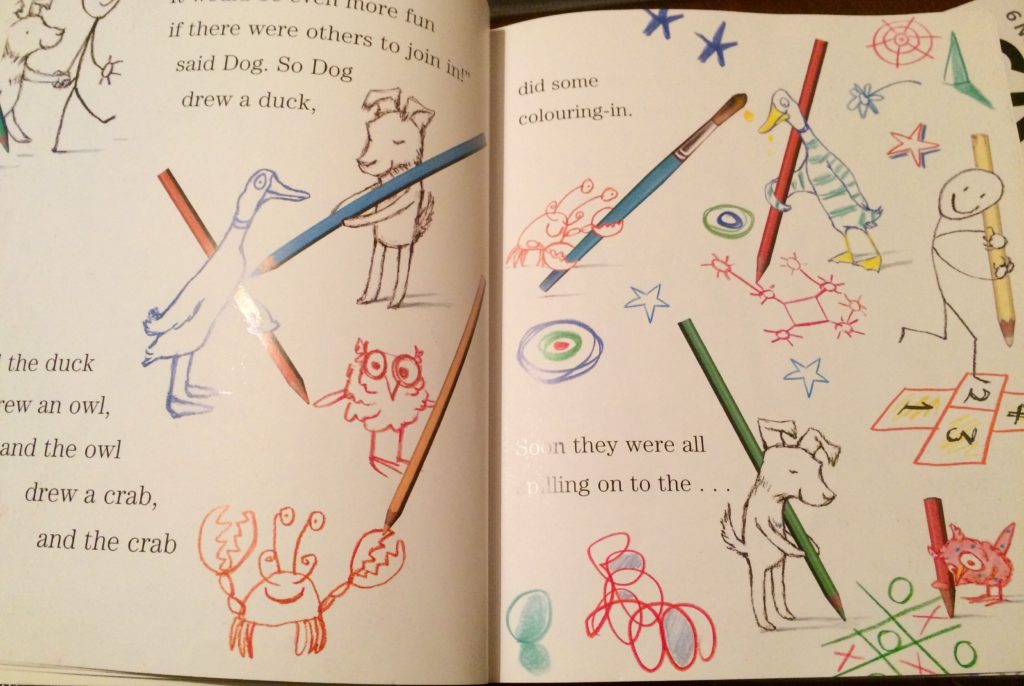 ---
Story Tips:
Have some paper and pencils on hand for afterwords.
---
I need more!
Louise Yates has three other Dog books including: Dog Loves Fairy Tales, Dog Loves Books, and Dog Loves Counting. Considering how much we loved Dog Loves Drawing I will definitely be looking into these titles. For information on her other books check out Google or Amazon as her books page isn't completely up-to-date.
---
Add to my library:
UK Amazon: Dog Loves Drawing
US Amazon:Dog Loves Drawing
Save
Save
Save
Save