Author/Illustrator: Bethanie Deeney Murguia
Age Group: 2-5
Synopsis: What's better than one Cockatoo? Two Cockatoos in tutus!
---
The Low Down:
I love playing with words and the combination of exciting colored tropical birds and tongue twisters is hard to resist. Bug's pretty typical, in that he gets fairly tongue tied when he gets excited and starts telling a story too quickly. When he has an opportunity to watch me preform the same language acrobatics, it's really encouraging for him. Plus it's just plain fun and amusing to get through each page, while my tongue is tripping over itself.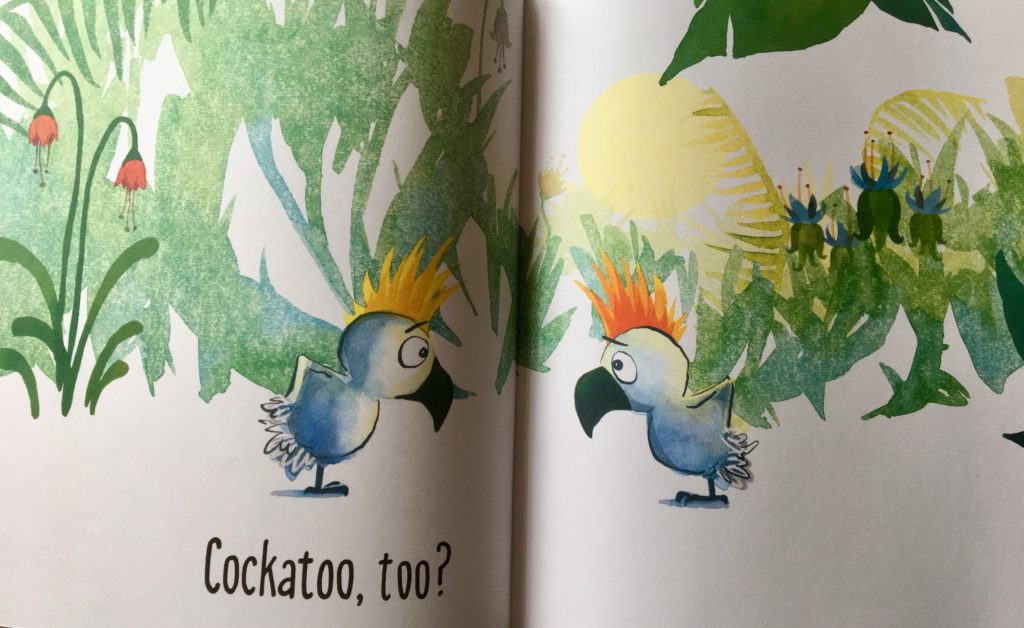 The Cockatoo that starts the book off doesn't stay in a singular state for long. Not only does he get a pal but that pair is joined by a new pair in tutus. The new duo seem to love sharing because the first Cockatoos soon have their own tutus. Fun commences but is shortly interrupted by the arrival of Toucans. The Toucans are also wearing the aforementioned dance wear and preforming a very specific dance (I bet you can guess it!). Then things really get crazy, or crazier. My favorite page at the end, is of a small, tired looking bird saying that this has all gone too far.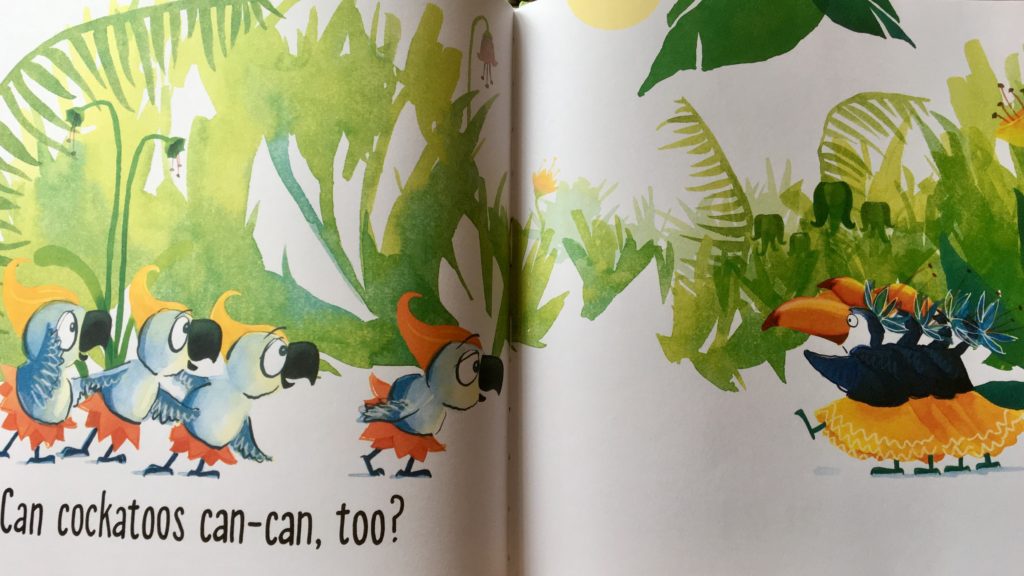 Murguia embraces the fun and lightheartedness of such a silly story with some vibrantly fun pages. Each page-set is sandwiched between a white foreground and background. This really makes the birds and vegetation pop and encourages the feeling that the reader is watching a production. Each bird seems to produce its own quirky expressions as well. The Cockatoos, specifically, remind me of toddlers in their ability to focus and joy at receiving new presents. Murguia dresses the birds in local flora, which adds another layer to the story and a bit of fun for little readers, as they anticipate where the next friend will appear.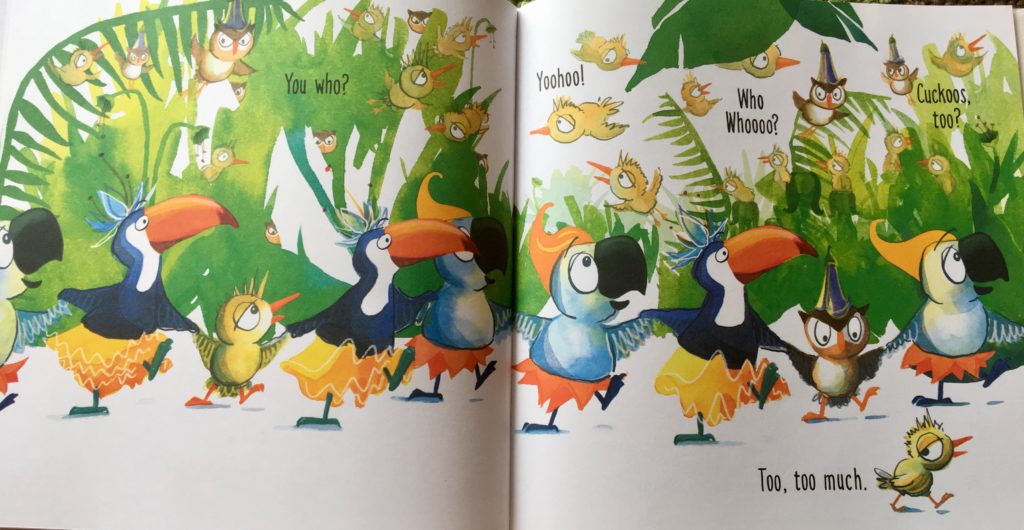 The combination is laugh inducing and a few minutes of entertainment for young and old readers alike. There are times when we need books that deliver messages and teach important lessons. But just as important are books that encourage that silly bone and ability to let loose and can-can.
---
Story Tips:
Keep an eye on disappearing flowers in the book. They'll usually show up as clothing or accessories later on.
Have fun taking turns trying to say the phrase on each page. How fast can you go?
---
I need more!
Bethanie Deeney Murguia has a new book featuring the Cockatoos and Toucans from Cockatoo, Too, entitled: Toucans, Too. For other adorable reads check out her website: http://www.aquapup.com/
---
Add to my library:
Cockatoo, Too
---
Save
Save
Save
Save