Author: Margaret Mayo
Illustrator: Alex Ayliffe
Age Group: 0-4
Synopsis: A bright and colorful alphabet book focusing on motorized vehicles.
---
The Low Down:
We are a bit obsessed with diggers. If you are unfamiliar with the terminology, it refers to an excavator or a backhoe. I don't know where this obsession came from but it has hit us with full force. My son is constantly looking for diggers and waves to them as we pass them on the road. He asks for them each time we go outside and somehow remembers spots where we saw diggers weeks, if not months, ago. I've had to institute the "Digger Rule." Every time he asks for diggers I ask him what the Digger Rule is. "Mama can't make diggers come, just keep your eyes open," he solemnly recites. I've never known so much about construction equipment before in my life. Big Digger abc feeds this love and the recently discovered love of letters that Bug has developed. The combination? Just what we need.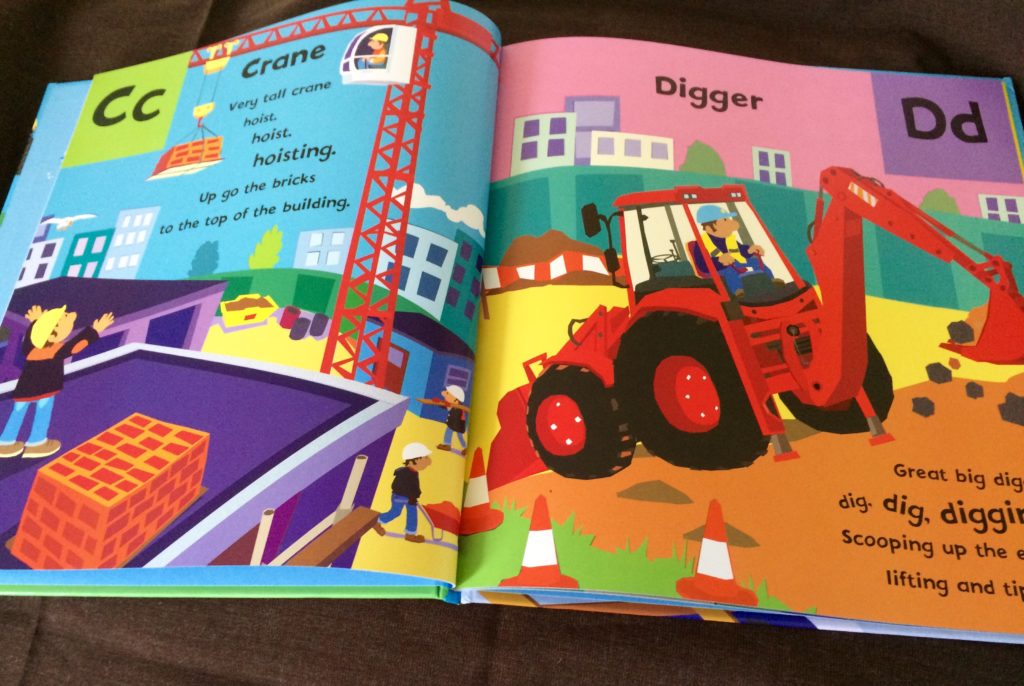 I don't really need to expand on the plot of an alphabet book. It doesn't take any wacky turns and throw Z in front of Q. There are fun little rhymes that accompany each letter but honestly I could take or leave them. With lines like: "Busy, busy ambulance rush, rush, rushing. Whee-ow! Whee-ow! Loud siren blaring." this isn't literary genius. If you wanted to flip through and add your own lines, it would be just as beneficial. But it's nice to have the text there for those times when your creativity has been sucked from your soul. It's definitely directed towards a British crowd, as provided with the examples of narrowboats, lorries, and rubbish trucks.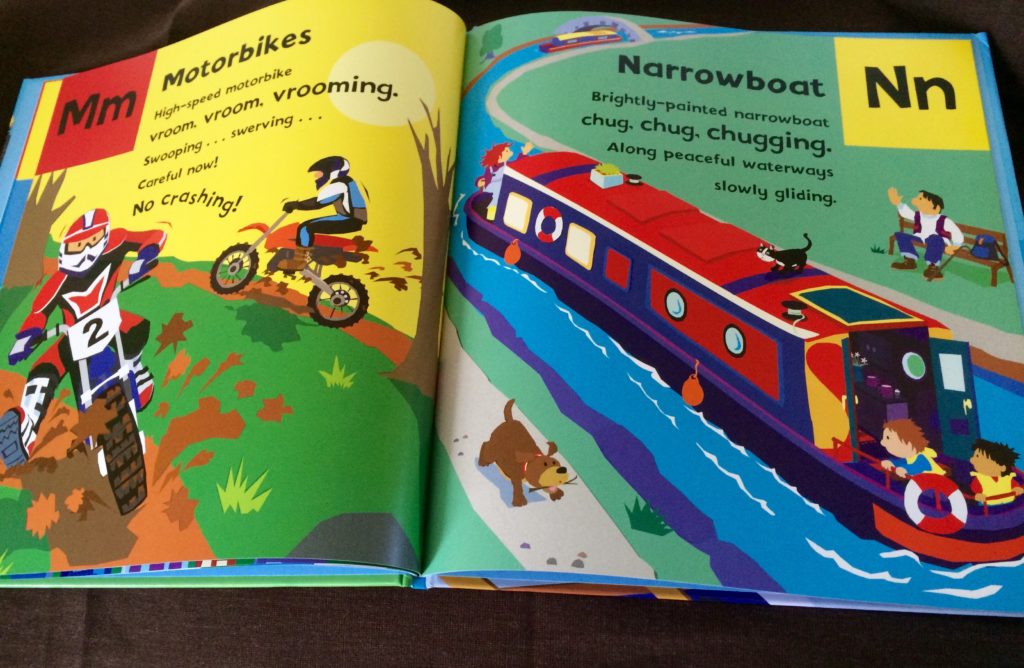 It's really the illustrations that make Bug jump up and down with glee. Vibrant, simple, and expressive, these pictures speak perfectly to little ones. Some of these vehicles can be so complex, that it's nice to see something that's easily identifiable but that hasn't lost it's interest factor. I also like how there's a decent scattering of diversity through the pages. Overall, while Big Digger abc isn't going to be winning any awards, it will definitely be a favorite in our house for the foreseeable future.
---
Story Tips:
As I said before, feel free to use your own words. You aren't going to be overlooking any plot points.
---
Add to my library:
UK Amazon:Big Digger ABC: An Awesome A to Z of Vehicle Verse (Awesome Engines)
US Amazon:Big Digger ABC – Ultimate A to Z of Things That Go! (Awesome Engines)
Save
Save