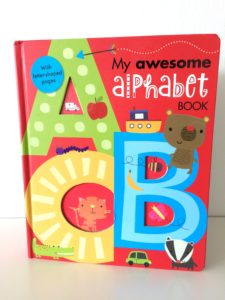 Title: My Awesome alphabet Book
Illustrator: Dawn Machell
Age Group: 1-5
Synopsis: An adorably illustrated alphabet book with letter shaped pages.
---
The Low Down:
We received this from Bug's Grandma, who knows how much he loves letters. We have a few alphabet books and they can get somewhat tedious to read. No matter what, you're stuck for 26 pages. What I love about this one though is that with it's thick pages and vibrant colors, not only does Bug want to read it by himself but I'm not worried about him dragging it around the house.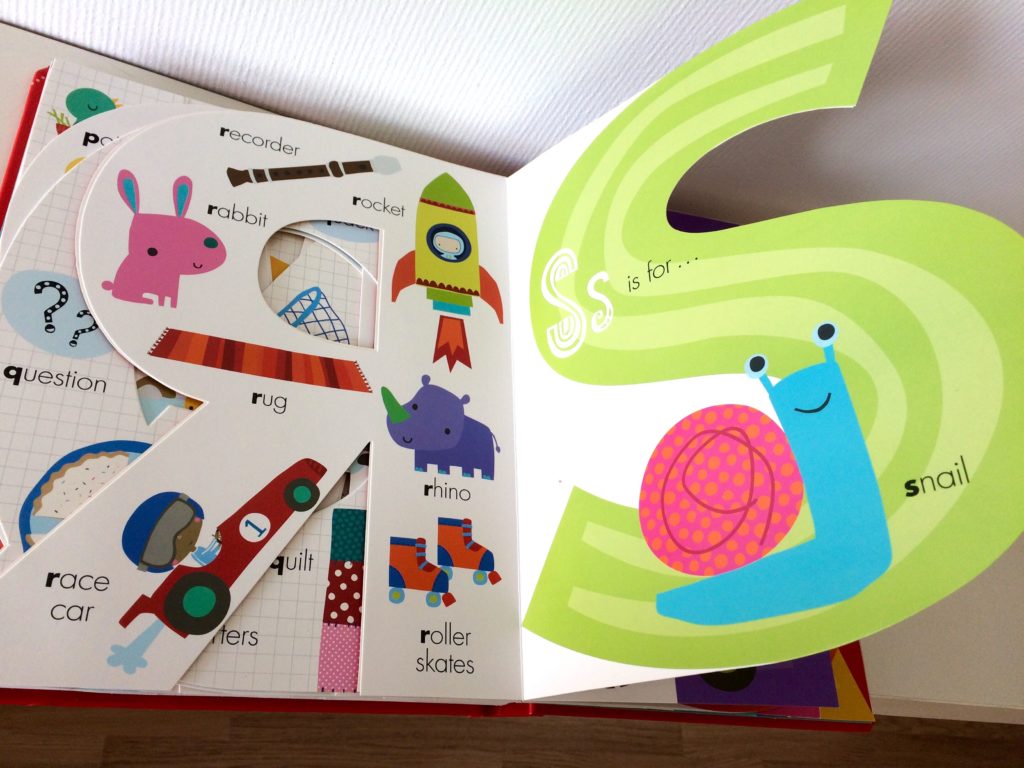 The letter pages are so cleverly designed and take on the shape of each letter. One word that begins with that letter is on the front of the page. On the back of the page is a plethora more. With adorable illustrations, they are, for the most part, easy to discern from the picture and help build a little reader's confidence. If I had to be picky, my only complaint would be for N which has moon and stars, obviously for night. But when Bug got there he was confused why moon was on the N page. It was a brief and very easy conversation and helped expand his perspective of the letter N. As I said, if I had to be picky.
My Awesome alphabet Book is one of those that jumps off the shelf at you. It's also one I don't mind reading at bedtime because it's easy to forgo the back of the pages and just read the "E is for elephant." It continues to encourage his love of letters and pushes his mind to think of new connections. Overall, a lovely and vibrant book and one we'll enjoy puling off the shelf for a while yet.
---
Story Tips:
Let your little ones make the observations. If they need prompting then help with a statement rather than a question. "Oh! I see a crown." This will help model sentences that they can make on their own. Don't worry, there are plenty of words for them to come up with on their own.
---
I need more!
Dawn Mashall has illustrated quite a few other stories. Check out her: One of a Kinda or All Things Bright and Beautiful. It's best to find info about her on Google or Amazon.
Make Believe Ideas, the book's publisher, has some amazing tactile books available. Puzzles, mazes, and a whole slew of interactive books are all available for perusal at: http://www.makebelieveideas.com/ .
---
Add to my library:
My Awesome Alphabet Book
 ​
​
Save
Save
Save